The slowly expanding world of espresso portafilter hygiene equipment has grown just a bit bigger, as cleaning product maker Urnex has launched a new, more ergonomic sponge and brush system called Scrubz.
The most notable previous innovation in this world came last year with Nuova Simonelli's announcement of the molecularly enhanced steel out of which all its portafilters would be made from then on, featuring a smoother, more uniform surface that cleans more quickly and easily. Urnex's Scrubz is essentially a handle to be gripped somewhat like a tamper, with either a sponge or a stiff-bristled brush attached to the business end.
The sponge component also has a bristly central protrusion specifically for snaking down into the spout. The new product line portfolio currently offers two packages, one that includes the handle and sponge brush, another that include a replacement sponge brush and the bristle brush.
"The second item is meant as a replenishment or add-on item, whereas the sponge brush is really the core item, as it has the unique portafilter cleaner," Urnex Marketing Vice President Isaac Cohen told Daily Coffee News.
Cohen added that there are no current plans for a kit that includes all three items, although this would be a logical extension to the Scrubz product range. Both existing kits are available individually worldwide through distributors for $9.95 apiece. Bulk purchases are also available directly through Urnex.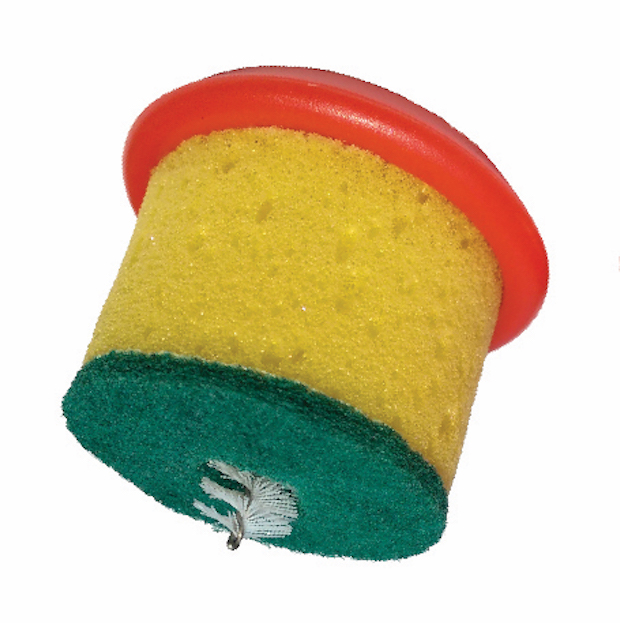 The product, which first became available last year but has only been actively marketed since last month, is not yet available for individual purchase online. Cohen said that while Urnexx products are typically made available on Amazon, there is not yet a timetable set for Scrubz.
In the meantime, the company featured Scrubz this week at the World of Coffee event in Budapest.
Howard Bryman
Howard Bryman is the associate editor of Daily Coffee News by Roast Magazine. He is based in Portland, Oregon.