At Coffee Fest Portland earlier this month, Massachusetts-based manufacturer IceColdNow, maker of the Coldwave consumer beverage chiller, revealed a working prototype of an on-demand mechanical beverage flash-chilling machine capable of taking 16 ounces of very hot liquid down to a frigid 40 degrees Fahrenheit or colder in a matter of seconds.
An external LCD screen displays the liquid's current and target temperatures, the latter set by the user. It is being pitched as a compact, café-friendly machine, offering flash-chilling functionality by way of a heat-exchange, refrigeration-style system, bringing 16 ounces of coffee or other beverage down to cold refreshment temperatures without any dilution by ice or other inputs.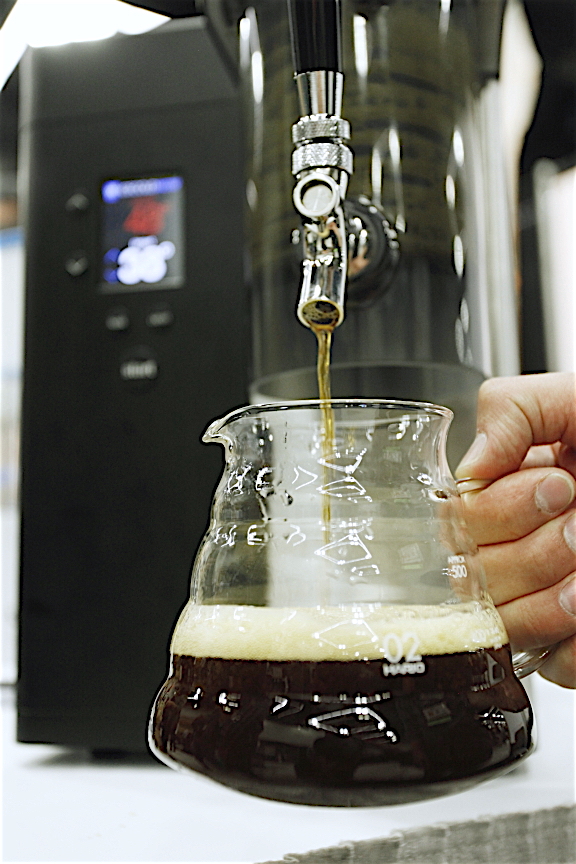 While the prototype on the show floor featured a cooling chamber with a volume of 16 ounces that generally reaches its target in about one minute depending on the exact volume and starting and ending temperatures, the final version of the machine that will be developed in the months to come, prior to manufacturing, could be modified in any of a variety of directions.
These include the possibility of having multiple individually settable cooling chambers, or a chamber oriented to receive hot coffee directly from a batch brewer, cooling continuously and depositing into a receptacle or urn below. It's also possible to have the machinery under the counter and only the cooling chamber above, Modbar-style.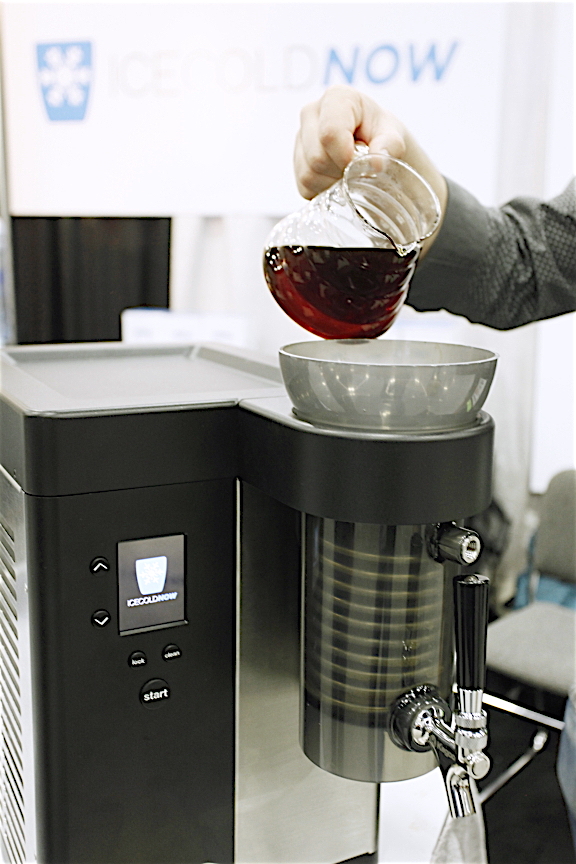 "We want to learn from cafes," inventor and IceColdNow Founder and CTO David M. Dussault told Daily Coffee News. "Before we make a bunch of them or partner with somebody to make a bunch of them, how should we do it? It could be anything you could think of. It could be focused on speed for one cup a time, it could be focused on batch brewing, it could be integrated directly with a brewer, or maybe it could do all and everything, with a swivel head that you could optionally put under a brewer."
Dussault, who received his engineering master's degree from MIT, has built five machines of the design displayed on the café floor, and all will be used for testing and feedback. One will be installed in a George Howell Coffee café in Boston, one is headed for the unbranded Starbucks-owned "test café" Roy Street Coffee & Tea on Capitol Hill in Seattle, and one or two will be experimented with in cocktail bars.
The machine functions essentially like a freezer or air conditioner, with an internal compressor that draws heat away from the coffee and dispels it into the air. In fact, the prototype is built using the compressor and other parts Dussault said he removed directly from the same model of window-unit air conditioner that proved its durability through years of service to his family.
"You can beat the crap out of it. The one I have has been passed down through generations," said Dussault. "My daughter plays with the buttons, I dropped it, it just keeps going."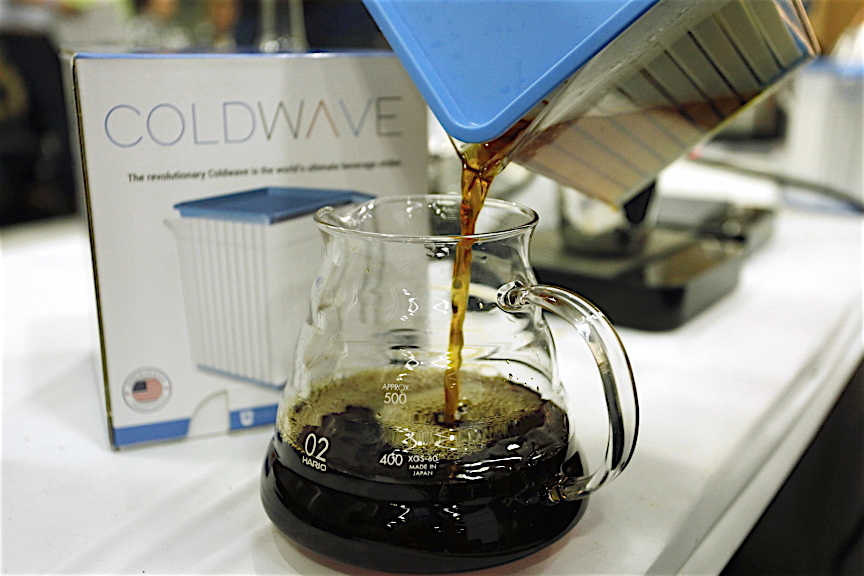 To this point, hot-brewed flash-chilled coffee has been produced at scale for packaging in RTD format or storing and dispensing later, whereas freshly brewed and chilled single-cups made to order in a café setting have typically come by way of "crashing" the temperature of hot coffee by brewing directly over ice or else chilling through slower means. The IceColdNow on-demand drink chiller, according to the company, aims to replace in-house ice-dilution methods with a more controlled, precise process that preserves every bit of flavor, requires no special brew ratio or grind setting, and could potentially replace the slower cold brew methods with something fresh and consistently made-to-order.
IceColdNow VP of Innovation Ryan McDonnell, a former Starbucks Tasting Manager who has so far passed all but one test on the path to certification as a Q grader, said that the process not only preserves more flavor than other chilling processes, but preserves flavor better than allowing a hot cup to cool naturally into the comfortable hot-beverage drinking temperature range. "I would argue that it's chemically superior to hot coffee," said McDonnell.
"The aromatic volatiles, the fruit flavors, the floral flavors, these are the quickest to disappear and they're the most untasteable at high temperatures. Being able to chill that, the second the coffee is brewed, you can taste things you never had before," said McDonnell, adding that he has consistently scored coffees several points higher on a 100-point scale when tasting them chilled by their machine as opposed to hot. "It's not 10 points, it's not going to make a garbage coffee taste amazing, but two or three points on a 100-point scale is very noticeable. That takes an 88 to a 91."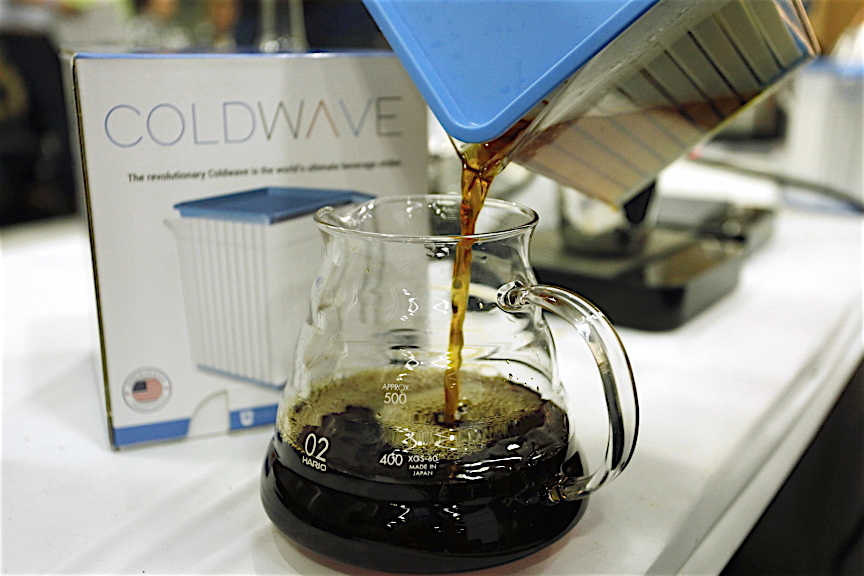 Dussault said that while the timeline for bringing the equipment to market will depend on the final details of the design as well as the number of potential buyers that express interest in advance, a small production run of machines could be completed as soon as within six months, or a larger run could be done within one year. Either way, the most immediate goal is for IceColdNow to have a final production design, pricing and concrete answers to any questions ready for its booth at the 2018 SCA Expo.
Howard Bryman
Howard Bryman is the associate editor of Daily Coffee News by Roast Magazine. He is based in Portland, Oregon.