In October of last year, the #metoo hashtag went viral on social media as women throughout the world openly shared their experiences with harassment and assault. Inspired by the strength of the people who were coming forward, coffee professional Molly Flynn — with the encouragement of several colleagues — resolved to launch a movement focused on the coffee industry. They formed a framework for what this might look like, and #Coffeetoo was born.
"I've worked in coffee for a long time. Each and every one of my nonbinary and female friends have experienced some form of sexual harassment or discrimination in the coffee industry," Flynn told Daily Coffee News. "After years of commiserating with colleagues about how these toxic behaviors impact us, I finally decided to enough was enough."
#Coffeetoo has since been gathering support from peers throughout the coffee world in combating sexual harassment and discrimination in the workplace. The leadership team for the movement currently consists of five industry professionals, with Izi Aspera and Katherine Hartline co-leading on events, Kathy Altamirano as volunteer director, Sabine Parrish leading on research and writing, and Flynn as Chief Project Leader.
"I focused on finding skilled people with a passion for ending harassment and discrimination, and who represented a diverse set of gender identities, ethnicities, and backgrounds in order to have a leadership team that more accurately reflects the demographic of our community," Flynn said. "They work so hard — volunteering all of their time and expertise for free — yet remain positive and encouraging in spite of confronting a heavy topic every day."
As the industry prepares its largest U.S. trade show, the Specialty Coffee Expo, #Coffeetoo is encouraging members of the community or organizations to take a pledge stating they will not engage in these dangerous behaviors, and that they will be an ally for those who find themselves in toxic situations. Graphics have been made available for individuals to share their pledge on social media.
"While this pledge is intended to be acted upon in all situations, it is especially applicable with Expo coming up," Flynn noted. "We want to remind folx that, despite being in close quarters with lots of alcohol, we are still responsible for our actions and can choose to engage in positive and safe behaviors — for our own sake and the sake of our community."
At the expo, organizers will be passing out free copies of a new information packet — A Pocket Guide to Your Rights — that addresses three core questions: (1) What are our rights? (2) What can we do if our rights have been violated? (3) How can we take care of ourselves if we have been put through an unwanted or traumatic situation?
New merchandise will be available for sale as well, including an enamel pin that says, simply, "No," which attendees can wear to take the pledge and support the #coffeetoo movement. Pins will be available for sale in person throughout the weekend at locations to be announced on #Coffeetoo's Facebook, Instagram and Twitter feeds. Any remaining pins will be sold on their GoFundMe page, with 100 percent of proceeds to be used in the creation of educational events and informational packets for the coffee community.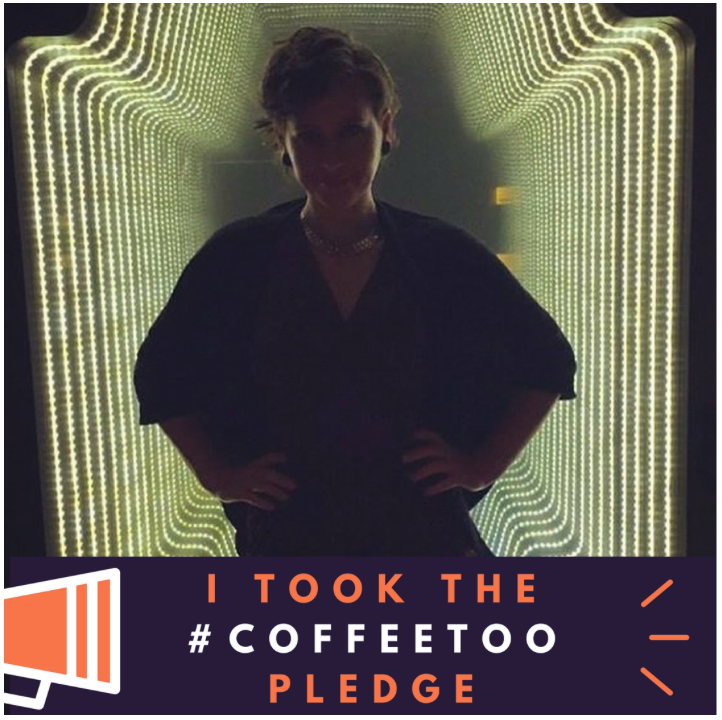 We asked Flynn more about her history in the coffee industry, and the inspiration behind the #coffeetoo movement and pledge campaign:
What is your background in coffee?
I have been in the coffee industry for 14 years. I started out working for a tiny local coffee shop in Morrow, Ohio (outside of Cincinnati) back in 2004 because I wanted to escape the sexual harassment I was experiencing in my previous job as a teenage lifeguard. I had no idea that I was jumping out of the frying pan and into the fire. In my career, I have worked for such companies as Slayer, Stumptown, and Intelligentsia in positions such as barista, office manager, and U.S. client representative. Right now I am happily barista-ing at Broadcast Coffee Roasters in Seattle and focusing all the rest of my time on #coffeetoo.
What are the issues you have observed in the industry that inspired you to initiate this movement?
The most problematic areas I have seen thus far are in situations where a manager or business owner abuses their power, usually when they don't have an HR person in place. There is also the issue of widespread harassment, discrimination, and, sometimes, assault during coffee events (when tensions are high and there is a lot of alcohol during or afterward). But really, this is a rampant issue in every area of the coffee industry. Somebody needed to do something. My colleagues encouraged me to be that somebody, so instead I gathered a whole team of somebodies, and now we're doing something. 
What is the goal?
It can be easy for us to say that sexual harassment and any form of discrimination is wrong and it must stop. In other words, we can say we stand with the victims of #metoo or #coffeetoo… but then what? How do we convert those beliefs into action, and that action into change? By taking the #coffeetoo pledge, community members can show that not only do they believe harassment and discrimination should end in our industry, they are also willing to take specific steps to make that a reality. This is important to remember not only in our hometowns and at our jobs, but also when we attend events where excitement, stress, and/or the presence of alcohol may be high. If we all walk into situations like these already having made a commitment to how we will conduct ourselves and how we expect others to conduct themselves, we will be working as a team to actively reduce the amount of harassment and discrimination that occurs in our community.
Lily Kubota
Lily Kubota is the managing editor and digital content manager for Roast Magazine. She is based in Southern California.