In the Valley of the Sun, a little darkness can be a relief, just as a bit of creativity, quirkiness and innovation can be refreshing in an otherwise repetitive retail landscape.
A new independent and all-vegan coffee shop called Dark Hall Coffee that opened in Phoenix this Spring offers just this sort of a reprieve, with a vibrant yet shadowy aesthetic, house-made plant-based milks, and a bakery and coffee roastery on site.
The roastery is that of Xanadu Coffee, which has roasted for the wholesale specialty coffee market in Phoenix since 2009, counting the owners of Dark Hall among its clients for much of that time.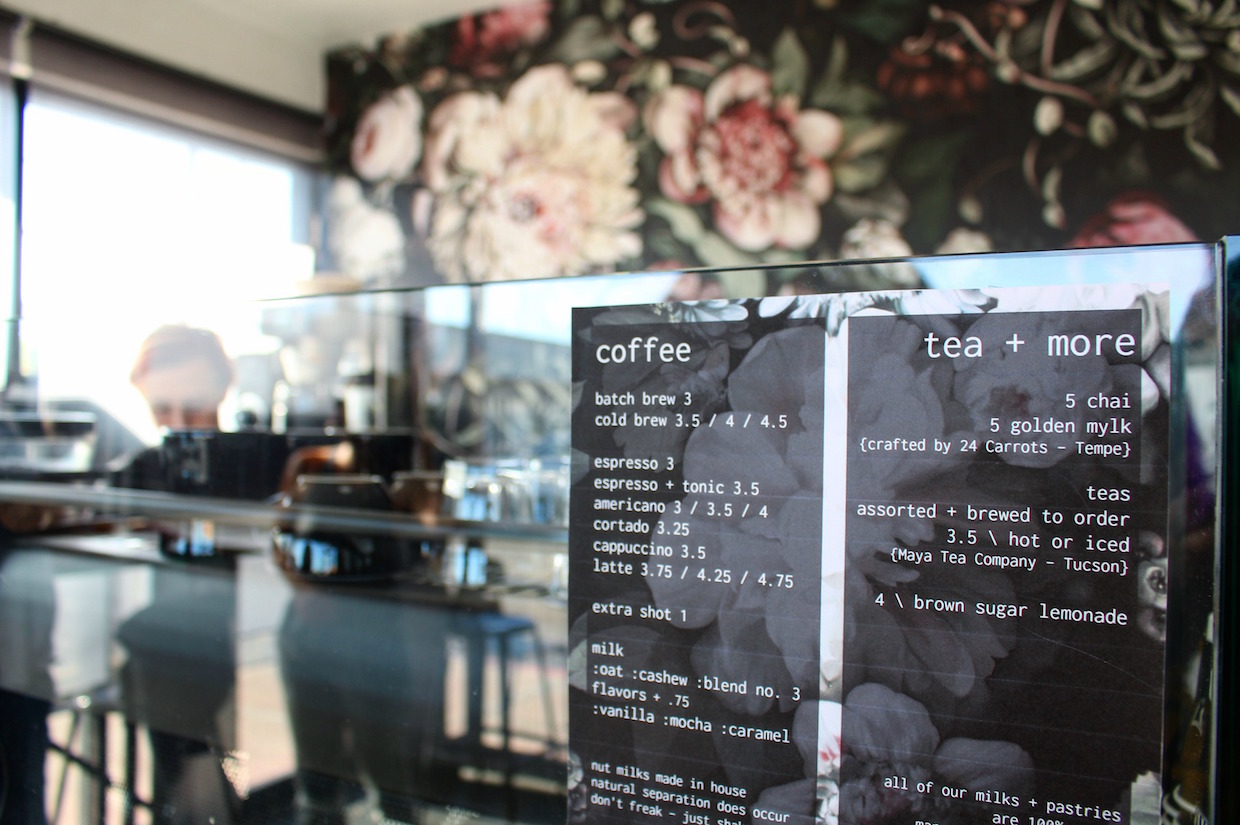 "To me, this is much more of a longstanding friendship, where I have been blessed and lucky enough to have their support from the earliest they had a choice to do so," Xanadu roaster and proprietor Randy Denton told Daily Coffee News.
This is actually the fourth business through which the owners of Dark Hall have served their friend's coffees. They're also owners of vegetarian restaurant The Coronado PHX, and in the past have offered Xanadu at vegan breakfast/lunch spot Bragg's Factory Diner and candy and record store Sweets & Beats that sold Xanadu cold brew, though the latter two both shut down years ago. "We just really enjoy working with Randy, and have loved watching him grow Xanadu through the years," Dark Hall and Coronado Co-Owner Emily Spetrino told Daily Coffee News.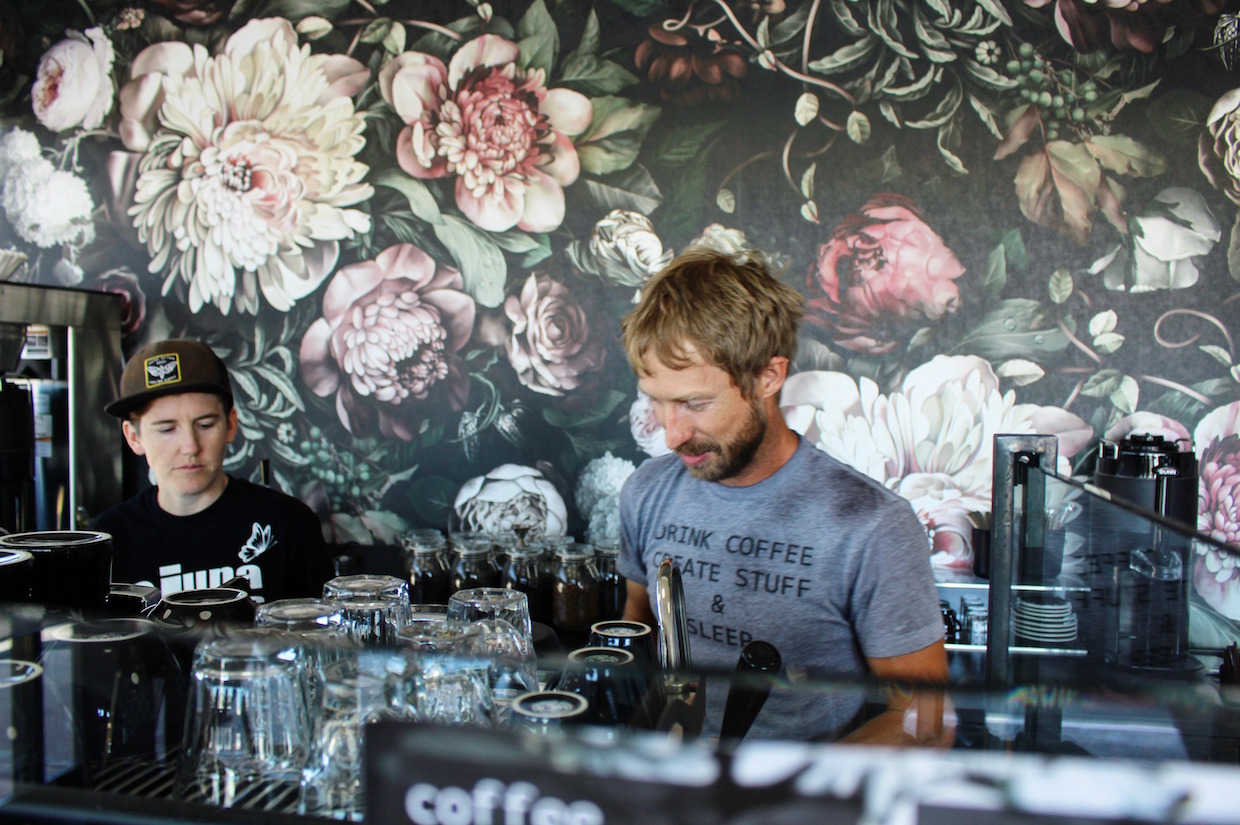 Today, in front of an expansive floral back-wall mural with colorful blooms emerging from a cool, black background, and behind a black counter holding fresh vegan sweets labeled in white gothic font on black cards, Xanadu Coffee provides the basis for the drinks menu prepared mostly on a 2-group Synesso MVP and a "pimped out" Bunn ITCB batch brewer Denton said they modified for use with a larger, deeper basket and 17-hole spray head.
"Our partner, Liz Tavarez, who also designs our spaces, just wanted Dark Hall to feel dark and floral and feminine," Spetrino told Daily Coffee News of the shop's aesthetic. "It has nothing to do with veganism or really anything besides good design. All of us partners and the folks that have helped shape Dark Hall are all just a bunch of D.I.Y. punk/queer/vegan kids. That gothy, vegan, artsy aesthetic is just who we are."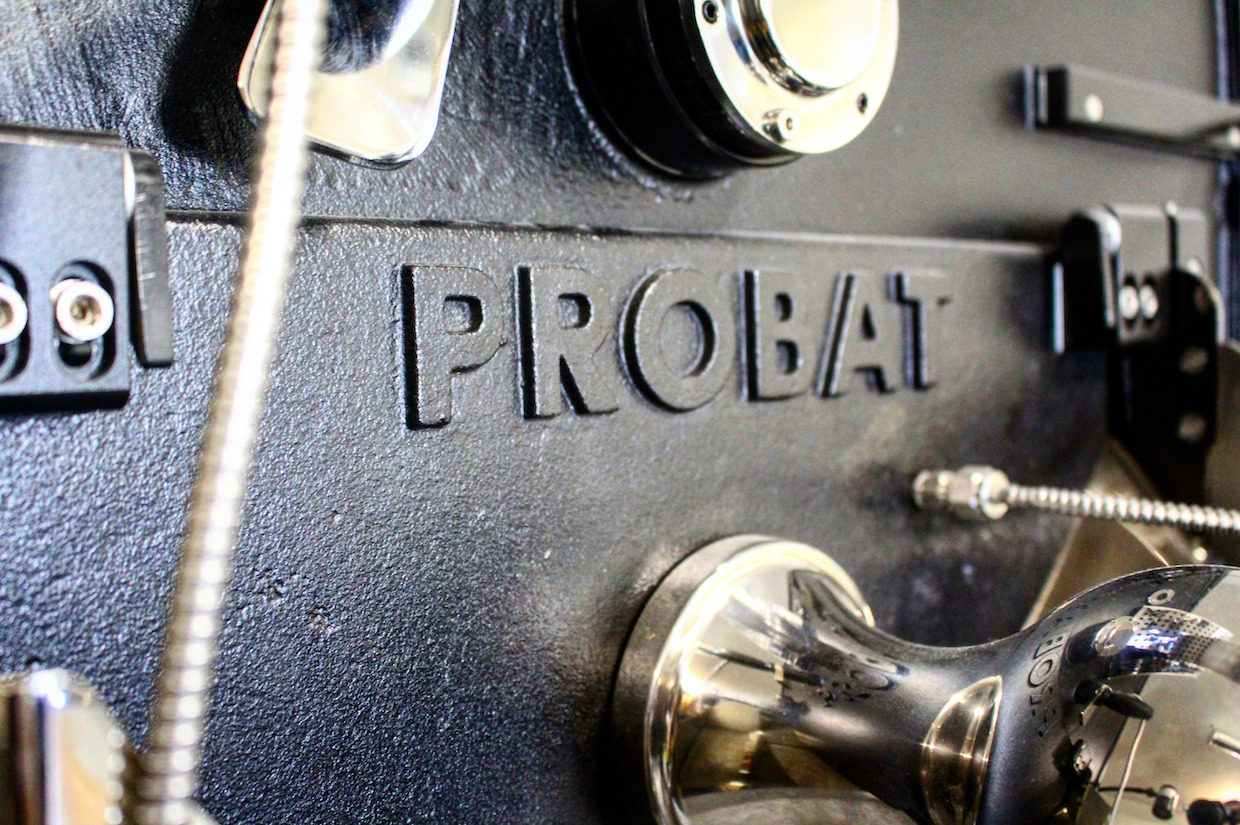 Xanadu's Probat P12-centered production space takes up about 500 of the total approximately 1,300-square-foot facility, where greens sourced through Olam Specialty Coffee and smaller Arizona-based specialist importers such as Matendo Coffee and Tonatierra are also darkened "on their own terms," according to Denton, with respect to the unique character of each individual lot.
"When we get our first shipment of green coffee in, we spend a significant amount of time developing a standard roast profile that works a bit like a skeleton key, after which, each time we roast a particular lot, we allow ourselves to make smaller changes to the roast while keeping records and cupping everything," said Denton. "I think it's really the only way to get better as a roaster. A.B.S.: always be science-ing."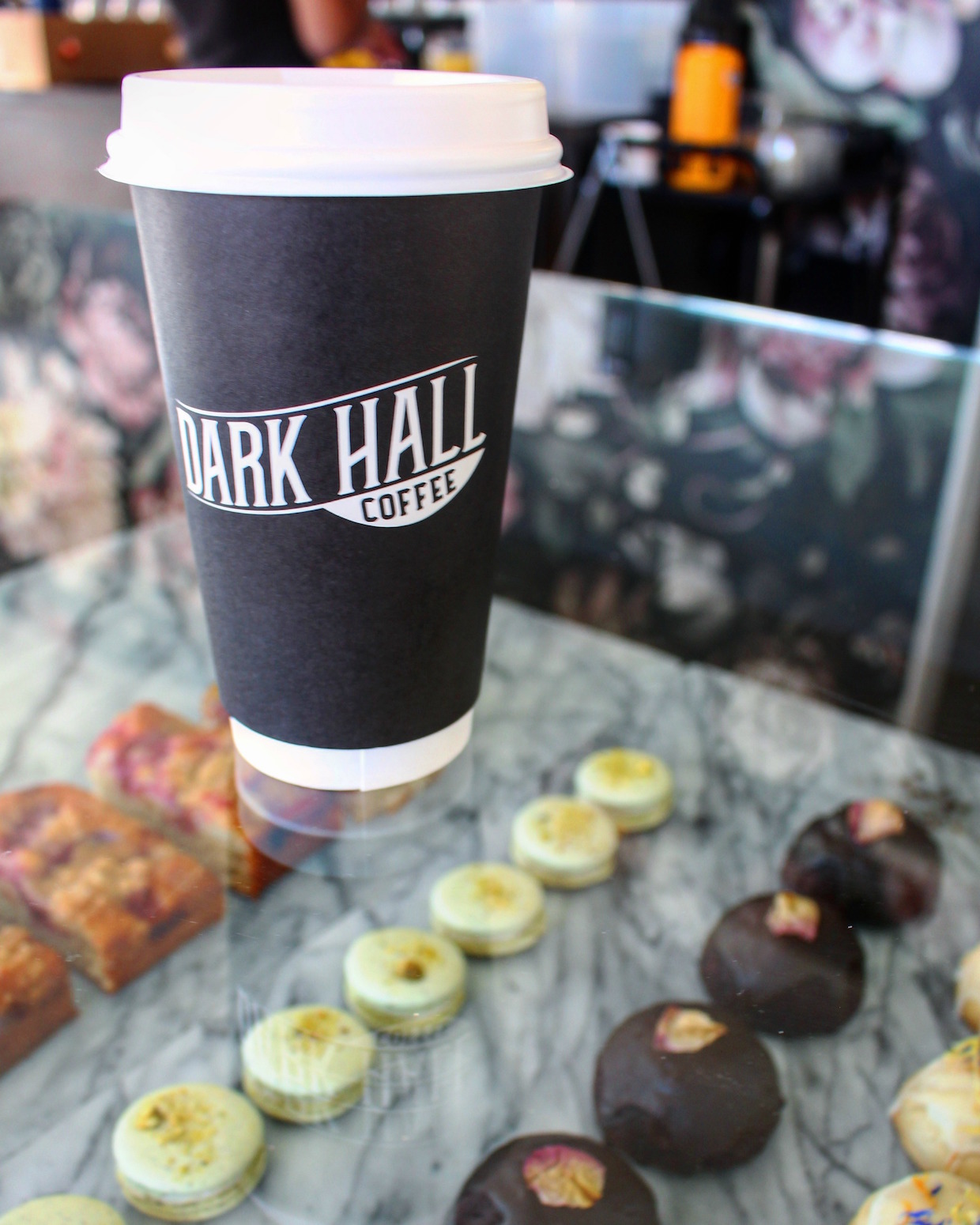 While such refinement in coffee was, once upon a time, an unfamiliar experience in some markets, Phoenix has come a long way in it embrace of specialty coffee. Yet with Dark Hall's vegan philosophy and menu also in the mix, there would seem to be an added potential challenge to the shop's mission of connecting with local consumers, although Manager/Head Barista Ben Laughlin reported sunny returns thus far.
"We actually haven't gotten as much questioning or pushback as I was anticipating," said Laughlin. "I think there's definitely a much broader understanding of veganism than there was even a couple years ago, and I think a lot of folks recognize that more people are choosing non-dairy options, and not necessarily because they're vegan."
Dark Hall satisfies the creaminess demanded of a traditional espresso menu with a house-made cashew milk and a milk blend made from cashews, hazelnuts, and brazil nuts. The shop will also soon begin offering a rotating monthly house special milk, reflecting its dedication to experimentation and development in the vegan milk arena.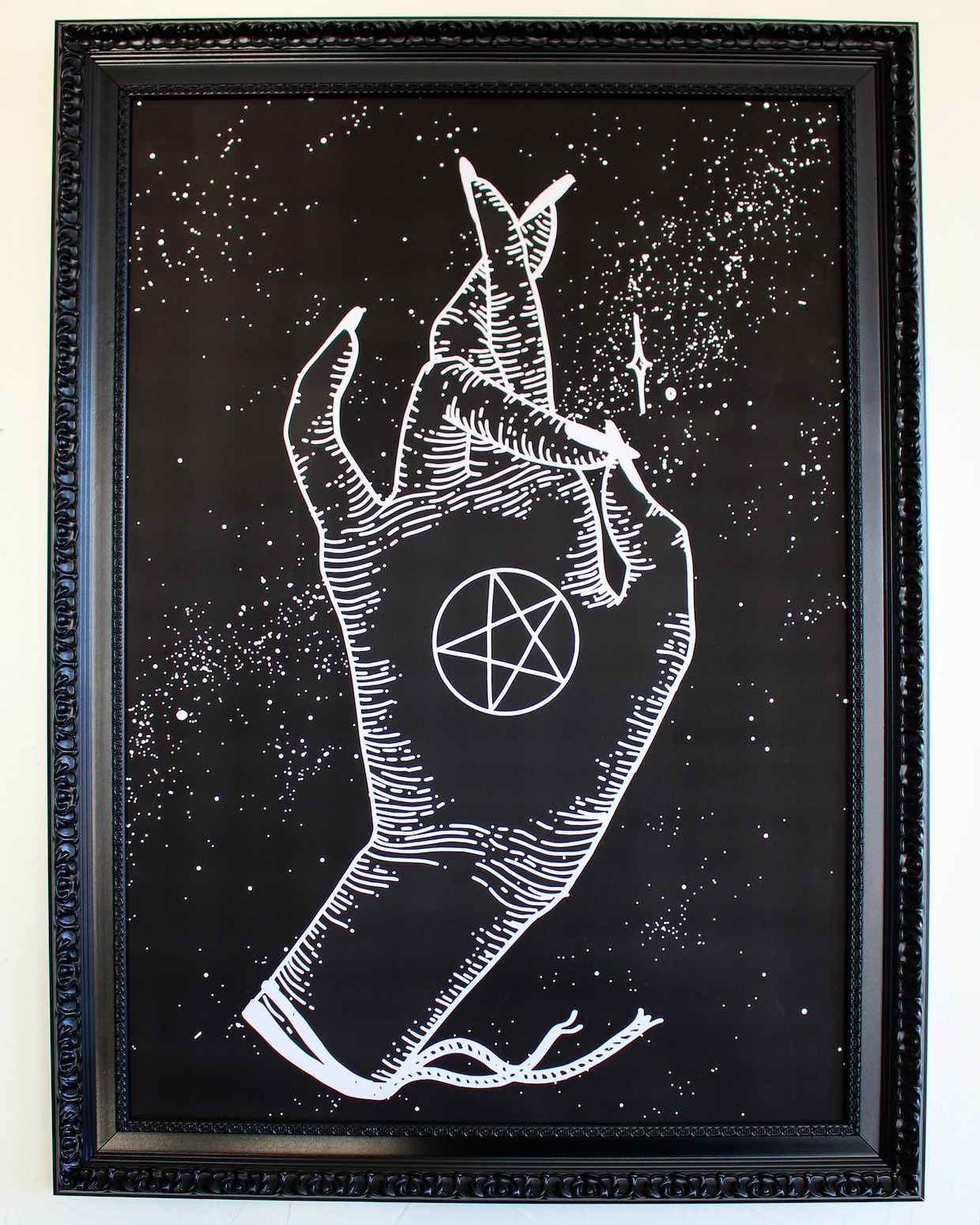 "This past year we experimented with everything from pistachios and walnuts to sesame seeds and sunflower seeds," said Laughlin. "We landed on cashew as a well balanced, accessible entry point that's not too far a leap for people just getting into non-dairy milks, or people who have been drinking soy or almond milk for years."
One idea Denton has for the future of Xanadu in its new home is to open its equipment up into a roasting co-op of sorts, helping others learn the craft, gain skills and start businesses. Said Denton, "It will be a fairly small small operation at first, but we are committed to the idea."
Spetrino, too, sees a platform for spreading more of what Dark Hall offers into the community and for the benefit of society.
"Not unlike Randy's co-op idea, I think our next real and obtainable goal is to start a commissary kitchen co-op that will not only cater to our current spaces but serve as a training ground for folks coming out of incarceration," said Spetrino. "We have some pretty big dreams for the vegan scene here in PHX and have some other concepts under our belt that we'd like to get off the ground."
Dark Hall Coffee is now open at 3343 N. 7th Ave. in Phoenix.
Howard Bryman
Howard Bryman is the associate editor of Daily Coffee News by Roast Magazine. He is based in Portland, Oregon.