It's always seven o'clock somewhere, including anywhere a bottle of Cold Brugh coffee is to be found. Prior to entering the roasting industry two years ago, that was the time in the morning that Brugh Coffee founders Luke and Cassie Brugh used to sip coffee together at home before heading off to their separate full-time jobs.
About two weeks ago the coffee company opened the doors to retail customers at its new roastery cafe in Christianburg, a city in Virginia's Northern Blue Ridge Mountains region. There, RTD cold brew labels featuring a subtle seven o'clock dial are available for sale alongside whole beans and a full menu of coffee drinks and snacks in what's called the "Brew Lab."
More than just sweet memories, the long and short arms traveling the dial are also a personal symbol of family and partnership.
"On the Brugh side of the family, it is a tradition to give clocks when people get married," Luke Brugh told Daily Coffee News. "So when my at-the-time girlfriend, now wife, Cassie Brugh [and I] decided to start a business together, we saw it as a marriage/partnership."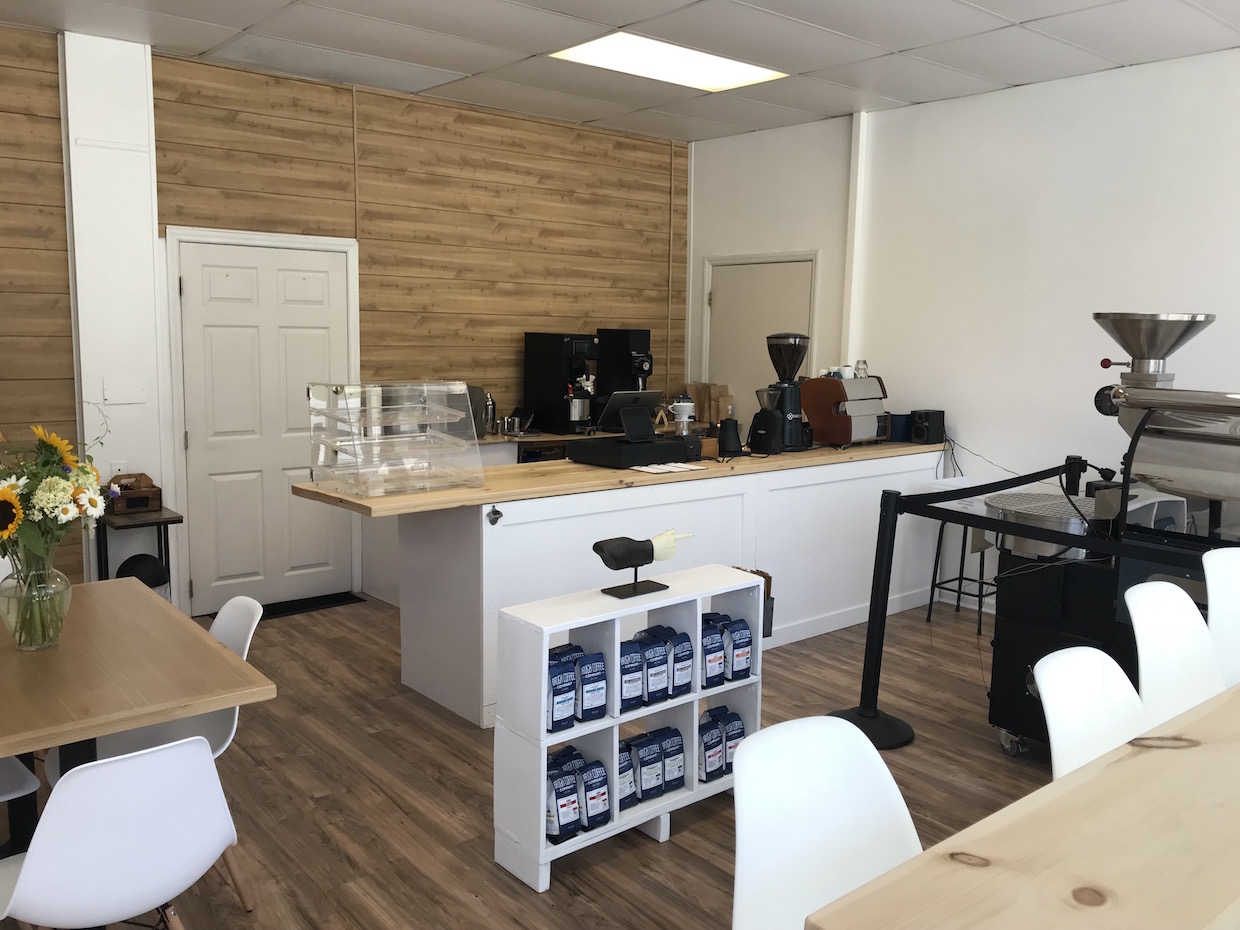 Brugh's father is also a collector of clocks. Brugh estimated there's likely more than 100 timepieces around his father's house. Said Brugh, "So it's kind of an ode to family and its importance to us."
The company unpacked its new 3-kilo Mill City roaster about three months ago inside the 800-square-foot cafe space that's fully decked out in warm wood tones between clean white walls for an experience both airy and cozy.
"We also wanted to make sure that the equipment was the highlight," said Brugh. "Since the room itself is fairly light, the equipment being dark, mainly black, makes it the focal point when customers come in. This puts people's focus on the roaster and any of the brewing devices."
Brugh said is gets too hot to actually roast in the presence of customers during the day, although the machine is always visible as a conversation-starter. For the Brew Lab aspect of the facility, a single-group prosumer La Spaziale A53 Lucca espresso machine pairs with a Macap M7D grinder, while a Curtis G4 Thermo Pro generates the grab-and-go drip. The Brughs manually tip Stagg EKG kettles over a variety of pourover brewers and Aeropresses.
Said Brugh, "For the Brew Lab, we had to start small with some things, and plan to grow as we become established."
There's plenty of room within Christiansburg's specialty coffee scene for Brugh Coffee to spread out and grow.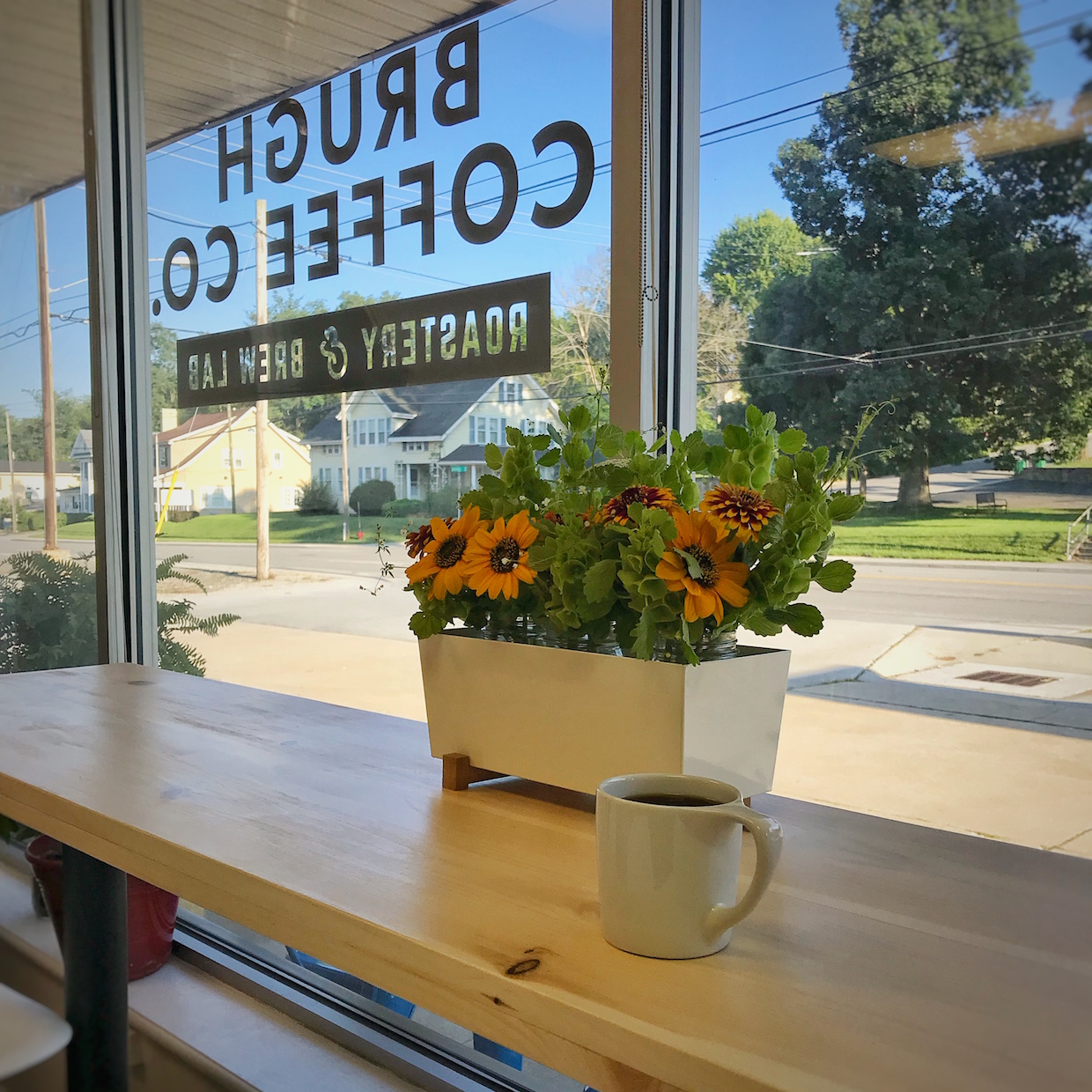 "Speciality coffee is new for this area; however, we are not the first," said Brugh, noting that Red Rooster Coffee Roasters is located within about a 40-minute drive. So while some locals may have come across high quality in coffee before, many others have not. For everyone, Brugh Coffee aims to convey each bean's unique character loud and clear.
"We roast and cup it until we find that sweet spot," Brugh said of his treatment of greens sourced through importers including Direct Origin Trading, Genuine Origin, and directly from Ben Weiner of Gold Mountain Coffee Growers' Finca Idealista.
"If it's coffee that supposed to be fruity, we try to make those notes pop," Brugh said. "If it's supposed to be chocolatey, we try to make sure it's as sweet and rich as it can be. We are our biggest critics, so we try to make sure it's something we enjoy drinking first."
As for what's in store as the arms on real clocks keep turning, Brugh Coffee is prepared to let come what may.
"Who knows, really?" said Brugh. "We just go where we feel pushed to go, wherever our guts lead us. Our main focus since we started was to put out the best product we could and make quality connections within our local community, as well as the coffee community as a whole. I'm not sure what the future holds, but I'm excited to see."
Brugh Coffee is now open at 407 Roanoke Street in Christiansburg.
Howard Bryman
Howard Bryman is the associate editor of Daily Coffee News by Roast Magazine. He is based in Portland, Oregon.