A single coffee machine that costs more $15,000 USD is no small investment for any small business, let alone for one facing a a three-to-one exchange ratio. At Specialty Coffee Boutique in Manizales, Colombia, such is an investment wasn't merely in a piece of equipment — in this case, an Alpha Dominche Steampunk brewer — it was an investment an entire coffee community. 
Juan Alejandro Restrepo is a master roaster and one of the co-founders of Specialty Coffee Boutique, which is part of a larger family of Colombian specialty coffee companies called Diamond Coffee Group. It is from working on behalf of sister brand Invercafe Exportadoras, an exporter focused on premium markets, that the inspiration for a homegrown retail brand took shape. 
"During visits to other countries we found a lot of value in our (coffee) product, and people were asking… 'Why not find a way to bring that value home in a way that contributes to the coffee culture of Caldas?"' Restrepo recently told Daily Coffee News. "Our company is very socially focused, we pay fair trade prices, which is really overpriced based on the current market, but helps to keep local coffee producers in business."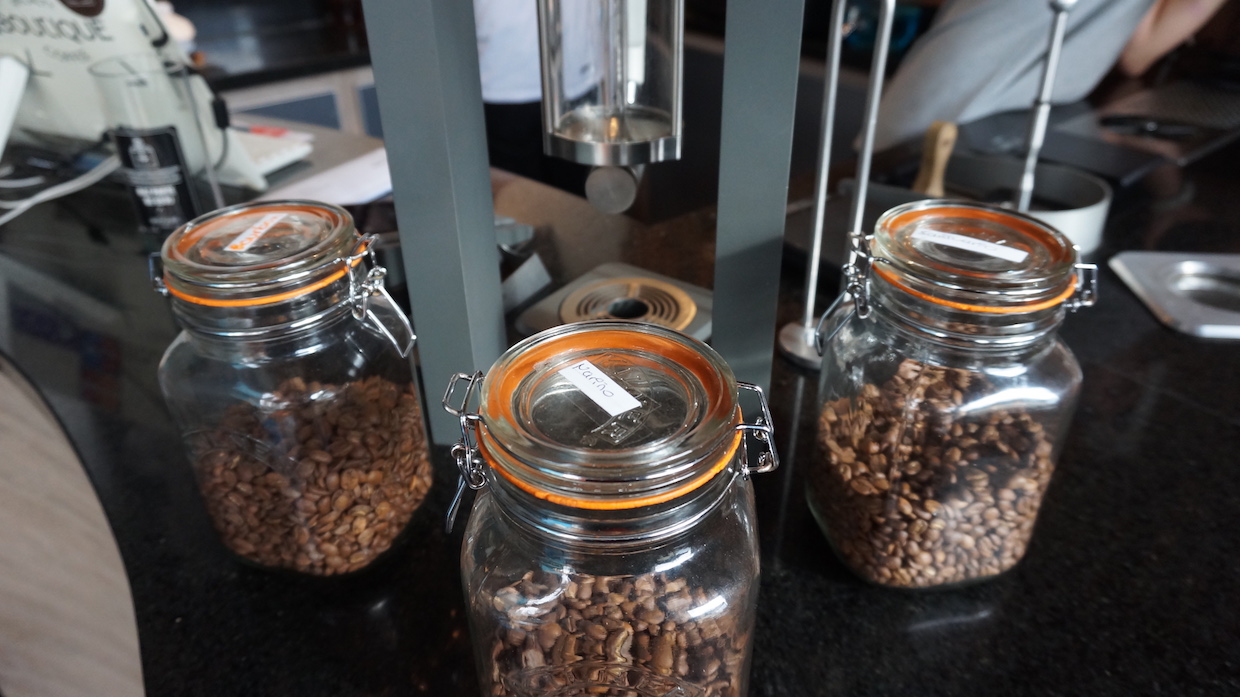 Now approaching four years in business, the cafe is part of a grand vision for the family-owned coffee business, which strives to promote the cultivation and consumption of some of Colombia's finest coffees. 
Restrepo explained how he entered the business at the age of 14 while taking local coffee courses. Later he traveled the United States, where he studied with people like Specialty Coffee Association of America past president Mike Ebert of the coffee consultancy Firedancer. At an age when forging a career was the farthest thing from most teenagers' minds, Restrepo was was working toward roaster certifications.
At Specialty Coffee Boutique, Restrepo takes particular pleasure in his responsibilities as a barista — acting as an ambassador to local specialty coffees and the people who produce them.
"I think that baristas have a lot of responsibility — they are the ones who transmit the final product, the coffee," he said. "People must continue learning the ways to do it, to [actually] arrive at a drink which is balanced, which presents special notes, like let's say floral, or sweet. We are looking for the potential in each one."
In addition to the Steampunk brewer — which serves as a kind of visual showpiece atop the shop's bar despite the fact that it's maker has since gone out of business — guests of the shop can enjoy a range of traditional espresso drinks, plus manual brews on devices such as Chemex, V60, French press and Aeropress.
All the coffee served in the shop is roasted with a gas roaster at the Diamond Group's roastery in Chinchina, Caldas. The team uses only coffees that they consider to be export-ready, specialty-grade coffees, scoring 85 or higher, while roast levels start from the lighter ranges to showcase each coffee's specific traits.
Said Restrepo, "It is our mission is to open the imaginations of our customers and exceed their expectations of what a specialty cup of coffee can be."
Along with numerous other family members, Restropo is planning on expanding the Specialty Coffee Boutique concept to merkets in the United States and Spain, offering a direct connection between consumers on other continents and Colombian specialty coffees.
Specialty Coffee Boutique is located at Calle 65A #23B-145 Barrio Guayacanes in Manizales, Caldas, Colombia. 
Erin Donaldson
A lifelong writer in one form or another, Erin Donaldson has been blogging since moving to Colombia in 2012. Based in Manizales, Caldas, Donaldson aspires to create love and appreciation for local brands, products and entrepreneurial projects of value and quality in the Coffee Axis.