(Editor's note: This is part of a series of interviews featuring women taking part in the inaugural Women in Coffee Project panel discussion next month in New York City. The interviews have been conducted in English and in Spanish by professional coffee roaster Women in Coffee Project Founder Amaris Gutierrez-Ray. For more on Gutierrez-Ray, the WICP and its upcoming events, see the original post in the series.)
Melanie Herrera: The Women in Coffee Project Interview
Amaris Gutierrez-Ray: Hola Melanie! What's your title? How long have you worked in your role? And how did you get into coffee? (This is like a mini mini bio!)
Melanie Herrera: Hi! I have worked at Bella Vista in Antigua Guatemala for over seven years. I started with financial info and logistics for farms and now wear many hats: help with green coffee sales, client relationships, help with internal quality control, chains of small producers, social media and still keep my farm activities going on.
AGR: What are your personal goals for yourself in your career? What about just the immediate goals for the next year now that harvest in Guatemala is dying down? What about 10 years from now?
MH: I bought little land maybe two years ago. This year, with some family we will be able to buy more and my short-term goal is to make it a very productive, high quality coffee plot and also have some avocado trees going on =).  In some time I would love to have a cafe/restaurant outside of Antigua, and keep on growing on coffee production/processing. I also intend to support education with coffee and agriculture as a means to be able to connect with people — to explain why education is key to a country development.
AGR: Tell us about some women who have given you inspiration in your work and your life.
MH: My mom. She is a solid foundation in my life. She is intelligent, hard working, passionate, tolerant and patient. She is slow to speak and eager to listen, and she is so good with empathy. She has always been so good at management and a lot of what I am today is thanks to her. She is as strong as an oak, with a sweet smile all the time.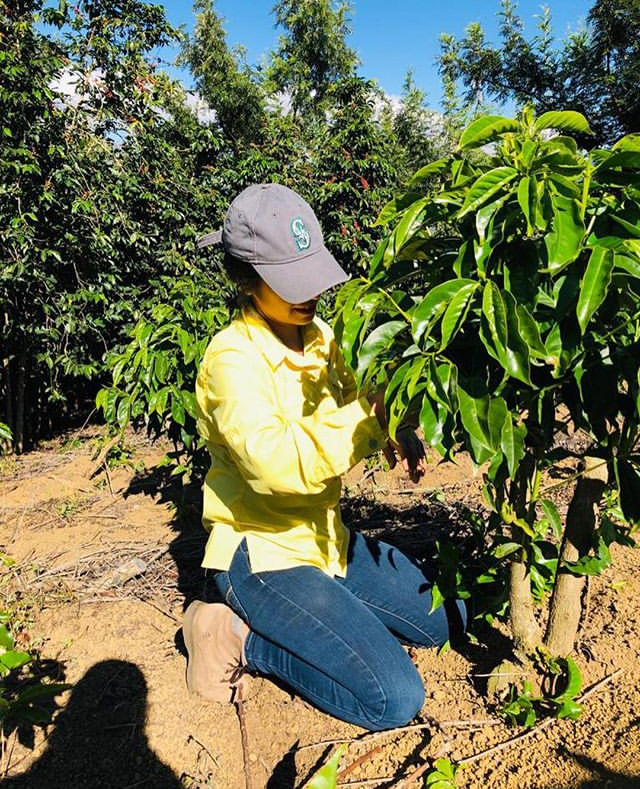 AGR: Have you encountered any obstacles in your work with anyone because of your gender? Did you come up with any personal solutions in those instances, if any? Or, knowing you, did you find a way to speak about them candidly?
MH: Of course I have. But not just for my gender, but for any particular reason. And it becomes so common that you stop realizing about it and wasting time on that. I believe life brings obstacles to make us grow as a person. So take advantage of obstacles, no matter what the origins of them are: Embrace them, beat them, grow while you are there and make sure to help others grow. In life, those who persist get to where they want. Your hard work will always speak louder than anything else, so work hard, with passion, with goals, with direction, with love, and with a purpose. When you do that, sooner or later doors will open, and you will be able to continue your path. Make sure to help and love others while you walk it.
AGR: If someone were to ask you "Why should we talk about women in coffee?" what would you say?
MH: I would say "Why not to talk about women in coffee?" Just like men, children, and others, we add so much to this amazing world of coffee. It is thanks to all collaborators in the industry that we can enjoy this magical drink, and learn about all the history and people behind it. We have women in all the process: small producers, processing, quality control, sales, storytellers, research. What is there not to talk about? So many challenges conquered. Let's hear all there is to tell.
AGR: Since we are looking to build new systems to talk about supporting women in coffee, and you have spent a lot of time doing that, what advice would you give us? If we wanted to do something totally new, should we pay attention to how to do that respectfully? Should we focus on giving help or priority toward education here? What are ways to empower women, or to give them more power in their lives and work?
MH: I am not very familiar with the specific case in the U.S. But here in Guatemala, and maybe in other producing countries, education is key. The fact of having access to education has made my life so very different from many of my women peers. I am so aware of how blessed and lucky I have been with education. And that is why I am committed to facilitating education to the best of my abilities — but not just for women, for whoever wants to use the opportunity given. For our countries I think education is key, self-esteem is important, [and] a program of mentoring would be really nice. The more exposure you have to other activities outside of what is familiar helps you grow and expand your vision for options in life. It helps to also consider new options when deciding what to do in life. Education just broadens your vision, and you meet so many inspiring people doing different things that it allows you to dream. And if you can envision it in your dreams and mind, you can make it come true. So in summary: education, mentoring programs, programs of rural development and internships in different areas for exposure.
AGR: If you could go tomorrow to another coffee-producing country to see something, what country would it be and why?
MH: I would love to go anywhere in Africa — maybe Ethiopia where all started. I have heard many amazing stories of challenges that people face there to produce and export coffee. I would love to go and experience coffee there. And I really love that coffee, but [it is] second place after Antigua Coffee =)
AGR: We know you have spent a considerable amount of time and energy on building a strong team. Could you tell us more about that work? How do you all work together and how do you give them support? How do you function as an organization of people, both within and apart from the harvest times?
MH: I guess we have a really great leader. Luis Pedro Zelaya (my boss) is a pretty cool guy — well-hearted, a business man with a big heart. So we have a good leader to learn from. If you pay closer attention, you can not only learn from coffee and business but also how to approach difficulties with empathy towards others. As a team, we have learned to solve conflict with each other in a positive way. Respect and tolerance are key. And to understand that no one is more important than other, that we all contribute significantly to make this team work.
AGR: What's the first thing you want to eat when you get to New York? Bagels? Pizza? European cheese?
MH: Sourdough bread. I have heard so  much about it that I really want to try it. And bagels, and cheese, and beer hahaha!
Amaris Gutierrez-Ray
Amaris Gutierrez-Ray is the Roasting Operations Manager for Joe Coffee Company in New York City. She is also the founder of the Northeast Roaster Forum and the Women in Coffee Project. A lover of stories and the people that tell them, she has always been interested primarily in the culture and communities of this world in coffee.