Fourth Dimension Coffee Company, a specialty coffee roasting outfit started by Bryan Weaver and Brad Petrinec in Pontiac, Michigan, has opened its first cafe, bringing new life to the suburban Detroit city.
Like many Michigan communities that were built upon the automotive manufacturing economy, Pontiac has fallen on some rough times over the years. The namesake of the now-discontinued General Motors Pontiac car brand, the city has also suffered from the loss of the Pontiac Silverdome, former home of the Detroit Pistons and Detroit Lions. In 2009, state-appointed emergency managers were called upon to handle the millions of dollars of debt Pontiac had accrued, as thousands of residents and dozens of businesses moved away.
Weaver and Petrinec grew up through these harsh economic times, and now they aspire to put their own positive mark on the place they continue to call home, in the best way they know how: offering delicious and affordable coffee to their neighbors.
Weaver, who initially founded Fourth Dimension in 2016, is a former truck driver who still operates a logistics company part-time. He first got the idea about opening a coffee roastery years ago while out on the road.
"If I was going from here [Pontiac] to New York City, I would look on the map and see where I could find something decent," Weaver told Daily Coffee News. "And I found this place one time that had a siphon brewer and it was the best cup of coffee I've ever had."
After several years of research and thousands of dollars invested in roasted beans and home brewing equipment, Weaver decided to get into roasting. Three years ago, he purchased an Ambex YM-2 roaster and installed it in his basement.
"The first roast I did I left the hopper open and it filled my entire house with smoke," Weaver said. "The smoke alarms went off and my wife nearly killed me, but still the batches were pretty good — and after a lot of trial and error they started to get even better."
From the start, Weaver took copious notes of his roasts. He remains self-taught, learning from books, blogs, forums, and trial and error — using Artisan roaster software while relying most heavily on his senses for quality analysis and improvement.
Weaver eventually formalized a business plan and enlisted Petrinec — a former art director at a marketing firm — to become a partner. Petrinec created the creative graphics for the brand and packaging, designed the website, and captured all the photography for the website and social media.
That branding is carried through fastidiously in the delightfully not-Third-Wave-cookie-cutter cafe, which Weaver and Petrinec proudly promote as unique to their home city.
"We had a few opportunities open up for us to open a shop in Detroit or in the suburbs, but we chose Pontiac. We wanted to be in Pontiac," Weaver said, "and we wouldn't have done it any other way."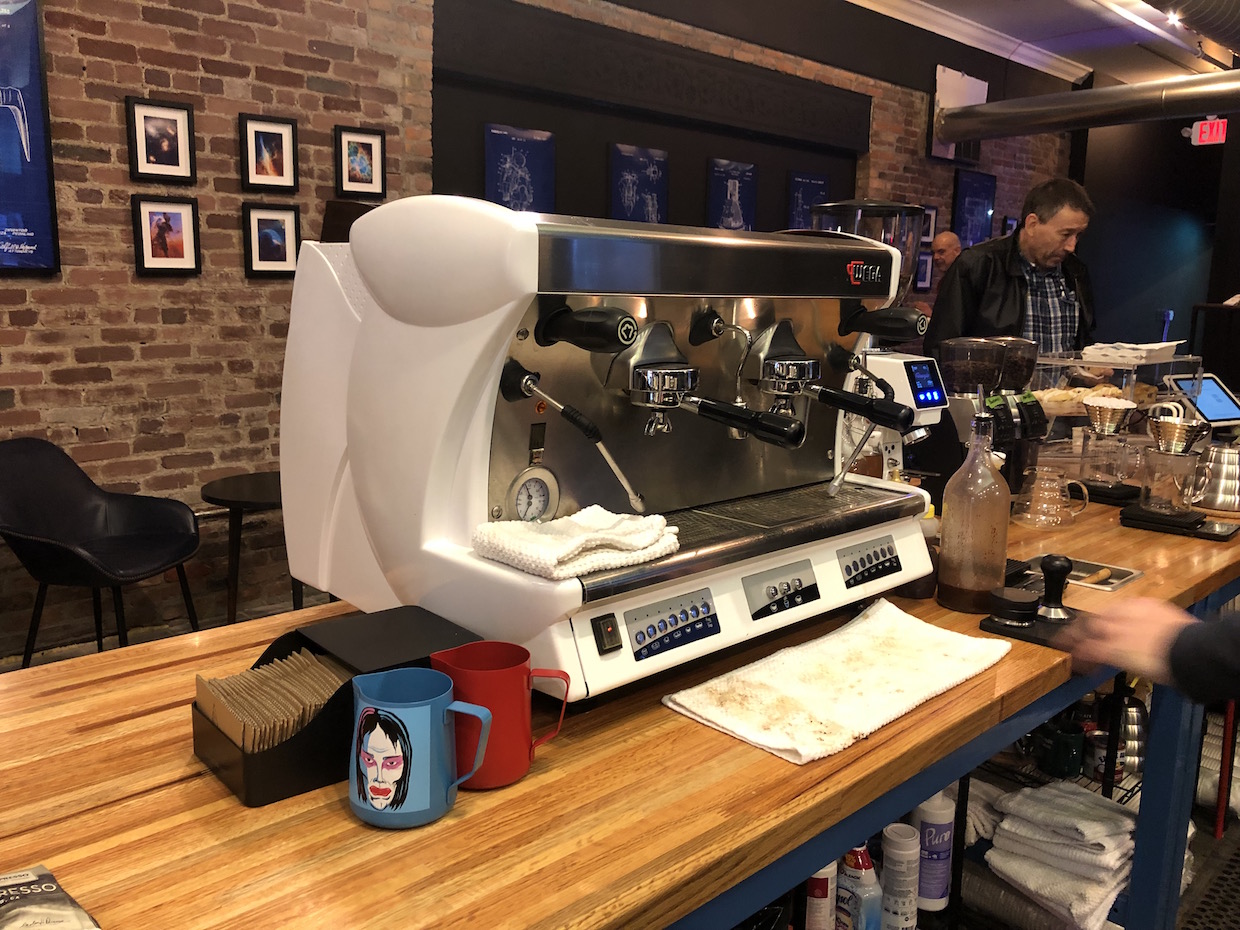 Petrinec nodded in agreement while pulling a shot of FD's Ethiopian Guji, labeled the Guji Mane. Weaver has recently been sourcing beans from importers Bodhi Leaf and Cafe Imports' La Bodega, while also working with a few regional importers in Michigan.
The shop boasts a rotating menu of single-origin offerings, as well as some mainstay blends. Examples include the Guji Mane, a washed Ethiopian from Uraga, Guji, and the Nicaraguan Limoncello, from Yasica Norte, Matagalpa, named after the unusual growth of lemon trees that were originally found on the farms there. There are gluten-free cupcakes in the pastry case made by Weaver's wife, and donuts while daily supplies last. Local milk comes from Crooked Creek Farms, while syrups are made in-house.
Inside the cafe, the back wall is decorated with photos of stars and galaxy clusters captured by the Hubble Space Telescope, along with large, framed blueprints of antique coffee brewing equipment and retro space-flight modules. Opposite is a custom made, wood espresso bar with a Wega espresso machine. Weaver and Petrinec opted for the Wega semi-automatic machine because it's what they're both familiar with, but insisted that a manually operated lever machine is in Fourth Dimension's stars.
Next to the Wega is the drip station, and behind the bar sits a Curtis batch brewer next to a hot water tower, and a mini-fridge that houses cold beverages with room for a future cold brew sales. Above the bar are ornately decorated shelves supporting various pieces of coffee brewing equipment.
The Ambex roaster is positioned discreetly in the back corner, with the exhaust running directly out of the back, where customers can observe production roasting during business hours. From within the welcoming space, Weaver and Petrinec hope to inspire additional cafes and roasteries to open in Pontiac, and in the surrounding towns.
"We hope to build the coffee community here," Weaver said. "We don't want to build competition, we want to work together with other companies in the area." 
Fourth Dimension Coffee Company is located on the first floor of the 7 N Saginaw building next to Exferimentation Brewing and Fillmore 13 Brewery in Pontiac, Michigan. 
Craig Batory
Craig Batory is a writer, marketer and coffee professional working and living in Detroit.