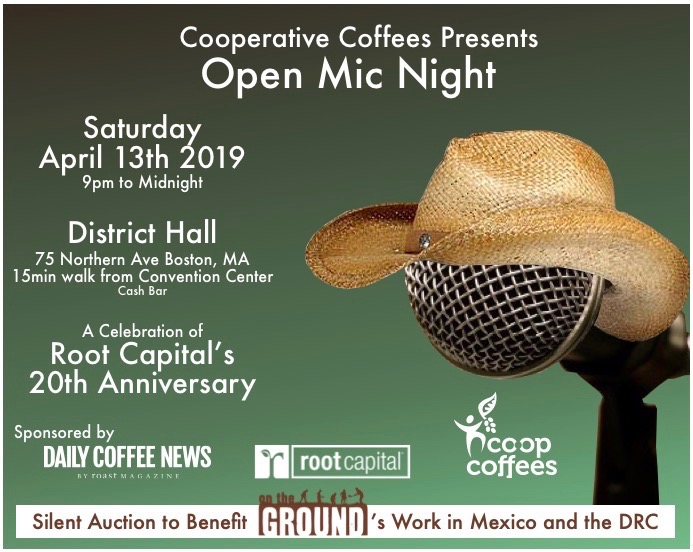 Among the many kaffeeklatsches, soirees and fêtes surrounding the Specialty Coffee Association's annual global coffee expo, the Cooperative Coffees Open Mic Night deserves a bright spotlight all its own.
Coming to Boston this week for a triumphant third year, the Open Mic taps into an incredible wealth of musical talent from coffee people throughout the world.
Daily Coffee News is proud once again to be among the sponsors for the Open Mic, which takes place this year on Saturday, April 13, from 9 p.m. to midnight at District Hall, a short walk from the Boston Convention & Exposition Center. While a silent auction will benefit the coffee sustainability nonprofit On the Ground, this year's event is also a celebration of financing nonprofit Root Capital's 20th anniversary. (Dollars to donuts you'll see Root Capital Founder Willy Foote among this year's performers.)
We checked in with Cooperative Coffees GM and Open Mic organizer Ed Canty — an accomplished musician in his own right — to learn more about what's in store this year. (For more, check out the Facebook event, or just come on by!)
Who is invited to play? How can people interested in playing participate? What are the limitations or expectations for potential performers?
If you can play a song from start to finish, we would love to have you.  If you are only a singer, please email me ahead of time to make sure we learn the songs. We will have tons of musicians and instruments at the event to help you build a backing band, if you want. Solo performers get three songs. Come as a group and I can fit in some more time for you.
General rule of thumb is to keep the songs pretty simple if you have other musicians joining you. No more than two or three sections to a song and no 20 chord rock operas. Come early to get your name on the list or even better, send me an email to reserve a spot.
How would you describe the event to a first-timer? What's the vibe like?
Casual, festive, fun, and a great place to connect with people from the industry. You will be hearing bluegrass, folk, latin, hiphop, jazz, and of course some heavier rock. The space is large, with areas that allow you to get away from loud musical acts, if that concerns you. However I'm sure attendees will be pleasantly surprised to see who takes that stage. We will be posting more information about performers on our facebook page, as well as posting to #scaopenmic
What was the impetus for the original open mic? How did it all come together?
So I have been hosting open mics since I was 16. I love bringing a community of people together to make and be entertained by music.  There are always a few surprise performances, it is a great place for people to share more about themselves, and for some it is a great first step in being more comfortable playing in front of an audience.
About 5 years ago I realized I was keeping my music life very separate from my professional coffee life and I wanted to change that.  I knew there were great musicians in the coffee industry, but we lacked a way to come together in a social way. So at the 2015 SCA show in Seattle, with the help of Root Capital's resident singer/songwriter Willy Foote and Seattle local mandolin player and Atlas Coffee Importer's buyer Chris Davidson, we rented a bands worth of music equipment, booked the stage at a small Seattle bar, and invited anyone attending the SCA show we could think of.  I'm not going to lie, the music was a little unorganized that night. But we got a great crowd and I was amazed to hear the talent of coffee folks I had known for years.
That next year I started working at Cooperative Coffees and pitched the idea of hosting an SCA Open Mic Night to benefit a nonprofit. There is some great talent in this organization. Our staff are involved in two different bands in Montreal. Member Matt Earley of Just Coffee has a band or two he is involved in. Even our Cooperative Coffees' founder Bill Harris has been known to take the stage from time to time with his harmonica. And there are many more musicians in our midst. So I found just the organization crazy enough to say yes to the idea.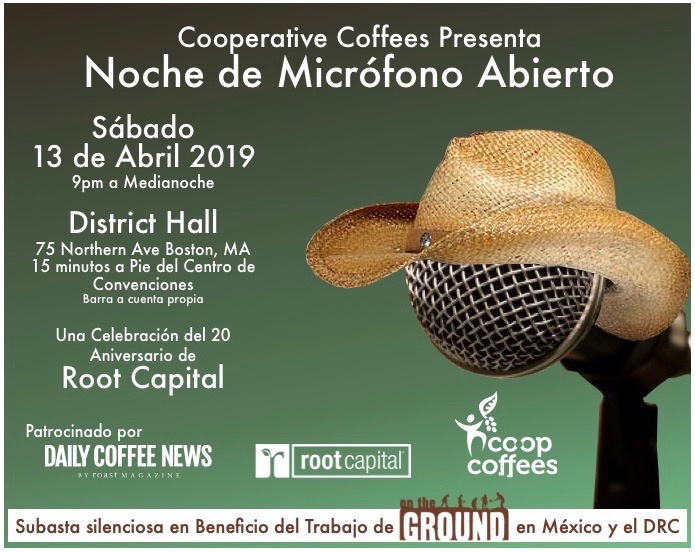 I'm not entirely sure you could pull something like this off at a conference for, say, medical insurance salespeople or polymer scientists. Is there anything you can say about the connection between coffee and music? What might be some of the cultural connections?
On a Peruvian farm I was once told guitar players make better coffee pickers. We are more dexterous to pick the ripe coffee fruit. So I do believe there is definitely a larger percentage of guitar players in the coffee-producing communities we work with (shameless plug).
In all sincerity, good music is about finding your tribe. People don't leave our industry. Their passion for quality coffee and equitable trade keep them working in the same circles on the same issues. My take is this creates more community in our industry than others. From 'Cumbia Cafetalera' to 'Back in Black', these songs unite us because of our shared community.
Can you expand upon the donation component? Perhaps a brief overview of OTG's work? Why is this a benefit at all?
To begin with, the event is a gathering of Cooperative Coffees' community of roasters, producers, and allies with an open invite for SCA members to join us. This year it is also a celebration of Root Capital's 20th anniversary and the great work they do in raising social capital and building rural prosperity.
Since we are bringing together all this industry talent, we thought it was a great place to raise money for projects in the coffeelands. On The Ground is a nonprofit run by Cooperative Coffees' roaster/member Chris Treter. They empower coffee communities through gender and social equity, environmental sustainability, and economic security.  Specifically On The Ground works in our supply chain supporting agro-ecology field schools in Chiapas and gender equity programs in the DRC. All proceeds from our silent auctions go to On The Ground's work.
Are you planning on performing? Who are you excited to see perform? What have been some standouts in past years?
I'm always ready to sing a few songs. I'm also available to help join in on guitar, bass, or percussion as needed. However, most of the night I'm pretty busy making sure everyone gets some stage time. We normally get quite a few walk-ins. Rest assured, there are many other great musicians there as well as a hired bluegrass band to help back performers.
We had so many great performances last year it is really hard to choose just one I'm looking forward to. Peter Giuliano from SCA always arrives with some new songs to play. Last year I was really surprised by Felix Camposeco from ACODIHUE who is clearly a professional entertainer. The smoking guitar work of Juan Sebastian from producer group ANEI in northern Colombia is always a pleasure. However, I also know a few folks who have been practicing up for this years shows and I'm excited to see what they have come up with. I have it on good authority that you, Nick, are a prolific singer/songwriter. Any chance we can get you on stage this year?
(Editor's note: Daily Coffee News does not necessarily support these views nor the above use of the word "prolific.")
Overall what I'm really hopeful to see this year is more female performers.  We have had a few great female talents in the past. However the stage has been predominantly occupied by male performances.  I'm motivated to change this and open to ideas to encourage the women in our industry to take the stage.
Nick Brown
Nick Brown is the editor of Daily Coffee News by Roast Magazine.