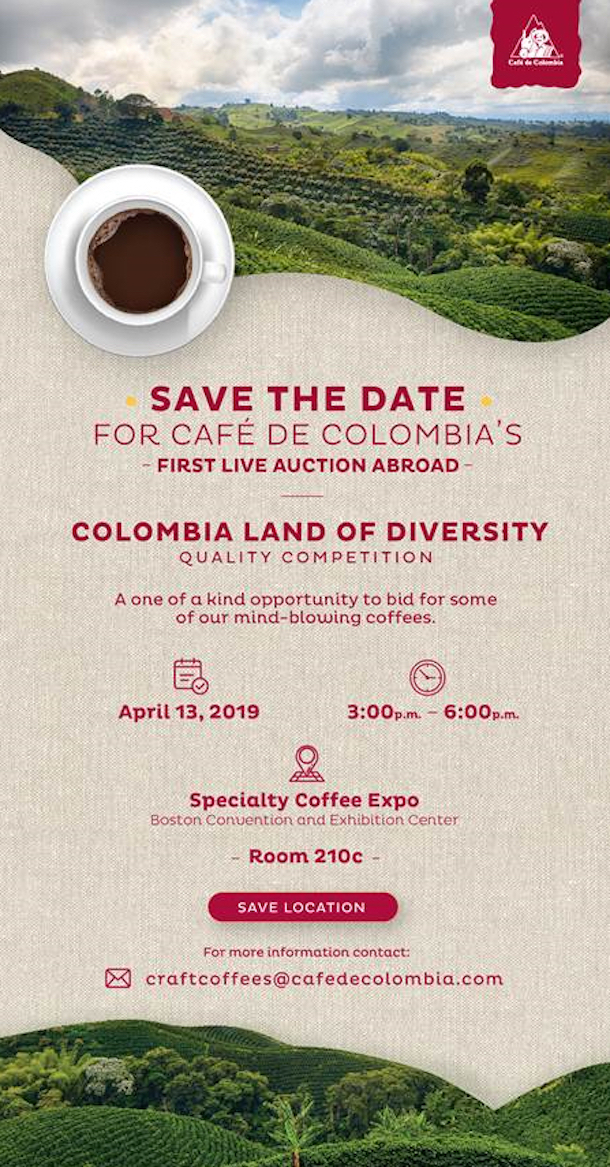 Some of Colombia's finest coffees are heading to a live auction in conjunction with the Specialty Coffee Association Expo taking place this week in Boston.
Starting at 3 p.m. on Saturday, April 13, in Room 210c of the Boston Convention Center, the auction presents a rare opportunity for buyers interested in high-quality, traceable Colombian microlots, as this is the first year that the auction for Colombia's "Land of Diversity" program auction has taken place on U.S. soil.
The Land of Diversity program, launched in 2016, is led by the Colombian Coffee Grower's Federation (FNC), and is designed to encourage individual farmers to submit their highest-quality samples for rigorous judging. The larger goal is to honor farms, discover the cutting edge in coffee farming and processing, and celebrate the wide diversity of Colombian coffees and growing regions in terms of varieties, processing methods and cup profiles.
Of course, access to premium markets is a major component, too — thus, the auction. Potential buyers for Saturday's auction must be in attendance in the auction room to place bids. Numerous green coffee trading companies, including Theta Ridge Coffee, Coffeebythebag and Trabocca have held U.S. regional cuppings leading up to the FNC-run auction in Boston.
"I cupped them all over three days, and they were phenomenal," Theta Ridge President Kevin Kuyers told DCN, referring to the 23 winning coffee lots heading to auction.
The FNC recently celebrated the winners of the Land of Diversity competition at an awards ceremony in Santa Marta, Magdalena. Among the 47 winning coffees, the growing regions of Caldas, Antioquia, Cauca and Tolima were all well represented, the FNC said.
Prior to Saturday's auction in Boston, potential buyers will have the opportunity to taste the 23 auction lots at cupping sessions at the Café de Colombia/FNC booth (709) inside the Boston Convention Center Expo hall. Cuppings are taking place:
Friday, April 12, from noon to 1 p.m.
Friday, April 12, from 3:15 to 4:15 p.m.
Saturday, April 13, from noon to 1 p.m.
Buyers interested in Saturday's auction at 3 p.m. in Room 210c can register here.
Nick Brown
Nick Brown is the editor of Daily Coffee News by Roast Magazine.