Rochester, New York-based consumer coffee equipment seller Whole Latte Love has collaborated with German espresso machine manufacturer Profitec to develop a flow control modification to the classic E61 grouphead design.
The resulting modification kit, called the Flow Control Device (FCD), is available now to new and existing Whole Latte Love machine-buying customers. The kit consists of a manually adjustable needle valve that mounts into the top of the E61 group, and a gauge for displaying water pressure inside the brew chamber.
The two companies have started with a kit specifically for the E61 group found on the Profitec Pro 700 model machine. A kit matching the aesthetics of the ECM Synchronika machine will come next — ECM shares a factory and is a sister company of Profitec. Yet the relevance of the new product extends far and wide, as the E61 group originally patented by Earnesto Valente in 1961 remains virtually unchanged and continues to be in use by a wide variety of consumer and commercial espresso machines today.
To adjust the flow of water that reaches the coffee after activating the pump, users manually turn a lever at the top of the group to open or close the valve, watching the pressure gauge for feedback. Users will be able to use the lever to throttle the flow from zero up to the full flow of a standard E61 group without any adjustment to pump pressure.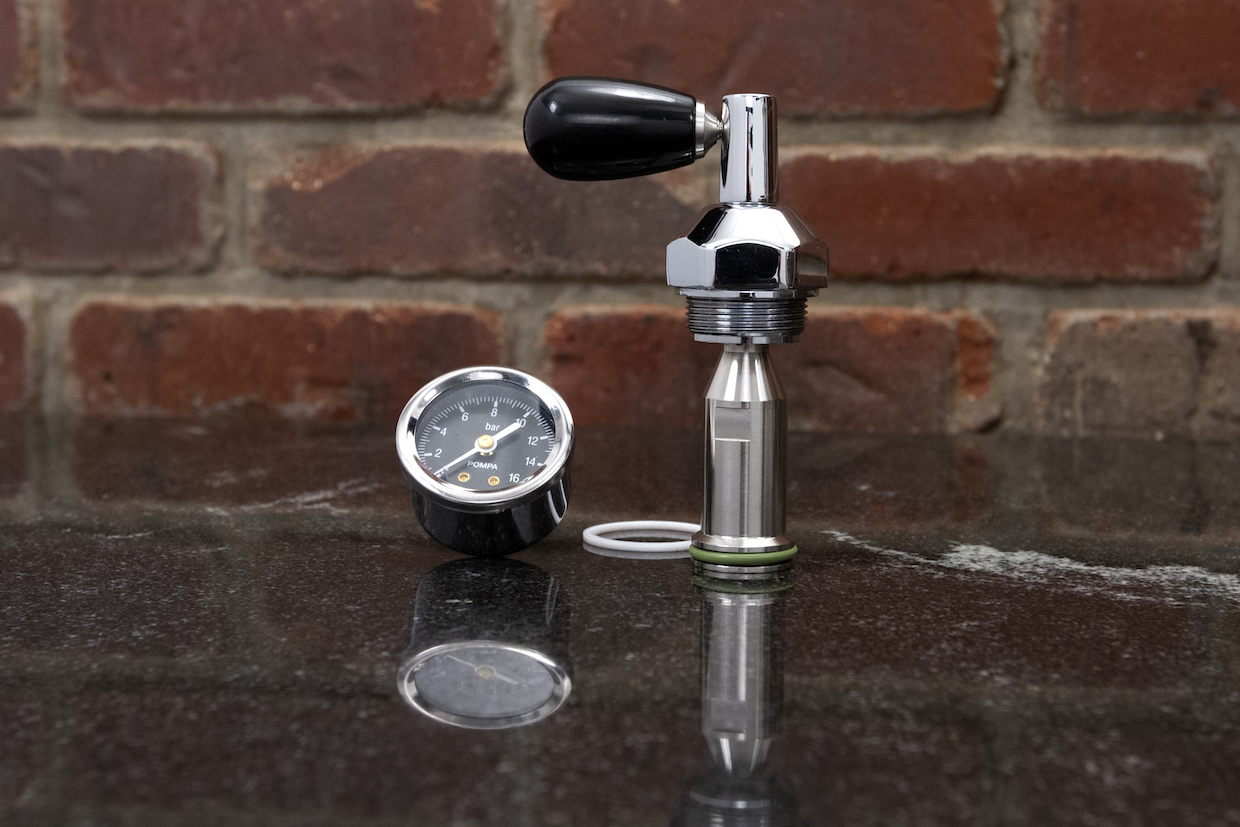 The pressure reading on the gauge reflects the resistance put forth by the coffee bed, which is affected by preparation factors including grind, dose and tamp, and will naturally diminish as the extraction proceeds under a steady flow. Yet once a shot is initiated, a growing consensus among industry professionals is that the flow becomes the only useful variable potentially controllable in real time.
For this reason, flow control has been the focus of multiple advancements in professional and prosumer equipment in recent years. One of the original Slayer Espresso machine design's principle innovations in 2007 was its needle-valve-based flow control mechanism; the La Marzocco GS3 MP features a mechanical paddle controlling flow through the group; Dalla Corte introduced "Digital Flow Regulation" with its prosumer Mina machine in 2015; and this year the Duvall FC1 presents an entirely new commercial espresso machine design with flow control as its central focus.
All of the above, however, have always been either too expensive or too complex a solution to grapple with for the average consumer, or even for many startup coffee businesses. Whole Latte Love presents its FCD is as a simple, analog, mechanical solution available as an add-on or a standalone upgrade for a couple hundred dollars, featuring straightforward operation that lays plain how it works and its value as a tool.
"I am kind of old school about a lot of things," Whole Latte Love Vice President of Sales and Product Development Todd Salzman told Daily Coffee News. "I grew up fixing, installing and designing HVAC systems for home and small businesses. I started working with my father at around 1975 while in high school. So I have seen the change from low tech to high tech equipment, and have lived through all the issues the new equipment and products had. I am living through the same thing now."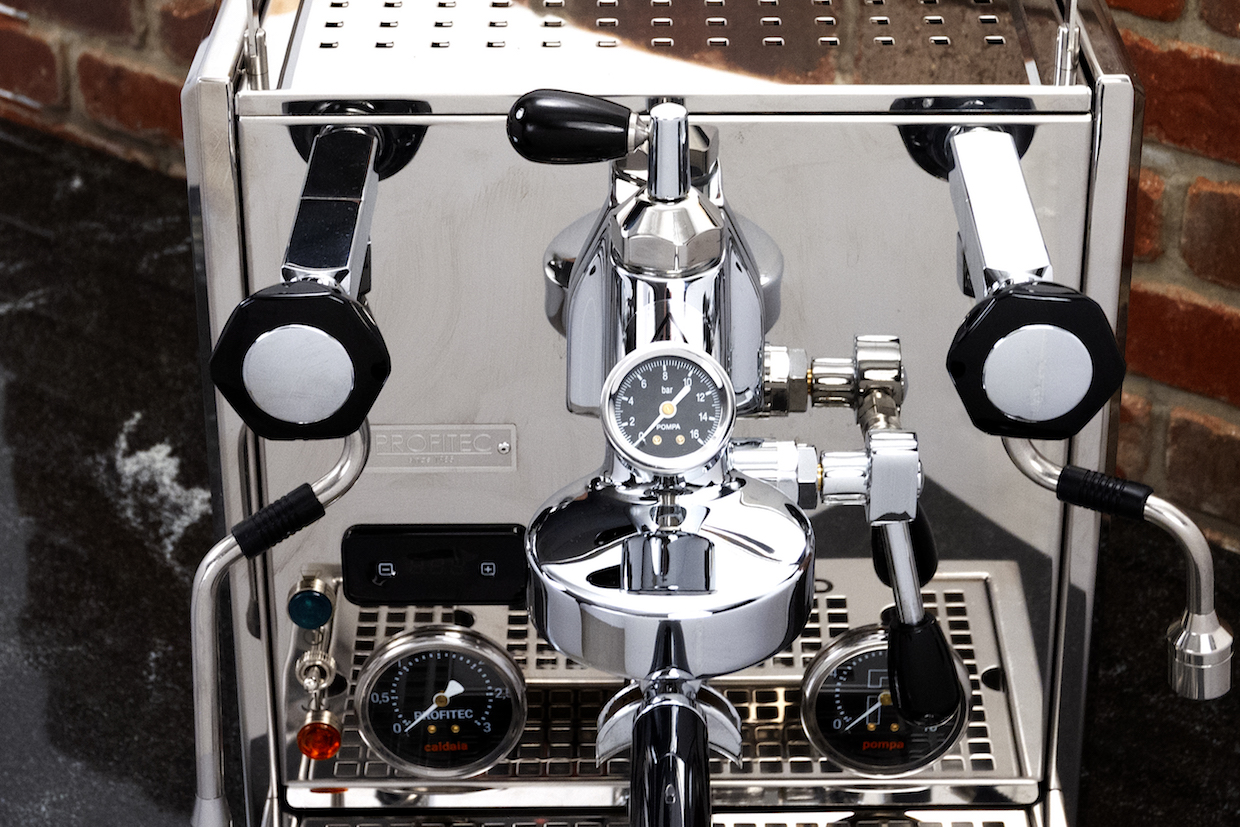 Without naming manufacturers, Salzman said the multitude of problems Whole Latte Love finds that are caused by complex mechanical and digital electronic designs lead the retailer to bench test every prosumer unit prior to sale.
"So in my mind, a 'keep it simple' method is nine times out of 10 the best," said Salzman. "Even if you have to give up a little in features it pays back in reliability and the hands-on feel. In many cases it's really nice to keep the barista's hand on the wheel."
Profitec/ECM CEO Michael Hauck also told DCN he appreciates the wisdom and efficiency of older designs. The E61 grouphead is a strong example.
While most newer professional machines opt for a "saturated" group, the E61 remains popular for its inherently extended "passive" preinfusion feature. The potential for further flow mitigation has also always been an option with the E61, despite not having been fully exploited until now.
"The Faema E61 was only designed in my opinion to increase the time frame of the pre-infusion and not to deal with it during extraction," Hauck told DCN. "We collect old espresso machines and are interested in the technology involved. We love to open machines to see how much engineering went into these products. Trends, I think, repeat in cycles and then forgotten technology comes back around again. Take for example Faema and The Robot Cafelat."
The FCD is made primarily from corrosion-resistant stainless steel and will require minimal maintenance when used with filtered water, Salzman said. The device will fit onto most but not necessarily all E61 groups due to slight variations in E61 manufacturing over the years, according to Hauck.
Hauck will personally be pulling shots with a FCD-equipped ECM Synchronika machine in public this weekend at the SCA Expo in Boston, at the booth of Brazilian direct trade green coffee company Our Coffees, booth 311. As the product of an exclusive collaboration between teams at Whole Latte Love and Profitec/ECM, Hauck said the FCD will only be distributed in the U.S. through Whole Latte Love for the first 12 months.
Said Hauck, "At a later stage we will be making it available to the wider market."
Howard Bryman
Howard Bryman is the associate editor of Daily Coffee News by Roast Magazine. He is based in Portland, Oregon.