Roasting may not happen on site or literally next door to the new Roanoke, Virginia, multiroaster cafe Roasters Next Door, but the coffees served don't have far to travel from drum to hopper.
The Roasters Next Door house beans come by way of Floyd, Virginia-based Red Rooster Coffee, and additional offerings have so far been provided by Ironclad Coffee Roasters and Lamplighter Coffee, both of which happen to be based in RND Co-Founder Steffon Randolph's hometown of Richmond, Virginia.
"Even when we start roasting in house here soon, we'll still carry Red Rooster and a few other folks too," Randolph told Daily Coffee News, noting Lexington Coffee Roasters, located just a few miles up I-81, as another roasting company boasting impressive quality.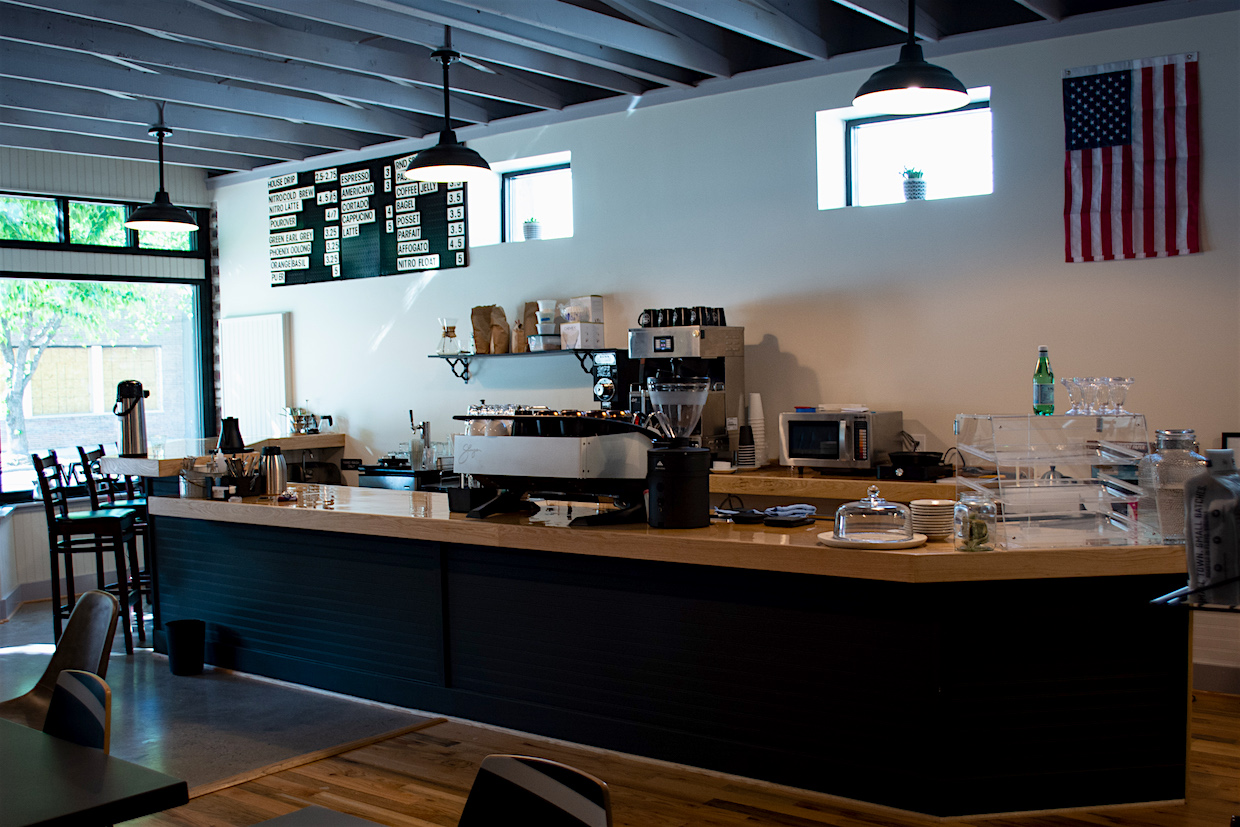 Apart from proximity to fresh ingredients, the name in its abbreviated form (RND) also alludes to the shop's spirit of learning and experimenting with new methods and recipes — its research and development, or R&D, so to speak. This spirit is alive at the coffee bar equipped with a Slayer EP espresso machine, a Curtis Gemini 1.5-liter dual brewer, and kegerators dispensing nitro coffee, teas and lattes. It's also alive in the back of the house, in a kitchen under the direction of Randolph's brother Quincy.
"I'm really appreciative of my brother leaving his career in Chicago to move here and help me out," Randolph said of Quincy, who was previously a line cook under James Beard award-winning Chef Paul Kahan at Chicago's Blackbird restaurant.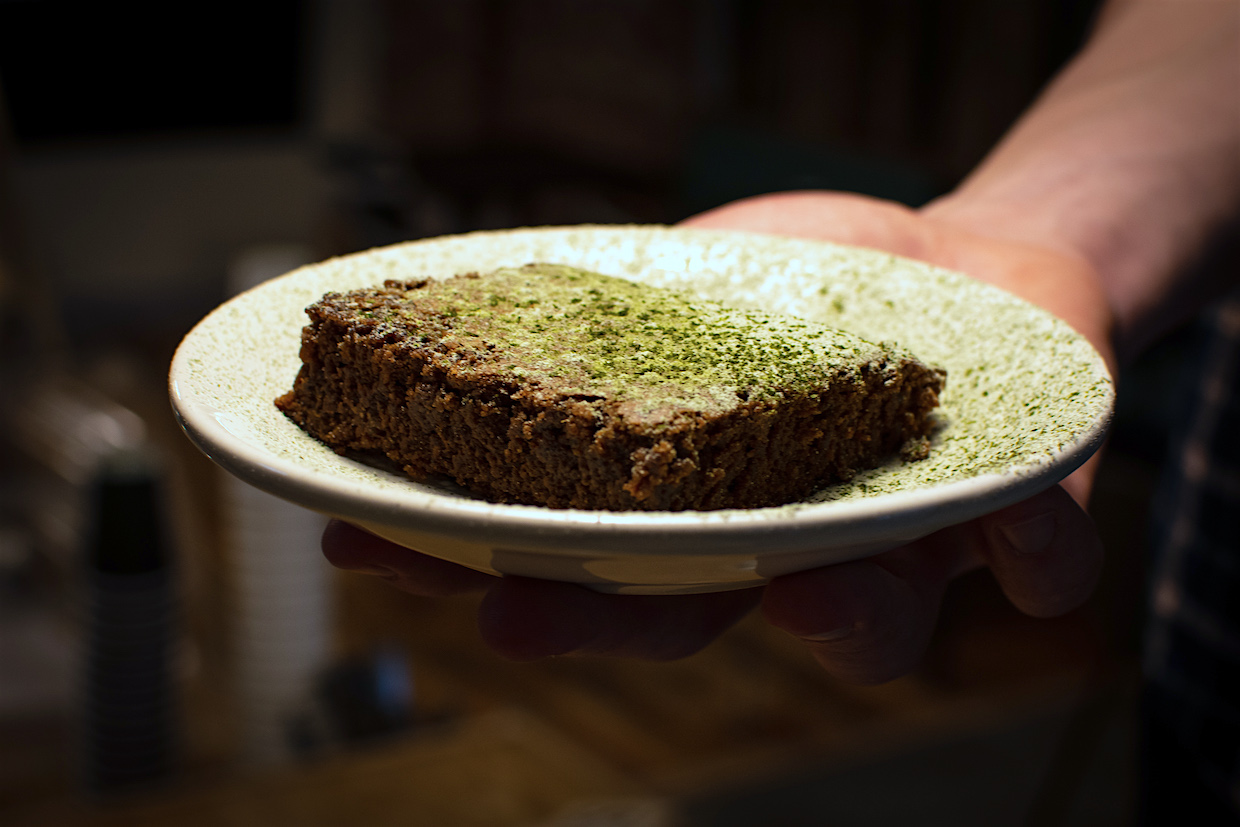 For RND, Quincy Randolph balances classics like scratch-made banana bread with more unconventional fare like a seaweed brownie that's baked with kombu water and topped with toasted nori and powdered sugar. His input lead to the creation of a honey latte infused with lemon zest on tap, and coffee jelly is another Quincy brainchild that steals the show at RND.
"It is probably our most inquired-about menu item," Randolph said. "[Quincy] has studied various aspects of Japanese cuisine, and in Japan, coffee jelly is a common way to consume coffee, not as a replacement for drinking coffee but alongside the brewed beverage or with a meal."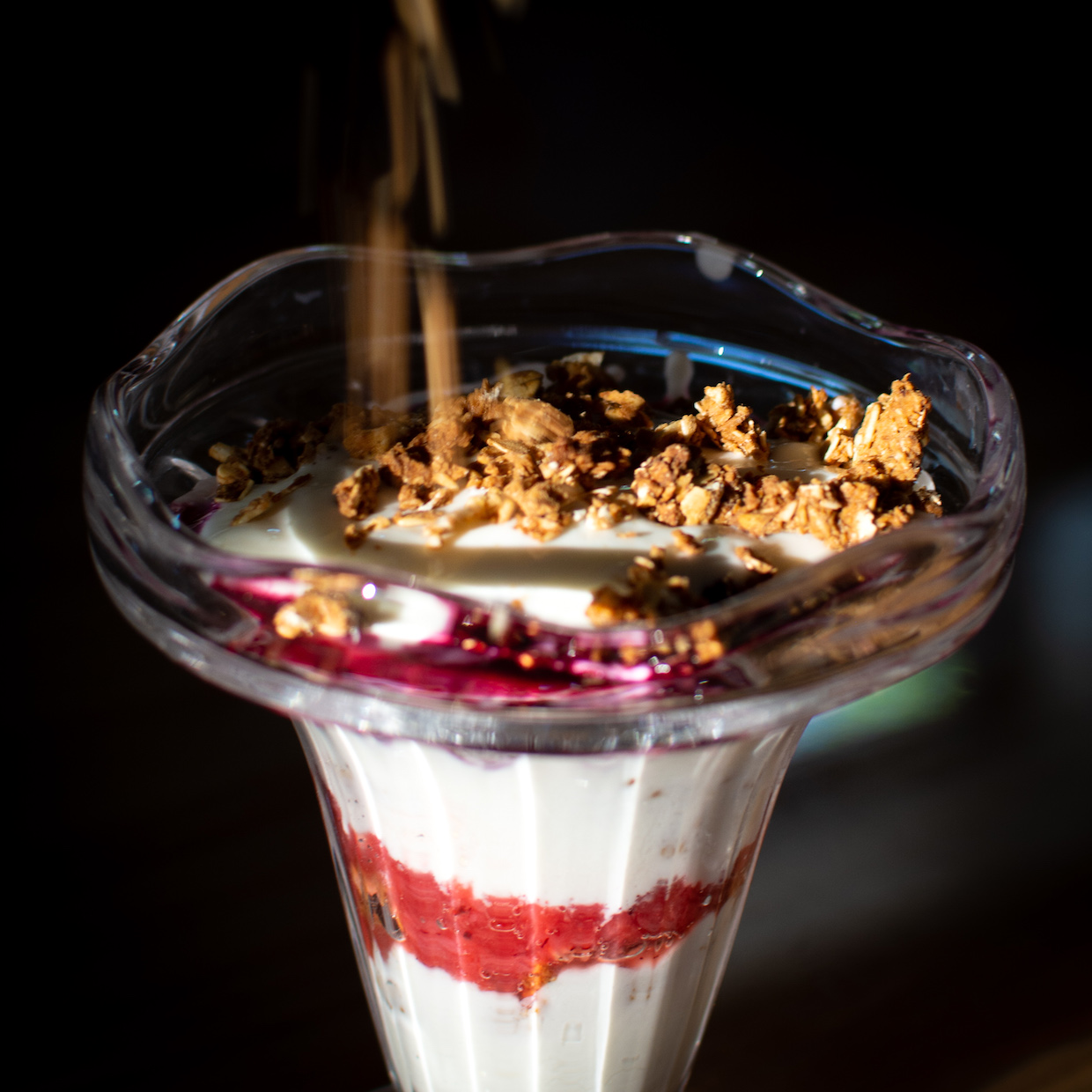 The coffee jelly at RND consists of brewed coffee semi-set with gelatin in a Gibraltar glass, lightly sweetened and served cubed with a splash of half and half and a drizzle of sweetened condensed milk.
Patrons in the 2,000-square-foot establishment can enjoy these gastronomic feats in an environment that similarly balances old Virginia charm with specialty coffee modernity. Hairpin-legged lounge chairs, abstract artwork and a leather couch are accented by sleek matte black Fellow Joey mugs and other equipment, while exposed brick and century-old reclaimed Virginia barnwood walls add a sense of rustic history.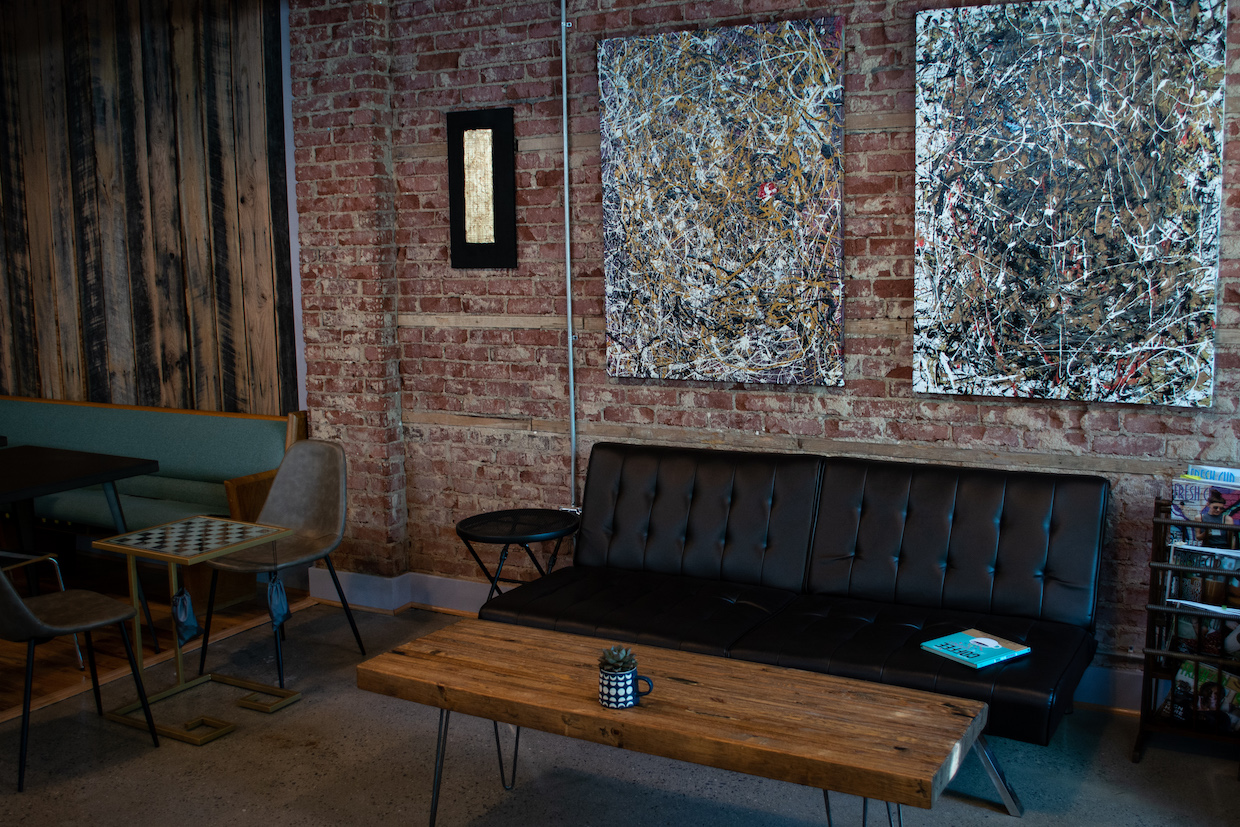 When the time is right to pursue an in-house roasting program, Steffon Randolph said he is drawn to Stronghold machines both for their efficient technology and their verticality. In the meantime, RND may arrange a pop-up dinner series to showcase Quincy's culinary ambitions and celebrate the wealth of local ingredients and talent in Roanoke.
"I know [Quincy] would really love to have his own restaurant," said Randolph, whose brother currently bakes for RND in an off-site shared commercial kitchen. "We're working on collaborating with some local venues and chefs to have multi-course dinner pop-ups that people can attend, and use that as a showcase of his food style and creativity, and hopefully bring in a different type of food to Roanoke that people can enjoy."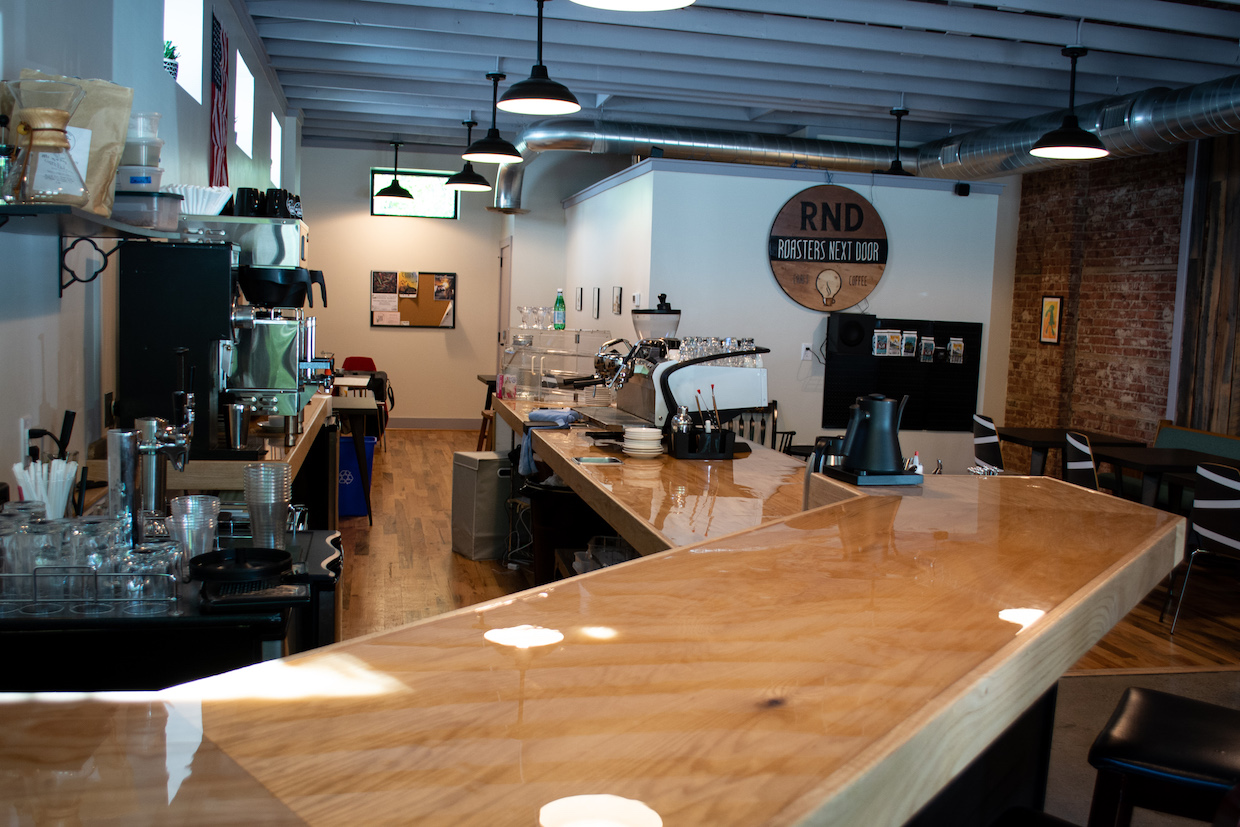 Roasters Next Door is open now at 1114 Main Street in Roanoke.
Howard Bryman
Howard Bryman is the associate editor of Daily Coffee News by Roast Magazine. He is based in Portland, Oregon.