A new coffee venture called Vertex Coffee Roasters is helping take coffee in Ann Arbor, Michigan, to new highs, offering fresh local roasts, experimental coffee flights, flash-chilled cold brew and gluten-free pastries.
Vertex Co-Owner Matt Bjurman will be overseeing the roasting and flash-chilled brew operations while continuing to maintain his first cafe just south of Ann Arbor, Milan Coffee Works, which will act as a sister cafe to Vertex. MCW's flash-chilled coffee brand called Wow & Flutter will be sold at the new store.
The other partner in the venture, Kara Huckabone, will be managing the cafe's day-to-day operations while overseeing barista training, wholesale operations and community wellness.
Huckabone most recently competed in the 2019 U.S. Barista Championship circuit, while also representing Milan Coffee Works at the inaugural Glitter Cat Barista Bootcamp in Philadelphia.
Huckabone and Bjurman decided on the name Vertex for a variety of reasons, one being that the cafe is a vertex, a point, at which people are encouraged to gather. The cafe sits at the end of the commercial section of South University Ave. just southeast of the University of Michigan's main campus near the intersection of Washtenaw Ave.
The cafe space, previously occupied by an outlet of Ann Arbor's Mighty Good Coffee, came outfitted with the coffee-service-ready plumbing and infrastructure. It has been slightly remodeled to allow more natural lighting, and newly installed shelves make room for plants, artwork and retail products. Huckabone intends to install a lending library for books, board games and art materials, while also dedicating a section of the cafe to customers will small children and infants.
For brewing, Huckabone and Bjurman are using a 2-group La Marzocco Linea espresso machine complemented by two Mahlkönig K30 grinders. A Fetco batch brewer sits alongside a variety of manual brewers, including Aeropress, Chemex, Clever and Hario V60. A rotating espresso blend and an array of single-origin coffees will be offered based on availability.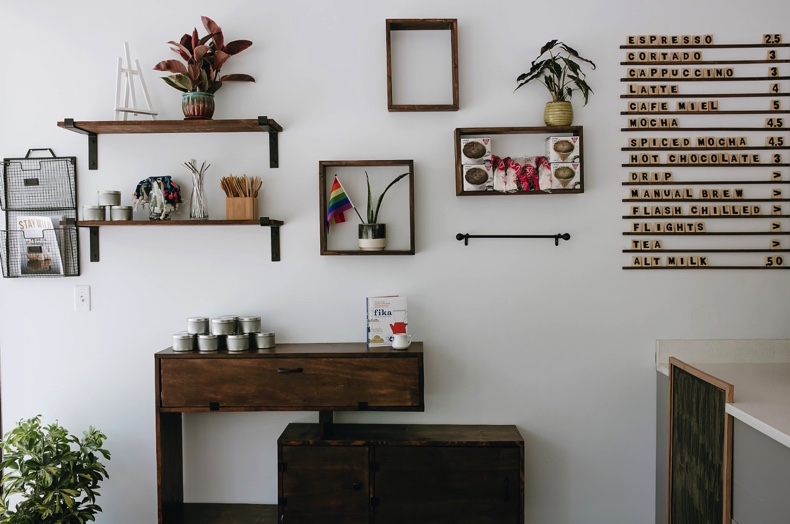 A particularly intriguing menu item is the Coffee Flight, which might include any number of coffees brewed in any number of ways, and sometimes mixed with other ingredients. One flight may offer samples of all single-origin coffees brewed on different manual brewers, or flights may follow a culinary theme. The Sweetie Flight, for example, is composed of a Cafe Miel, a spiced mocha and a regular mocha.
"We want customers to be comfortable enough and be able to experiment with menu items that they may not want to dive right into," Huckabone recently told Daily Coffee News.
All the beans are passing through Bjurman's Ambex YM-10. Bjurman sources much of his coffee from Cafe Imports' La Bodega small-bag brand and uses Cropster software to track roasts.
Inside the cafe, Vertex plans to roll out a "zero waste" effort for the shop and its customers. Reusable tins for retail beans sold in-store will be available given a small deposit. There will also be reusable takeaway cups and lids, and reusable retail products.
"Our goal is not to be pressuring customers into our zero waste program but instead to encourage and provide options for customers to have reusable products," said Huckabone. "We want to inspire and give customers ideas on how they can create less waste in their life, but we also want it to be a choice."
Vertex Coffee is now open at 1335 South University Ave. in Ann Arbor, Michigan.
Craig Batory
Craig Batory is a writer, marketer and coffee professional working and living in Detroit.