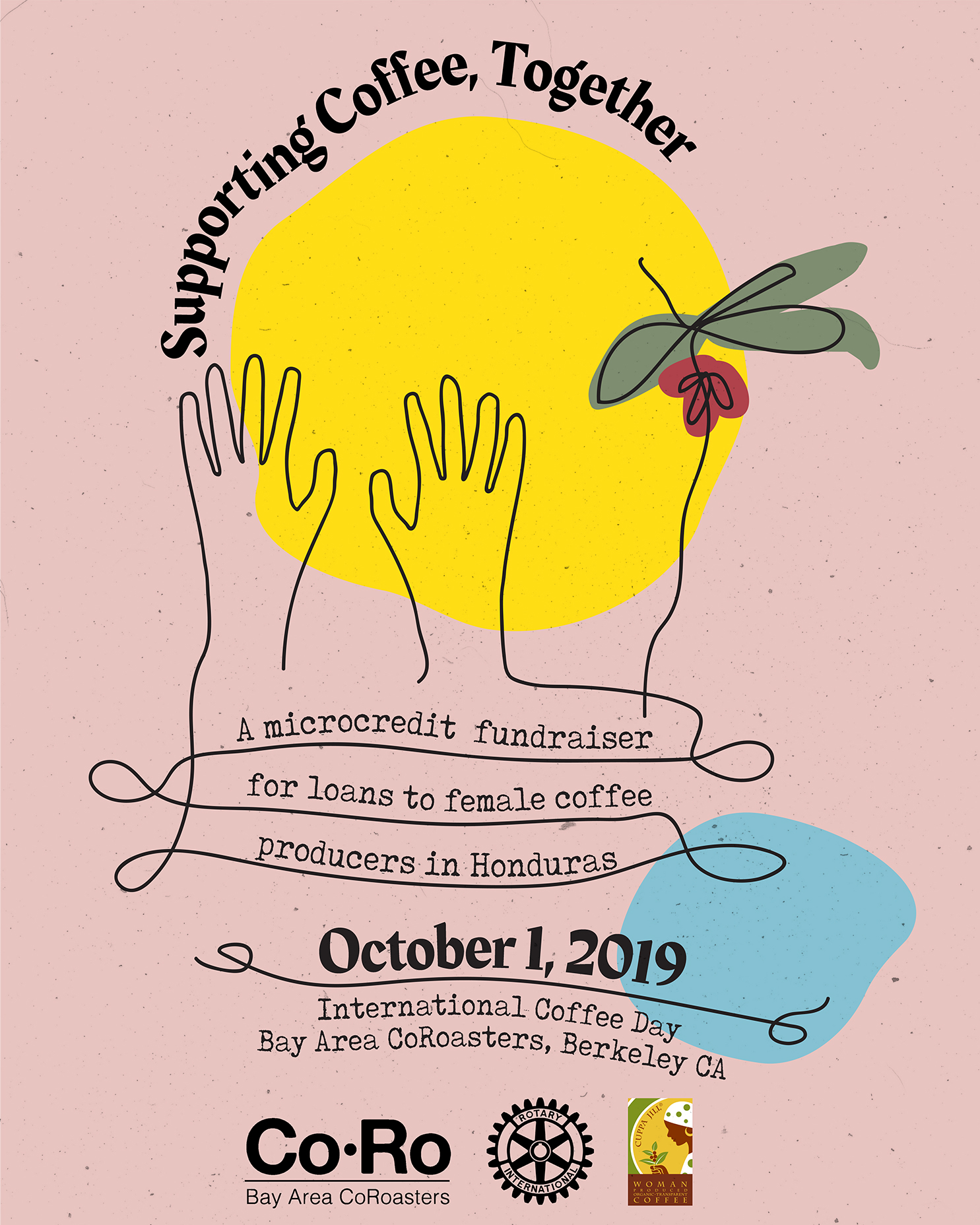 In celebration of International Coffee Day, Bay Area CoRoasters, is hosting a fundraising party to support women coffee producers in Honduras with microcredit loans. The event will be held at CoRo on Tuesday, Oct. 1, from 5:30 to 9:00 p.m., and will include music, games, food and drinks.
Sacramento-based small-batch roaster Sedna Coffee and Tampa, Florida-based Yellow Rooster Imports are joining the progressive co-roasting facility and retail bar in hosting the fundraising event.
In an effort to help close the gap on a $200,000 microloan fund, with nonprofit Rotary International contributing a $120,000 grant, CoRo has committed to raising $10,000 towards the program. The company has already raised $8,000 from sponsors such as Fremont Bank, iFinca, Cuppa Jill, Intercontinental Coffee Trading, Jeremiah's Pick Coffee, Boot Coffee Campus, Agora Coffee Merchants, Apfells Fine Coffee, Sunshine Pro Accounting & Tax and SPZ. For every additional dollar that is collected through the fundraising effort, Rotary International will donate $1.50.
Tickets can be purchased for $20 to $100 on a sliding scale. Donations are also being accepted for those who can't make it to the event in person. Event sponsorships are also available by contacting CoRo.
The goal of the event, according to CoRo co-founder and CEO Floy Andrews, is to raise awareness of opportunities that people can take part in to help impact the lives of coffee producers and enhance sustainability in coffee. Honduras, in particular, is seeing migration out of the country on a large scale due to economic instability and other contributing factors, all of which are impacting the coffee industry in the region.
"These micro-finance programs are one of the best ways to break the cycle of crushing poverty," Andrews told Daily Coffee News. "The poor are creditworthy. The women in these programs have repaid 100% of the capital loaned. This is, in part, due to the essential training the Rotary programs provide. When women provide an income stream to their families, often domestic violence subsides, families are better provided for, and the whole community benefits. And, once these women achieve financial success, they often finance others in a similar way. Moreover, the money we donate stays in the community, supporting further economic growth."
The organizing force behind this effort is Karen Cebreros, a long-time coffee professional based in San Diego and founder of coffee importer Earth's Choice Organic. Cebreros organized an origin trip to Honduras this past January as part of her fundraising efforts with Rotary International, bringing two van-loads of coffee professionals to tour farms and co-ops in Honduras, including Andrews.
"During that trip, I learned first-hand how far U.S. currency goes in making life more sustainable for local populations in Honduras," said Andrews. "We visited the thriving COMSA cooperative, which was originally funded with USAID funding. We also visited a water project originally funded by Rotary International, and met the local managers of the project that had a very sustainable and growth-minded model. That community is now safer and has reliable water. We also learned how other tranches of micro loans had been changing families' lives, and met the loan professionals overseeing the programs on a volunteer basis. I was inspired."
Andrews was impressed by the impacts of this organized effort, and observed how even small amounts of well-managed capital to rural communities can make a difference. Rotary International is also engaged in successful micro loan programs in El Salvador, Mexico, Guatemala and Colombia.
"It's all about community. None of us can make the kind of impact alone that we can make as a group," said Andrews. "Without Karen Cebreros and Rotary International, CoRo wouldn't have been connected. Through CoRo, the coffee community can engage — with money, time, heart energy, and expanded awareness."
The fundraiser will be held at Bay Area CoRoasters (CoRo) at 2322 Fifth Street in Berkeley, California.
Lily Kubota
Lily Kubota is the managing editor and digital content manager for Roast Magazine. She is based in Southern California.