Young Florida coffee roasting and microbrewing company King State has expanded in its home city of Tampa, opening its first cafe in a 1950s gas station building.
The cafe serves coffee, beer, wine and food in a Florida-centric space that also pays homage to the musical backgrounds of King State Co-Founders and Owners Nate Young and Tim McTague. Prior to coffee, the two performed together in a touring rock band. While spanning Europe and Australia, the two began drawing inspiration for a coffee shop concept of their own.
"When we were abroad we found that the best coffee places also had great food and great beer," Young told Daily Coffee News. "We wanted to bring that same experience to Tampa."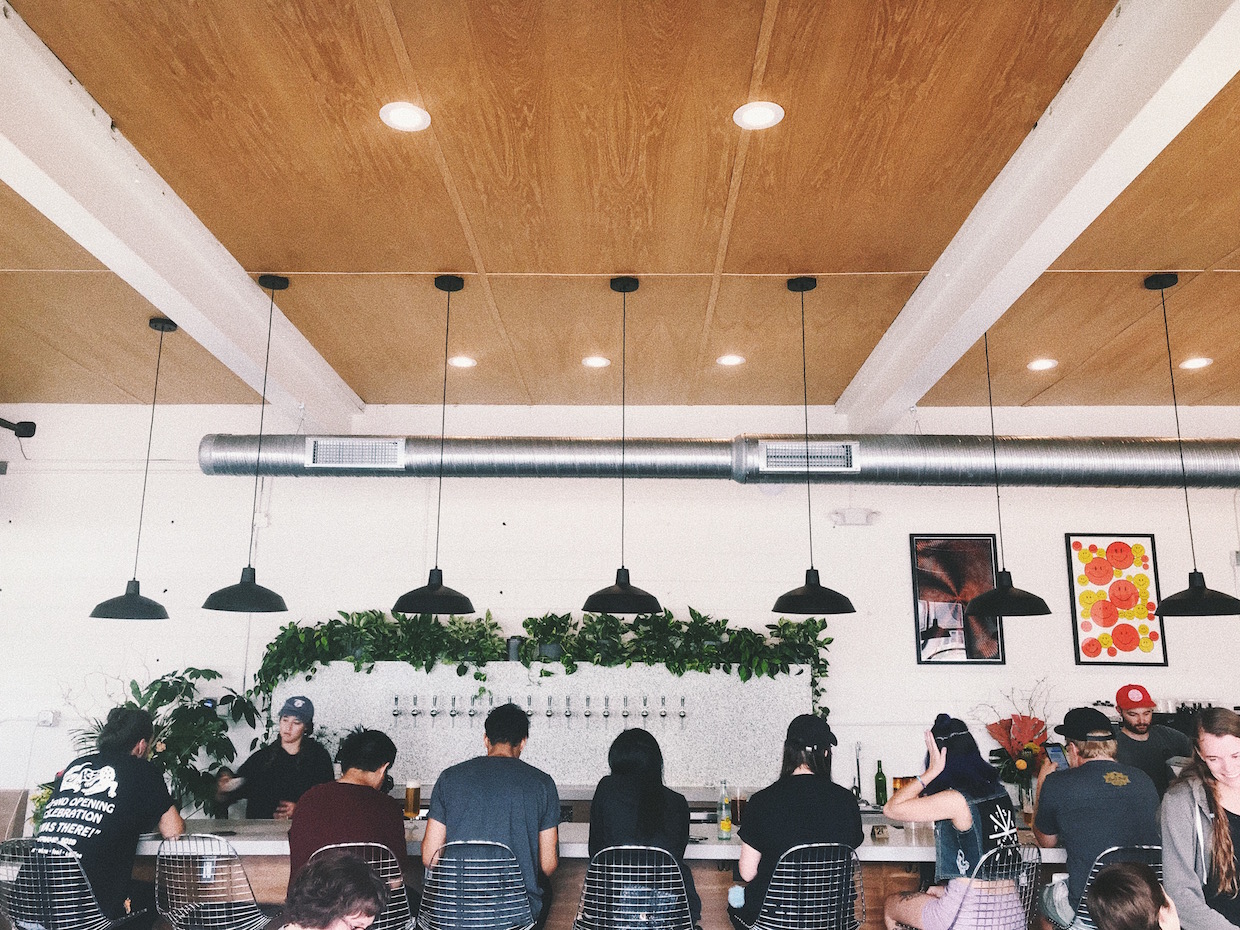 With a future coffee shop always in mind, the two began roasting in McTague's garage on a 1.5-kilo Proaster machine in 2014. They traveled to Portland, Oregon, for roaster and barista training at Water Avenue Coffee through Bellissimo Coffee, while also developing a relationship with importer Olam Specialty Coffee, from whom King State still gets many of its greens.
While keeping the burgeoning roasting business up and running, the King State team also spent much of the past two years readying its first cafe, which finally opened in June inside the midcentury gas station.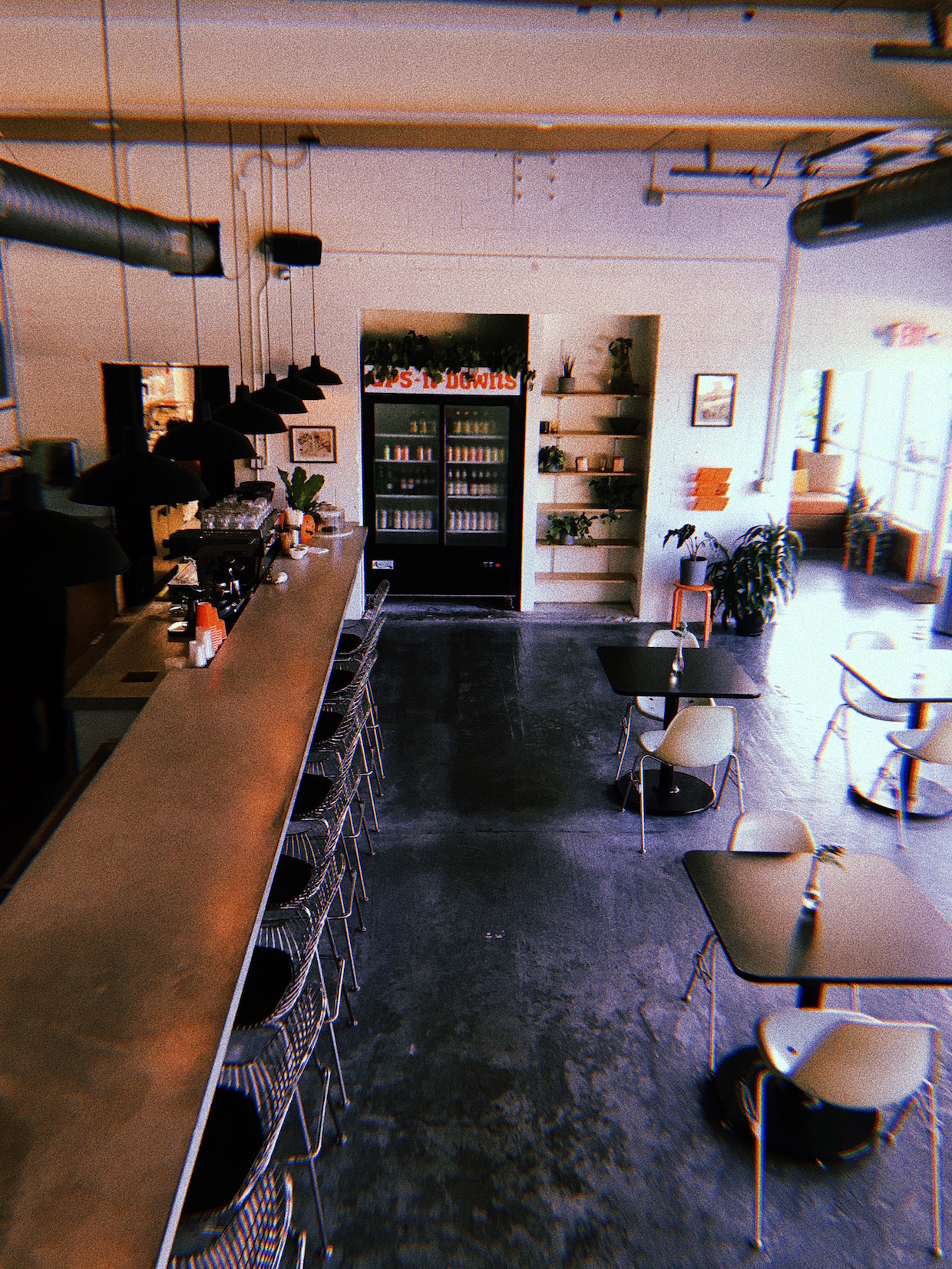 King State friend Jordan Butcher helped transform the space, which now includes a kitchen, a coffee production roasting area, and a long bar with sixteen beer taps aside the coffee service area. Black diner-style lamps hang from the existing high ceilings above the seating area. The cool cement floor is contrasted by warm hues of green and orange that reflect the King State brand. A framed photo of Dennis Hopper in character in the movie Easy Rider hangs above the espresso machine, and ivy plants rest casually above the bar area.
Opposite the bar are three garage doors that stay open when possible during business hours. A drink cooler next to the bar and under the sign "ups n downs" encourages customers to grab cold, non-alcoholic beverages. Outside are several tables and chairs for guests under the filling station canopy.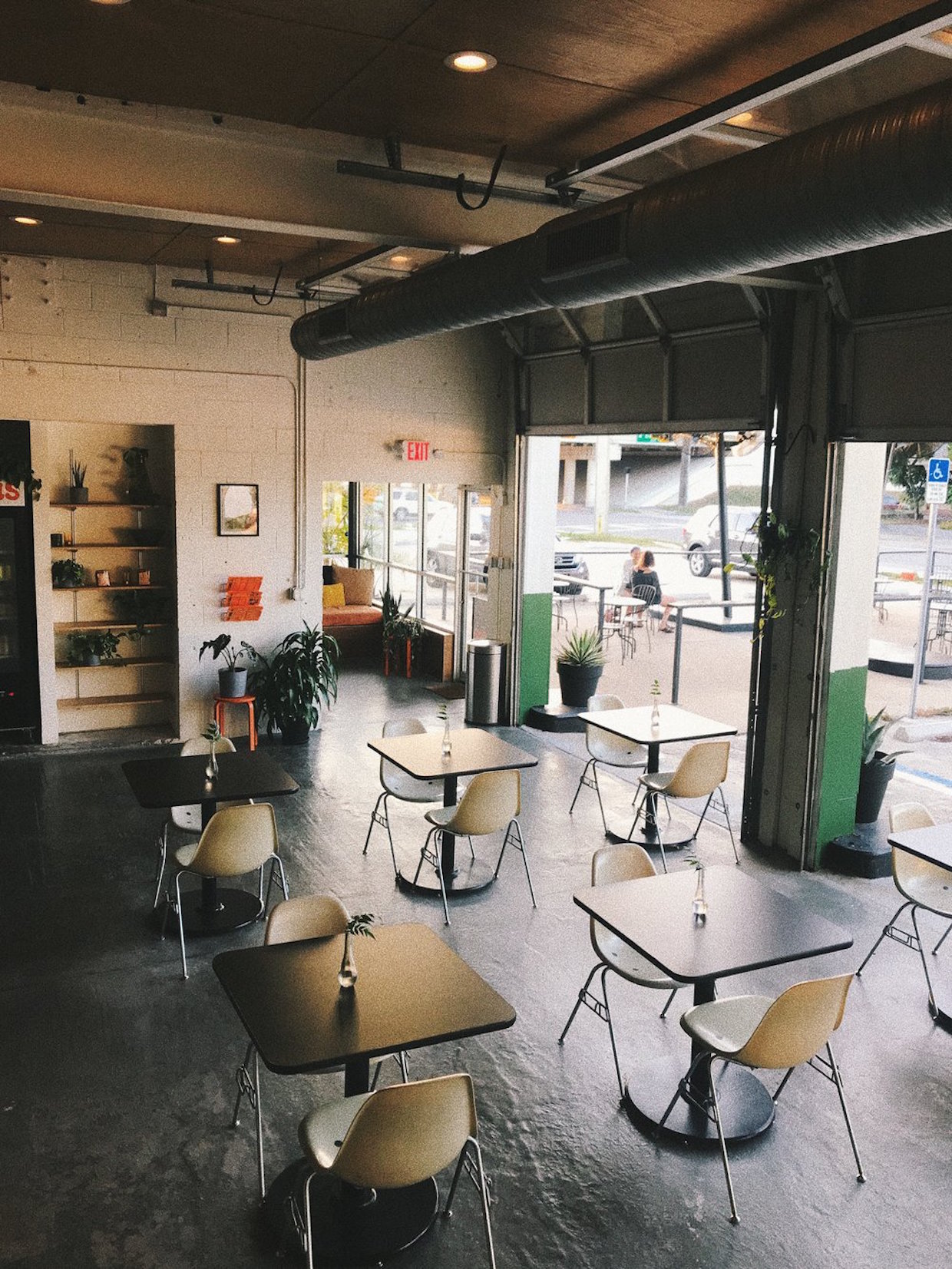 Demand at the Tampa Heights shop has also affected the King State roasting operation, which now has the increased capacity of a 15-kilo Proaster machine.
"We finally reached a point where we were able to buy full lots from the farms we source from," Young said. "This year we bought a full lot from the same farm [La Flores] in Santa Barbara, Honduras, that we've offered for the past three years. We want to make sure the coffee side of things has our full attention."
Part of that meant eliminating their wholesale program, with the exception of a few long-term contracts. Said Young, "Our focus shifted to the quality and consistency on the coffee program at our own cafe — and also to the beer, and on the food."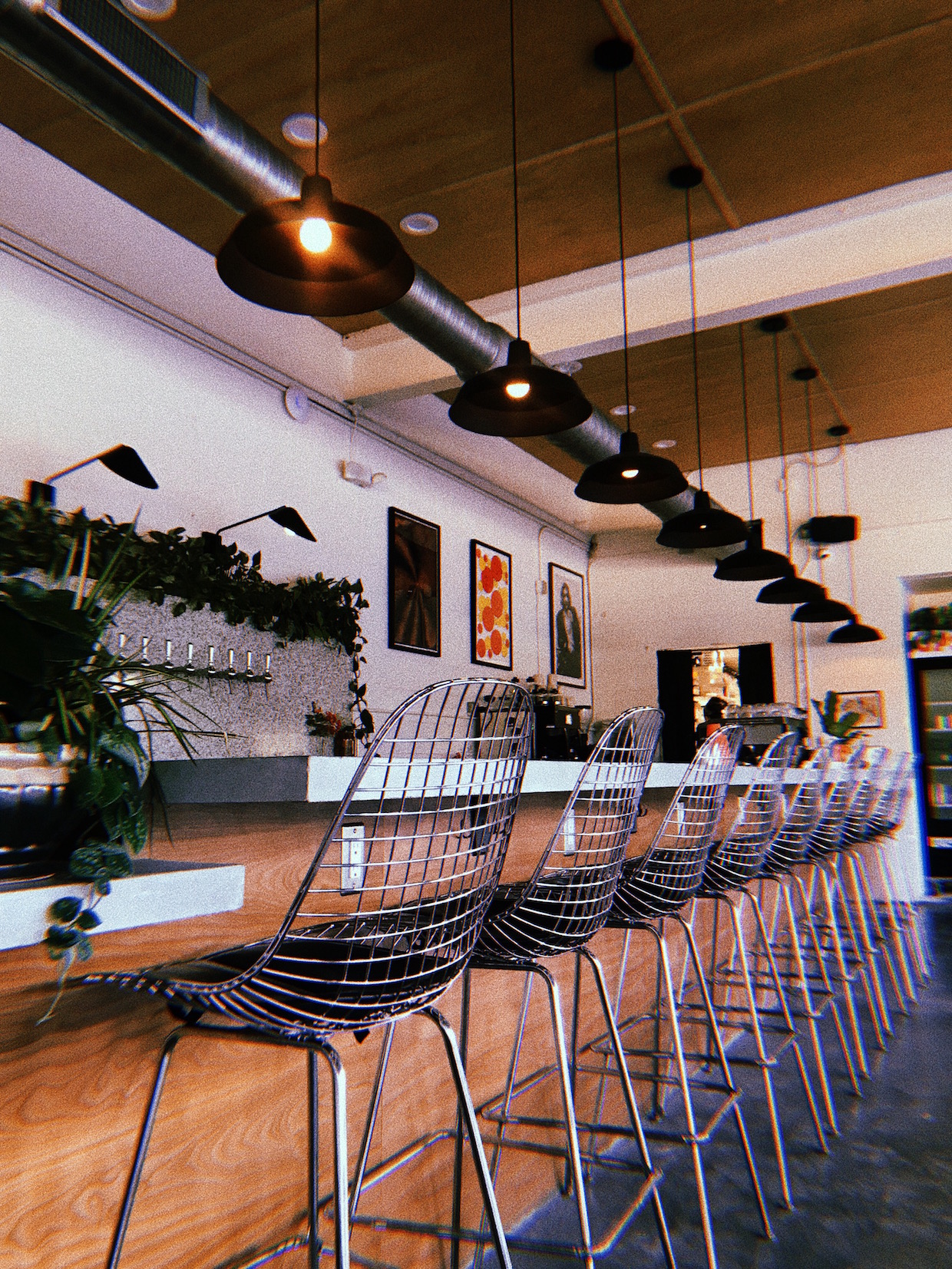 The King State cafe sticks to drip coffee brewed on a Wilbur Curtis assisted by a Mahlkönig EK43 grinder. Espresso-based drinks are crafted on a La Marzocco Linea supported by two Mahlkönig K30s. There is a rotating single origin and a blend available for drip coffee, as well as rotating single-origins and blends for espresso.
"We want our coffee to be streamlined without compromising quality," Young said. "We're very adamant on our coffee being consistent. We TDS test our batch brew every morning and several times throughout the day, and we're constantly dialing in our espresso."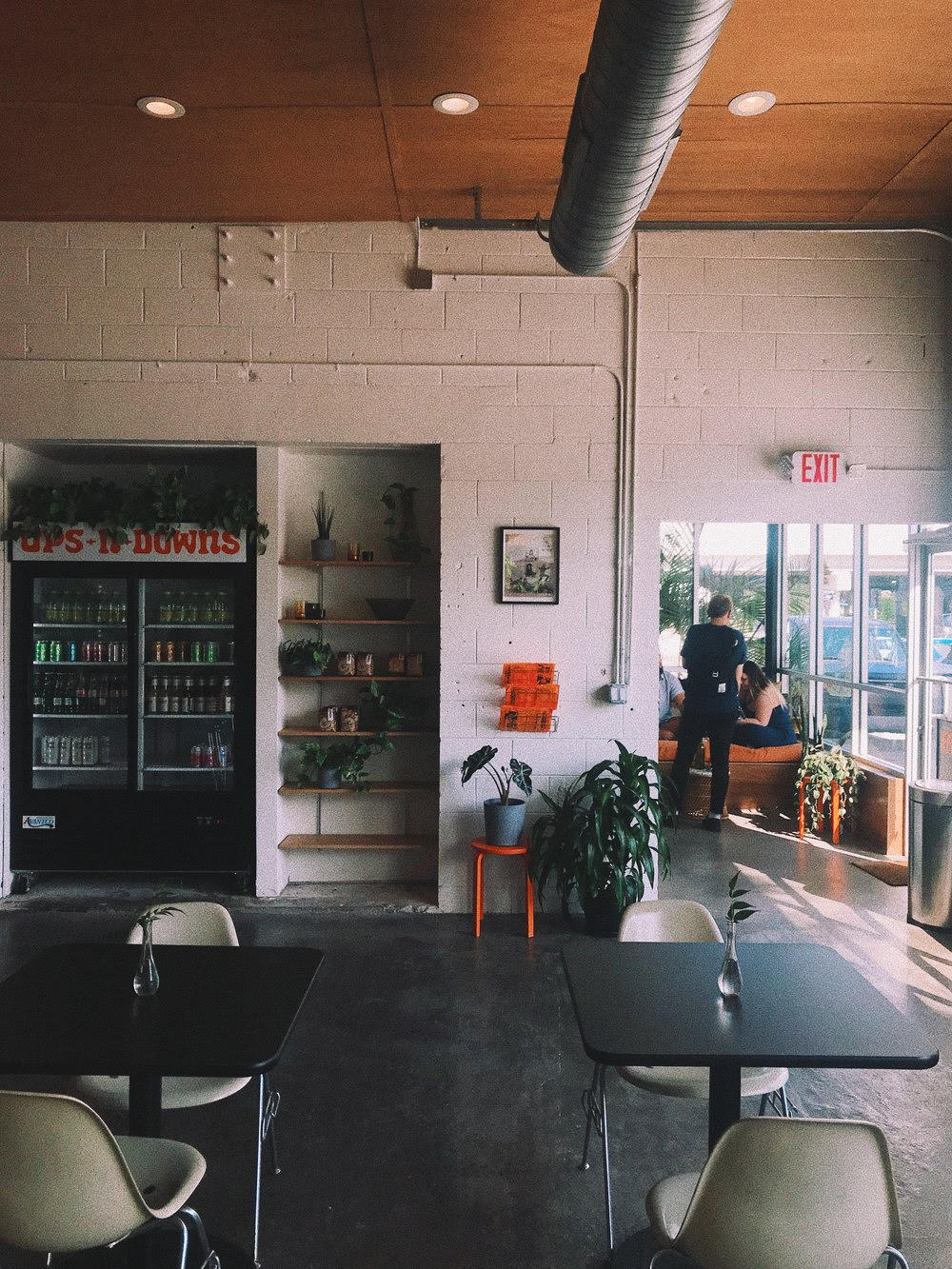 Aric Parker of St. Petersburg's Flying Boat Brewing Co. is the partner in King State's brewing operation, while Young's sister, Carolyn, is in charge of all the food offerings, sourcing most of the ingredients locally.
According to Young, everything on the food menu is "Southern inspired," with a variety of hot and cold sandwich and breakfast options served until 6 p.m.
"Our whole goal, across the board, is to be as welcoming as possible. We want people to come in with their families and have a great time," said Young. "We don't take ourselves too seriously and we want people to be real and have conversations with us and with each other."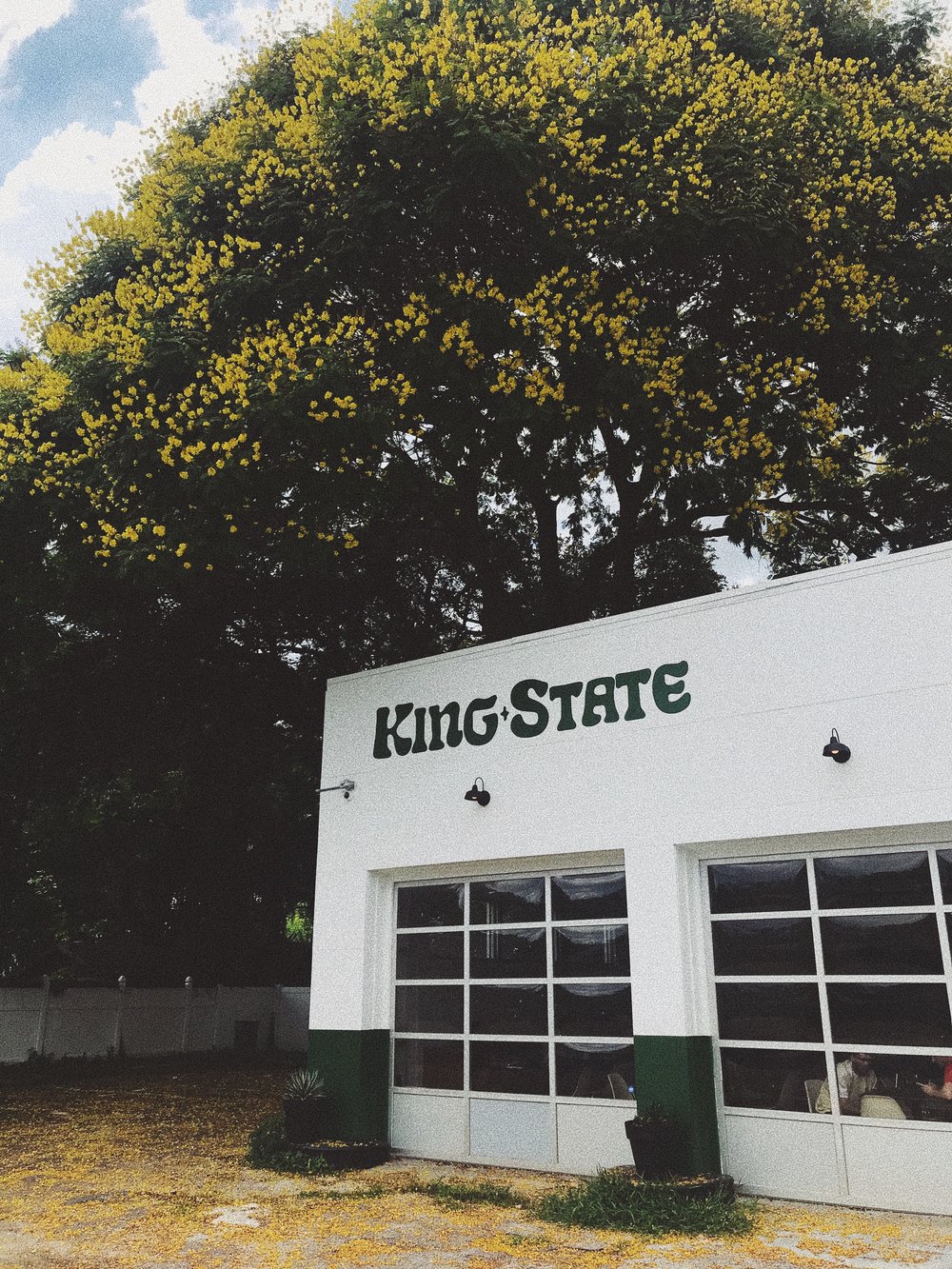 King State is now open at 520 E Floribraska Ave in Tampa, Florida.
Craig Batory
Craig Batory is a writer, marketer and coffee professional working and living in Detroit.