(Editor's note: This article originally appeared in the November/December 2019 issue of Roast Magazine. Links have been added for context.)
Like many urban centers in the United States, Portland, Maine, was in the depths of a recession in the late 1980s. "Forty percent of our downtown was vacant," recalls Mary Allen Lindemann, co-founder of Roast's 2020 Large Roaster of the Year, Coffee By Design. "There were not a lot of opportunities for young people in particular, and we were in our 20s."
It was a difficult decision, but Lindemann and her partner, Alan Spear, decided to leave Maine in search of economic opportunity. They ended up in Seattle just as the specialty coffee industry was beginning to blossom.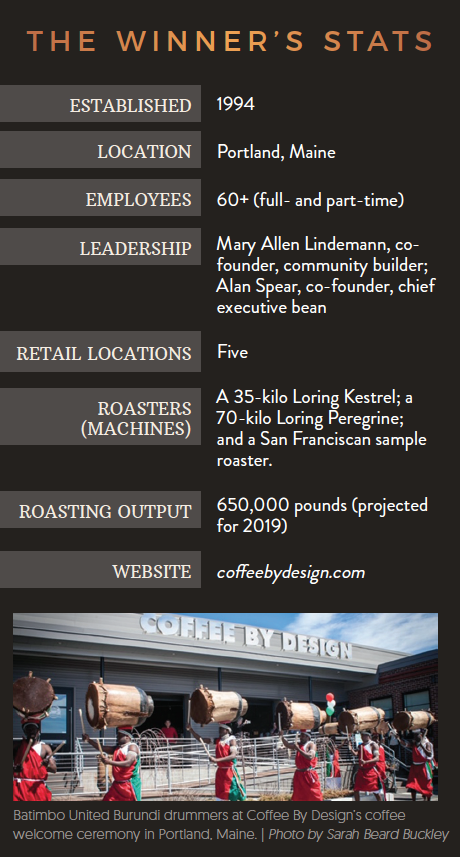 "I was just amazed at the sense of community, the sense of pride the baristas had," says Spear of his first impressions of Seattle's burgeoning coffee culture. "The quality of coffee that was being presented was much different [from the East Coast]."
Meanwhile, they watched their hometown for signs of economic renewal.
"We would come back and visit Portland, and we saw the economy was not rebounding," says Lindemann. "We kept asking, 'When will they do something about it?' Then it was a process of realizing the 'they' we were talking about actually might be us."
After three years in Seattle; one year in Burlington, Vermont; and six months in Providence, Rhode Island; they returned to Portland. With a business plan for a coffeehouse in place, they rented a small space in what Spear now calls a "sketchy" neighborhood that was just beginning to develop into a thriving arts district.
A Fortuitous Beginning
There's no doubt luck played a role in Coffee By Design's beginnings. Lindemann and Spear landed in Seattle because of a coin toss. Had the coin landed on the other side, they would have moved to San Francisco, arriving the week of the 1989 Loma Prieta earthquake.
And then there's the story of their first day in business. The 900-square-foot shop they rented sat across the street from a historic theater, which had recently been rescued from its days as a pornographic movie theater and restored as a venue that attracted national acts. The day Coffee By Design opened, Bob Dylan tickets went on sale, and fans lined up around the block.
"We owe Bob Dylan a debt of gratitude," Lindemann quips. "We had projected 25 customers our first day, and 250 people showed up."
Just moments before they opened the door for the first time, Lindemann turned to Spear and asked, "Do you really know how to make a latte?"
His answer? "I hope so."
And yet, while luck may have played a role in the company's beginnings, there was nothing lucky about Coffee By Design's subsequent success. It wasn't just hard work, either, though there's been plenty of that. What makes Coffee By Design such a force in the industry and the world is a clear mission to effect positive change, a passion for exceptional coffee roasted to order, and a constant focus on staying true to its values in every aspect of the business.
In 2019, Coffee By Design celebrated 25 years in business. What began as a small coffee shop with one part-time employee has evolved to include a roastery with a projected output of 650,000 pounds in 2019, five retail locations, and 60 full- and part-time employees. Still, in many ways, Lindemann and Spear have continued to run Coffee By Design like a small business.
"I always talk about us being a small company," says Nathan Hann, director of training. "We're not, but we still operate like a small company. … We are directly in contact with the two owners every day. They are always available, and they are always looking to us to give feedback and give them advice and help them grow this company. That is not normal for a company this size."
Be the Change
When Lindemann and Spear returned to Maine to start their company, they immersed themselves in local social change efforts while also learning the coffee business. Turns out, the two went hand in hand.
"We began getting deeper into coffee and learning the industry," says Lindemann, "and not just the technical aspect of it, but the community component." They began to explore what a true community coffee company would look like, and how their small company could make a big impact on the world.
"We say this over and over to ourselves, because we sometimes overcomplicate things," Lindemann adds: "How do we remember how to get back to the core of what the company is about, which is quality and community, and our community now is not just local, but global."
While Coffee By Design has always followed a triple-bottom-line approach — measuring success in terms of the company's social and environmental impacts as well as its economic growth — in 2016, Lindemann and Spear decided to formalize those efforts by applying for and earning certification as a B Corporation, a third-party designation that measures a company's social and environmental impacts through a rigorous assessment and audit process. (Coffee By Design is one of only five businesses in Maine to hold the certification.)
"The belief that you can grow a business and remain focused on sustainable practices is central to our business," says Lindemann. The company didn't have to change any of its practices to gain the certification, she adds. It was more about maintaining a focus on its core values.
"How do you take a company like ours and make sure that we maintain our standards as we grow," she says, "and not just maintain them, but improve them? How do you make sure that as you grow, you stay true to the values of your business?"
Roasting to Order
Coffee By Design began roasting in 1998. Today, the company roasts between 30 and 40 different coffees to seven different roast levels, creating more than 100 different blends. Every coffee the company sells can be traced back to the farmer or community of farmers who produced it, and the vast majority is roasted to order.
"We shoot for no more than 48 hours on the shelf," says Head Roaster Travis Spear (who also happens to be Alan Spear's nephew). "We still try to maintain that roast-to-order philosophy even with this complexity. We have quite an elaborate spreadsheet to help us manage that. You end up roasting the same coffees four or five times a week, but with the end product being that much fresher when it reaches a customer, it's totally worth it."
Of the company's 100 different blends, only six are blended before roasting, as post-roast blending offers more control. Custom blending is offered to all of Coffee By Design's wholesale customers, which include a number of prominent local chefs—a tradition that began shortly after the company began roasting. In 1999, Alan Spear was invited to present coffee to the nationally acclaimed Fore Street Restaurant, headed by James Beard Award-winning chef Sam Hayward.
"I think we had only been roasting for six months," recalls Lindemann. "We didn't have packaging or final pricing figured out. We really thought it was a long shot."
The company landed the account and still counts Fore Street among its wholesale customers. Over the years, many other chefs have joined the Coffee By Design roster.
Today, Travis Spear and Director of Coffee Jeremy Behne work closely with each customer to create flavors that will complement their menus.
"We get a feel for what the chef wants," Behne says, "but we're also very aware that what the chef might want might not be what they're going to need for their restaurant, so we just try to help and guide them. At the end of the day, we are the people who know the coffees, know how they're going to work, and we're going to make sure they're not just picking their favorite coffees, but picking their favorite coffees that are going to go with their best dishes."
Travis Spear has been roasting most of the company's coffee for the past four years, though he recently began training a new part-time roaster. He juggles two batches at a time using the company's two Loring roasters.
"I did not realize just how tricky roasting on two roasters simultaneously was," he says, "until I had to teach someone else how to do it."
Taking Care of Its Own
Part of Coffee By Design's focus on social responsibility begins at home, creating living-wage jobs with ample growth potential for its employees. About 40 percent of the company's employees work full-time, which means they're eligible for a generous benefits package that includes paid time off, health and dental insurance (the company pays 70 percent of the premiums), company-paid life insurance and an employee assistance program. After one year with Coffee By Design, full-time employees are eligible for a 401(k) retirement savings plan, with a company match of up to 4 percent. In addition, Coffee By Design supports work-life balance by offering flexible scheduling and extended leaves of absence with guaranteed re-employment.
Perhaps the biggest investment Coffee By Design makes in its employees is its robust training program. All new cafe staff participate in an offsite espresso fundamentals training, led by Hann, which includes milk texturing, shot pulling, understanding the grinder and espresso machine, drink construction and more. This is followed by one to three sessions on the cafe floor, depending on each employee's progress and needs. Employees also participate in an extensive customer service training program.
But it doesn't end there. Training is ongoing and ever evolving at Coffee By Design, and as long as employees stay with the company, they can expect to learn and grow. That's something you don't find at a lot of large coffee companies, says Hann, who spent four years at one of the world's largest coffee companies before joining Coffee By Design.
"They have a training program," he says of his former employer, "but it's literally two weeks long. You feel very thrown in, and that's a common problem in this industry in general." At Coffee By Design, he adds, "There's always a next step, which is something you don't see at other companies."
General Manager Kevin Gaspardi trains new managers to train their own staff as well, jumping in to support them when necessary so everyone stays on track and training never falls by the wayside. He and Lindemann also presented an eight-part educational series for managers that delved deeply into topics such as hiring and training staff, budgeting and profit-and-loss statements.
Training is also important for the roastery staff, giving employees a chance to explore other aspects of the coffee industry as well as a break from their day-to-day routine.
"The roastery can sometimes feel like we're just filling up a bunch of bags," says Hann. "We can get side-tracked from what we do as a company, and we want to make sure people are also having fun."
Once a month, he splits the roastery crew into two groups to learn about a coffee-related topic. They've covered different origins—the history of coffee in Africa, Central and South America, and Asia, for example. They've also trained on the espresso machines "to give them a bigger scope of what the industry offers, what's out there, and why coffee is so awesome," Hann says.
"The overall philosophy is, if we don't educate our staff, they won't feel as valued," he adds. "Educating helps empower and motivate the staff in a way I think everyone wants in their job."
Each year, two staff members — one from the retail side of the company and one from the roastery — are selected for an all-expense-paid origin trip to Hacienda La Minita in Costa Rica. (When possible, one or two wholesale clients are invited as well.) All staff members also are encouraged to participate in outside trainings and workshops, and to get involved in the many industry organizations in which the company is active.
Lindemann and Spear are proud of Coffee By Design's track record for promoting from within, noting that the company's production manager, head roaster, customer service manager, director of training and all of its coffeehouse managers were mentored and promoted from more entry-level positions.
"Our customer service manager has been with Coffee By Design for 20 years, having begun her career with us as a barista," the company's application for Roaster of the Year proclaims. "Likewise, our head roaster began working in one of the coffeehouses at the age of 14. Fifteen years later, his passion for specialty coffee and Coffee By Design are still going strong."
Sharing Knowledge and Excitement
In addition to employee training, Coffee By Design emphasizes training for wholesale and retail customers. For wholesale clients who purchase equipment and coffee from the company, Hann provides the same espresso fundamentals course employees go through, as well as manual brew training, and train-the-trainer instruction to ensure each client can maintain the highest standards moving forward. The equipment the company sells is on display in its training room so clients can test it before making a purchase.
The company's consumer training program is equally robust, and equally entertaining. Coffee By Design hosts educational presentations by coffee farmers, importers and others, as well as staff-led trainings for retail and wholesale customers. There are public tours of the roastery and public cuppings, and plans are in place for a home-roasting club for customers who want to discuss the craft and share their experiences with like-minded neighbors.
Coffee blending events for customers also have proven popular. Participants learn about the characteristics of different beans and roast levels, and how different flavor profiles complement each other, then they create their own blends. The recipes are recorded so each customer can special-order their own blend any time.
Acting Locally and Globally
When Lindemann and Spear first opened Coffee By Design, the Portland economy was beginning to rebound, which they saw as a double-edged sword. While increased sales and success were a boon to local businesses, they also knew that kind of success could attract large, national chains, which could drive out their small, local neighbors.
Lindemann began researching Buy Local movements across the country and was instrumental in founding a Buy Local group in her hometown. Founded in 2006, Portland Buy Local now boasts more than 450 members. Lindemann also has worked tirelessly to support the immigrant community in Portland, and the company has consistently supported charitable causes in Maine and throughout the world. Each year, a special blend is earmarked for the company's Rebel Blend Fund. Profits from the blend are distributed as grants to local arts projects that promote social change. A committee of Coffee By Design employees evaluates the applications and selects the grant recipients, with more than $80,000 donated to date.
Lindemann has served on numerous local boards over the years and is a past president of Maine Businesses for Social Responsibility. She currently serves as vice chair of the board for the newly formed Greater Portland Immigrant Welcome Center, a board member for Portland Ovations, and an advisory board member for Portland Buy Local.
The company is also a strong supporter of local community organizations, donating cash and coffee, staffing coffee stations and more. In recognition of its work in the community and its business practices, Coffee By Design has received a diverse array of awards, including Spurwink's Humanitarian Award for raising awareness of mental health issues; the Governor's Award for Business Excellence; Maine MEP's Manufacturing Excellence Award; The Telling Room's Red Buoy Award for philanthropy; and a Legislative Sentiment for public service from the State of Maine. Lindemann personally received the Edmund H. Muskie Access to Justice Award for her work supporting underrepresented communities, including asylum seekers; the Maine Centers for Women, Work and Community's Women Making a Difference Award; and Maine Women's Fund's Tribute to Women in Industry Award, among others.
But none of this would have been possible without the coffee farmers who produce the company's raw product, and that has never been lost on the Coffee By Design team. Over the years, the company has contributed nearly $750,000 in cash and product to support projects at origin, including a wellness facility in Jardin, Colombia, which was instrumental in reducing infant mortality and improving overall health in the community; an educational program in Coorg, India, which offers girls on coffee farms access to education; and a school on Finca Los Andes in Guatemala.
Coffee By Design also has developed strong and lasting relationships with the farmers who grow its coffee, and is eager to partner with farmers who want to experiment with innovative techniques, sharing some of the risk by committing to purchase the coffee whether or not the experiments succeed. One such experiment was an anaerobic fermentation process tested by Hacienda La Minita in Costa Rica, a farm the company has been partnering closely with since 2002.
"We didn't know what we were going to get," Behne says. "We just committed to the full first production run. It turned out to be a couple hundred pounds." The result? "It was phenomenal," he says, and in fact, it was one of the coffees the company submitted for the 2020 Roaster of the Year competition. Behne knows not all experiments will turn out as well, but he's enthusiastic about the company being part of more experimentation moving forward.
"If farmers only get rewarded when they come up with a good experiment, that's a really high risk," he says, "and when it's good, we reap the benefit."
"Ultimately, it's about sustainability for everyone," says Travis Spear. "It's about doing justice to all the work that happens throughout the chain."
Emily Puro
Emily Puro is a freelance writer and editor living in Portland, Oregon. In addition to Roast, her articles and essays have appeared in Writer's Digest, Better Homes and Gardens, Portland Monthly, Northwest Palate, The Oregonian and numerous other publications. She enjoys learning about the art and science of coffee, as well as the social and environmental impacts of the industry, and she continues to be amazed by the remarkable professionals throughout the supply chain devoting their lives to this work.