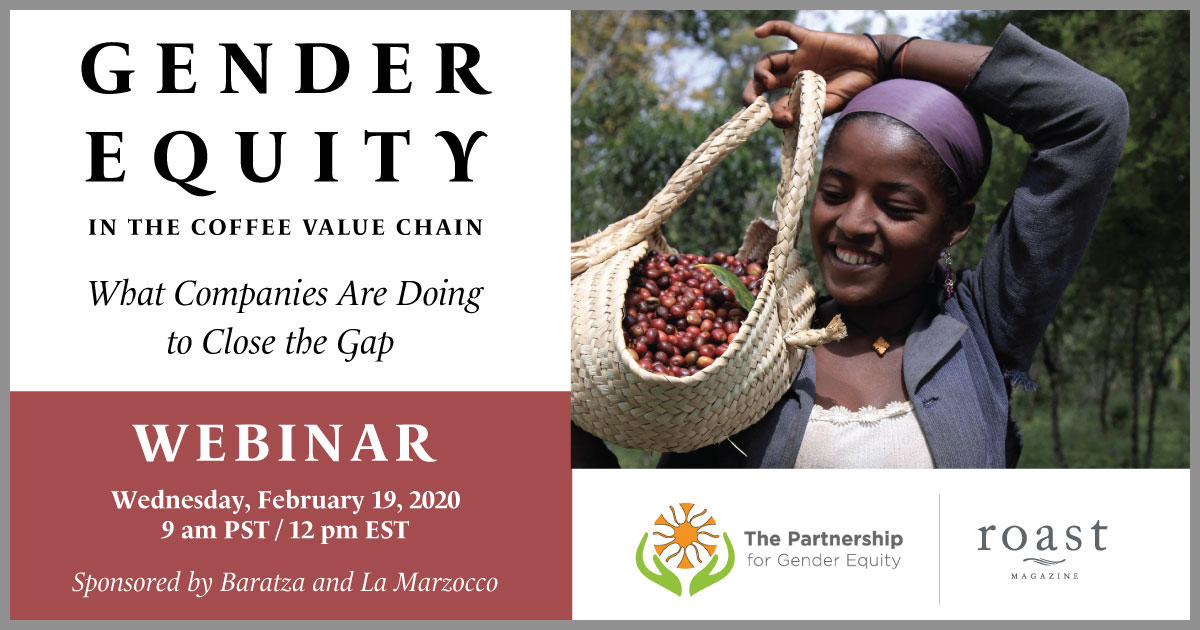 "Gender rests at the heart of humanity and coffee is no different; beyond the overriding notion of equity, all along the value chain from farm to cup there are growth and risk management opportunities that will only be realised with full engagement with all stakeholders in our communities." — webinar panelist Ewan Reid, of Matthew Algie
This past July and August, Roast magazine partnered with the Partnership for Gender Equity (PGE) to conduct a survey of coffee roasters and buyers to better understand existing practices with regard to gender equity.
While some survey respondents questioned the importance of the issue — or even criticized it being raised — many coffee companies said they recognize that #gendererquity is a critical foundation for thriving coffee families and communities, and sustainable supply chains. A number of companies are already taking action, and many others seek solutions and ways to meaningfully engage and invest.
Founded by the Coffee Quality Institute, PGE has been engaging companies along the supply chain for nearly five years to better understand how to address the issue and encourage greater action.
Over the past year, PGE stepped up outreach to roasters and producer organizations to to catalyze collective action to achieve the Sustainable Development Goal #5, as part of The United Nations recently launched #DecadeofAction campaign. This survey and article in Roast magazine, as well as a Feb. 19 webinar, are a key part of this endeavor.
"We recognize that the issue of #genderequity can sometimes be a challenging one to understand, and for which to advocate," says Kimberly Easson, founder and CEO of PGE. "We're working to arm like-minded allies with tools and information that can make it easier to embed practical action in supply chain activities."
Sponsored by La Marzocco and Baratza, the webinar will bring together two coffee buyers, Kelly Amoroso of Allegro Coffee and Ewan Reid of Matthew Algie, and a producer, Carlos Vargas of Coopetarrazú, who will highlight what they are doing to promote gender equity, as well as the challenges they have encountered.
Nora Burkey, the lead researcher for the survey, will highlight the key findings. The webinar will be moderated by Aarti Ramachandran of the FAIRR Initiative and a PGE Board Member. Easson will share PGE's latest work. Lily Kubota from Roast magazine will welcome all attendees and highlight why Roast wanted to be involved.
Registration is free, but space is limited to the first 100 participants. Register here.