Forced to skip a springtime series of public coffee pop-ups it had planned to introduce itself to coffee drinkers in the Washington D.C. area, a new direct-trade-focused company called Rako Coffee Roasters has launched with online sales instead, offering free local shipping.
Since December of last year, Rako Head Roaster Melissa Gerben has been operating a pair of Lorings — one S35 Kestrel and one S15 Falcon — in a 5,000-square-foot facility in Lorton, Virginia, quietly supplying restaurants, offices, embassies and other regional wholesale accounts.
As Rako co-owners and sisters Lisa and Melissa Gerben entered the coffee industry first as importers, working directly with farmers in Ethiopia, the pair now maintain those partnerships as well as new ones with producers in Guatemala, which was the country that inspired their coffee journey in the first place.
"We went on a particularly memorable family trip when we were teenagers to visit our grandparents who live in Antigua, Guatemala, and spent time visiting the mountainside coffee farms," Lisa Gerben told Daily Coffee News. "We learned about the harvesting, processing, quality control and export process. From then on I knew that I wanted to start importing and roasting specialty coffee."
Lisa Gerben's extensive background in international trade, focused primarily in bulk food including specialty green coffee, now blends well with the expertise of her sister, whose 14-year stretch in the food-and-beverage industry culminated in a fixation on the unique chemistry and terroir-related attributes of coffee. Though both sisters were avid home roasters, Melissa went on to obtain SCA Roasting Certification from the Academy of Coffee Excellence (ACE).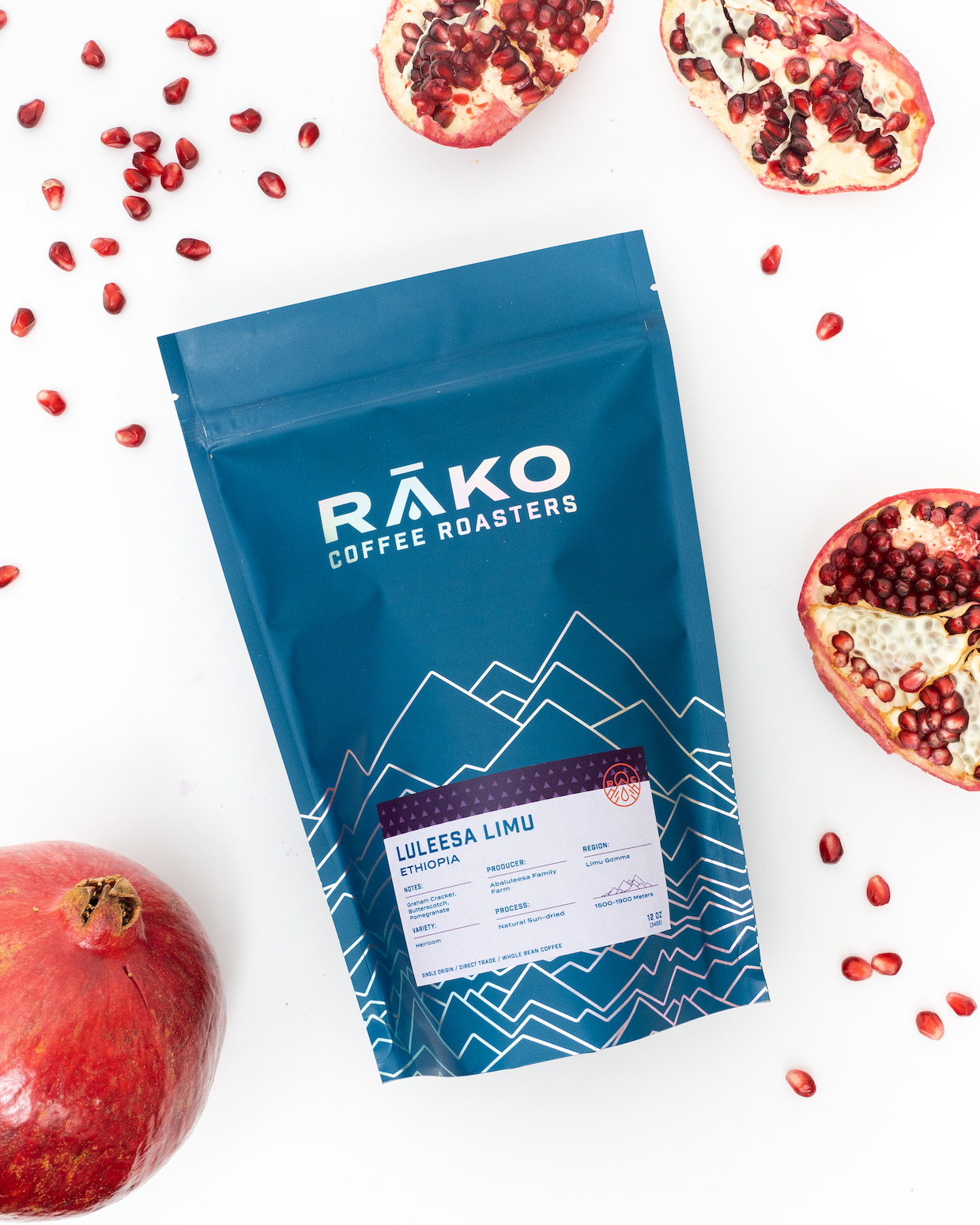 Shortly after firing up its roastery last December, Rako also opened a public coffee bar on site, which they then closed in March for the safety of its staff. Wholesale has also taken a hit due to widespread shutdowns due to COVID-19 restrictions, yet Rako workers have been kept on to help fuel the creative business launch.
"Everyone that we work with learns everything, whether that is sensory training, roasting, packing and more," said Gerben. "We also recognize that people have interests and skills unrelated to their job titles and we work to grow that in any way we can. Everyone on our team has been working on exciting projects during this pivot, from developing the brew guides, to photo and visual projects, to marketing and design to roasting, packing and shipping solutions."
Beautifully designed brew guides feed into Rako's holistic vision of quality that extends from practices on the farm to the treatment of people at every stage of the chain, and now into the cups brewed carefully at home.
"Coffee is only as good as the person brewing it, and that's why we focus so much on attention to detail in our brewing methods," said Gerben. "Great coffee is equally about sustainable growing and sourcing practices, working with each coffee to develop roast profiles that bring out its full potential, and then developing brewing techniques that highlight all the unique flavor notes."
Rako focuses mostly on single-origin offerings. Through Gerben's background in international trade, Rako launched with direct relationships with farmers in the Yirgacheffe, Sidamo, Guji, Limu, Kaffa and Harar regions of Ethiopia. The company also now partners with farmers in the Antigua and Acatenango regions of Guatemala, and has "made great progress" with producers in Indonesia, Kenya, Burundi and Colombia, according to Gerben. For any coffee not directly traded, Rako works with importers equally committed to improving the quality of living in coffee-growing regions.
At the Lorings, Melissa Gerben's goal is to find for each coffee a profile that's approachable no matter how it's brewed but that reveals greater complexity when coaxed with the right recipe.
"For example, I love the peach notes that come out when our Yirgacheffe is brewed in a Chemex, but I make sure that you don't have to brew it in one particular manner in order to fully appreciate the coffee," Melissa Gerben told DCN.
With every online order, Rako includes a postage-paid envelope for customers to return the empty coffee bag, which the company recycles through the TerraCycle Zero Waste program. The company is also donating 10% of every sale to Chef Erik Bruner-Yang's Power of 10 crowdfunding initiative, which provides employment to laid off restaurant workers and meals to first-responders and community members affected by COVID-19.
Lisa Gerben said the company remains hopeful that its plans for face-to-face retail engagement and progress in the D.C. area can still go forward within the coming year.
Said Gerben, "The safety of our team and the community is our top priority, and we are crossing our fingers that it will be safe to resume plans for our pop-up series this summer."
Howard Bryman
Howard Bryman is the associate editor of Daily Coffee News by Roast Magazine. He is based in Portland, Oregon.