Idaho-based coffee roasting equipment manufacturer Diedrich Roasters has expanded its manufacturing capabilities and facilities design and consulting services with a new 80,000-square-foot factory and headquarters in Ponderay, Idaho.
Consolidating operations into one massive facility after being previously spread out over three buildings in North Idaho, Diedrich plans to continue producing its popular small commercial machines, while placing new emphasis on more mid-size and large industrial machines and roasting systems, plant design services and other consulting services.
Leading the way forward for Diedrich is CEO Karl Schmidt, a 30-year industry veteran who succeeded former CEO Michael Paquin in Spring of last year. Schmidt came to Diedrich from his previous position as president and board member of the Probat Group of companies in North America.
"Diedrich never really focused much on the bigger sized, commercial type roasters," a representative of the company told Daily Coffee News. "Part of what Karl and his new team wanted to do was to start focusing on that side. You have to be able to make the type of roaster that [larger coffee companies such as Peet's, etc] can use. That was the segment of the market that Karl and his team wanted to grow."
Roughly 60,000 square feet of the state-of-the-art facility is now in use by the company for manufacturing and testing operations, leaving an additional 20,000 square feet available for further expansion.
The facility also contains a professional educational center and roasting lab, through which Diedrich will continue to support its customers. Mike Ebert, the founder of Firedancer Coffee Consultants and an authorized SCA trainer (AST), will lead the educational programs at Diedrich, according to the company.
"Our comprehensive and extensive process engineering and project development capabilities incorporate the full spectrum of services including packaging, equipment specification, procurement, process controls, installation, start-up and commissioning," Schmidt said in an announcement of the new facility. "At Diedrich we realize your success is our success."
Even during its mandatory COVID-19 shutdown period, the new location proved to be a boon for Diedrich, as it is situated coincidentally near the manufacturing plant for ventilator maker Percussionaire.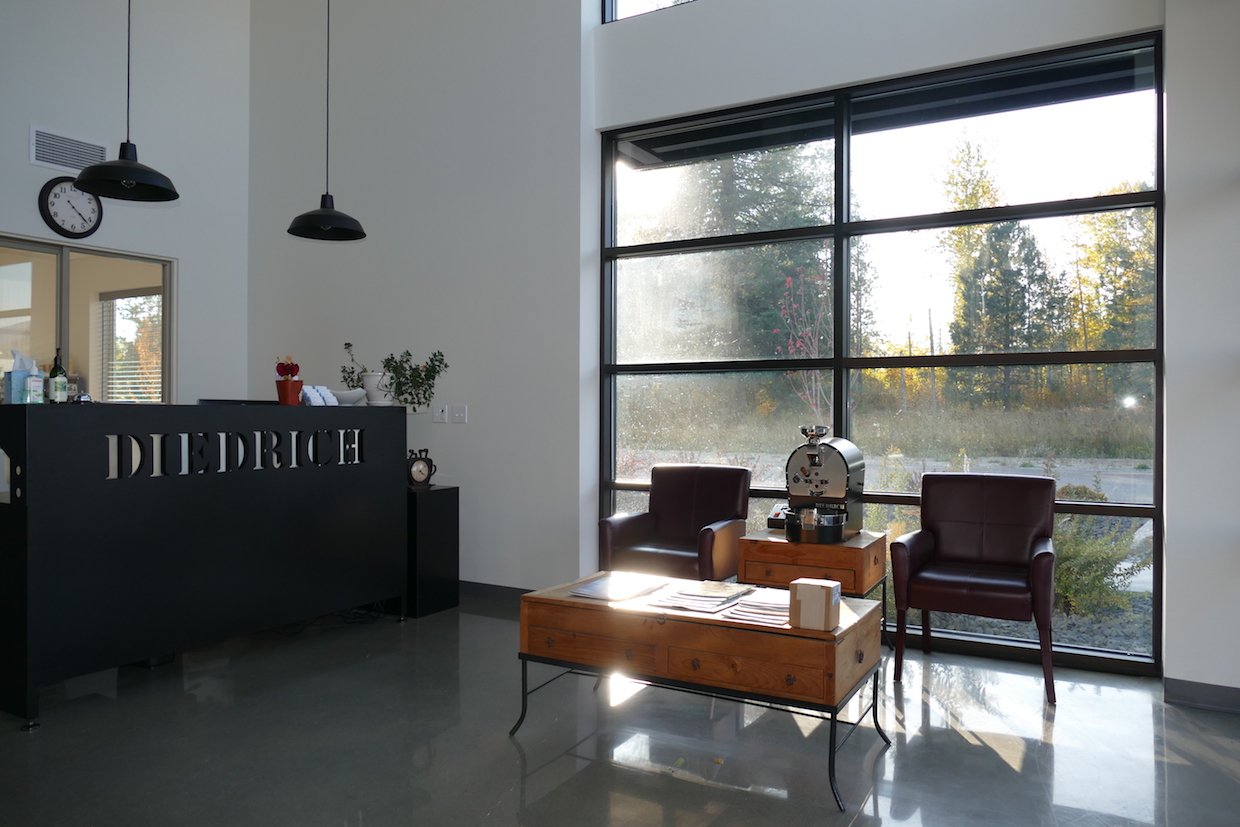 "Percussionaire is almost across the street from where the Diedrich facility is located," the company rep told DCN. "They made the ventilators there, but the stands were made by a different vendor, and it was not local. There was that rush for equipment that was very difficult to find. They had come to the building, did a walk-through. It made sense, and Diedrich started manufacturing them."
Diedrich was able to remain open as an essential business, manufacturing the stands needed to support ventilators. Roughly 10% of the manufacturing staff was able to come to work for the past three months making the stands, which Diedrich continues to do for Percussionaire today, though the plant is now fully running.
Howard Bryman
Howard Bryman is the associate editor of Daily Coffee News by Roast Magazine. He is based in Portland, Oregon.