As the role of the office break room as a coffee hub will surely be changing in the years to come, an Israeli startup called Griin Coffee is hoping to soon greet office-goers with a groundbreaking solution for freshly roasted single-serve coffee.
The Griin Coffee system involves a subscription of directly sourced green specialty-grade coffee beans and an innovative countertop roasting appliance that incorporates "volumetric heating" technology for near-instant roasts that can then be sent straight into any super-automatic brewing machine.
Unlike traditional drum or fluid-bed roasting that heats coffee from the outside in via conduction and/or convection, the Griin system heats the beans "from the inside out," while producing no particulate matter or CO2, and maximizing energy efficiency, according to the startup company.
"Looking at the roasting solutions available to consumers and professionals today, it is evident that the majority of applications took a scientifically speaking naive product approach, and focused on reducing the size of the roaster and replicating industrial roasting profiles at smaller scales," Griin Coffee Co-Founder and Chief Marketing Officer Matan Scharf told Daily Coffee News. "Griin's approach to roasting is fundamentally different. Rather than scaling down a roaster, we devised a tech approach that is designed specifically to work like a white appliance that you may find on your kitchen countertop. Our appliance produces no ambient heat, no smoke, or PM, and there's no need for a skilled operator or any infrastructure other than a simple electric outlet."
The compact machine is designed to be used in tandem with any super-automatic machine for direct feeds into hoppers. The Griin can roast a single dose of coffee for one drink at a time in as little as 90 seconds, according to Matan. Profiles can also run slightly longer, depending on the coffee and drink style.
The company says the roasting process involves a "neural network" of sensors and software that collects data during the roast, including bean color and ambient moisture, in order to automatically execute the profiles and monitor their progress.
Said Matan, "Having this autonomous level of control means that we can produce very accurate and consistent results while completely avoiding temperature overshoot and its undesired byproducts — smoke, charred beans, etc."
In December, Closed Loop Partners, a New York-based firm whose major corporate investors include Starbucks, Coca-Cola, Keurig Dr. Pepper and Danone, announced a $2 million investment in Griin.
Griin Chief Food Engineer David Bensal, who served for almost four decades as instant coffee chief technologist for Strauss Group, the parent company of Danone, told DCN that the company believes its low-volume volumetric heating process, as opposed to conventional drum or air roasting, can result in more desirable flavors along with less bitterness and astringency in the finished product.
"The key odorants that develop at the beginning and halfway through the roasting are regarded as contributing to rich taste," said Bensal. "These remain constant throughout Griin's roasting process, unlike conventional roasting in which the late-stage bitterness and smoky notes overshadow the sweet and caramelized notes as the sugars begin to char. In order to achieve the all-flavor range and with the right proportions of all the components, we actually need a non-uniform heat transfer to the coffee beans, and in Griin's case, to the single bean."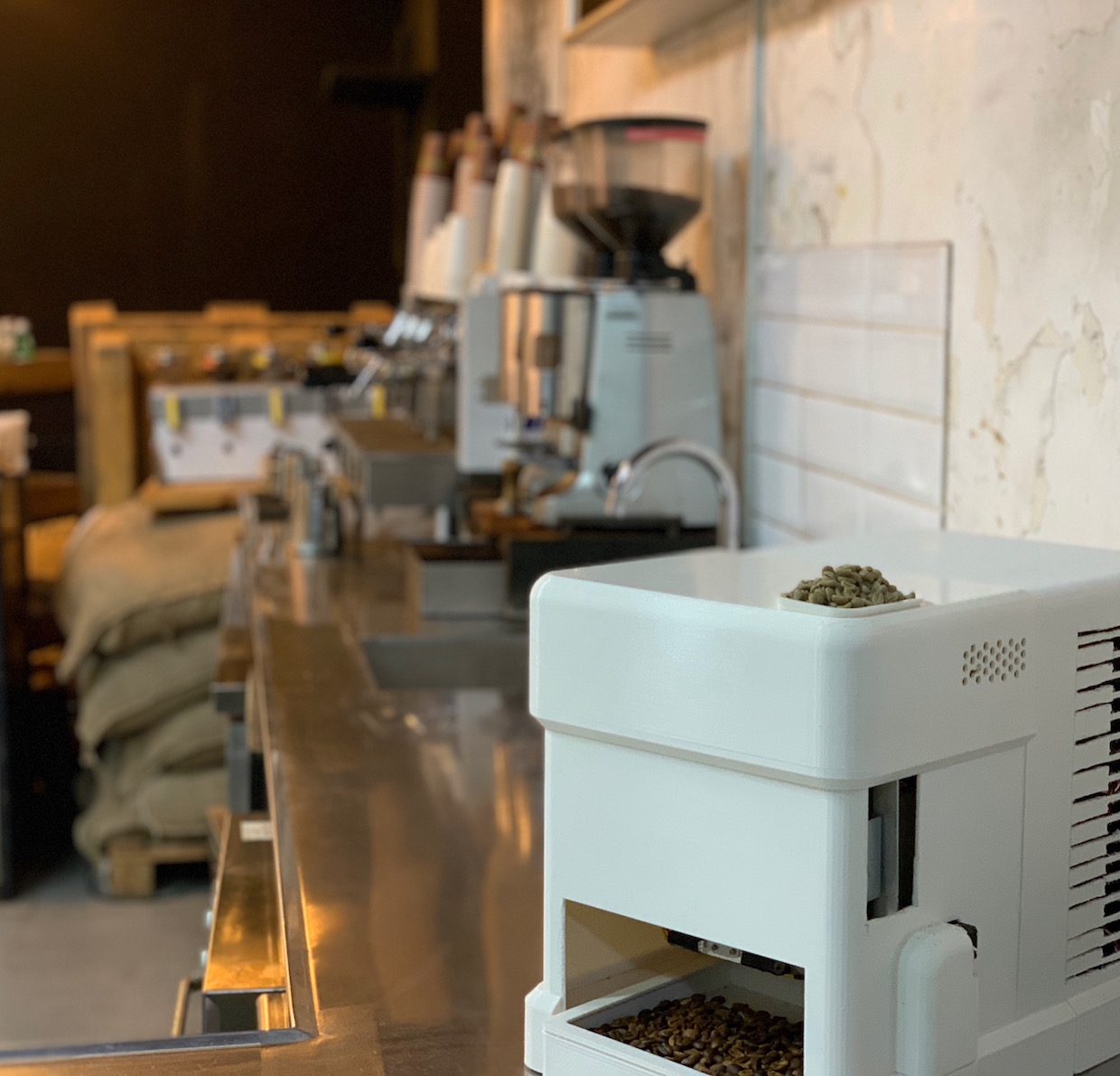 While the company is keeping the details of its proprietary roasting technology under wraps, the phrase volumetric heating is most often applied to microwave heating technology, although home microwaves are not suitable for roasting coffee. As such, the Griin coffee system would represent an engineering and technological breakthrough.
With his background as a cybersecurity specialist for Israeli defense agencies, financial institutions and other startup companies, CMO Scharf is well equipped to keep Griin's IP under wraps. Directing the green coffee program at Griin is co-founder, COO and Matan's brother Jonathan Scharf, author of a book on direct coffee sourcing called "Coffee'ing: An Unfiltered Journey."
Jonathan Scharf founded Q'Cafe espresso bar in Costa Rica in 2001 before selling it roughly a decade later. He then continued to leverage his close relationships with growers to launch Tel Aviv-based importing and roasting company Mae Cafe in 2010, which then grew into one of the first Israeli specialty coffee brands with multiple locations.
Rounding out Griin's leadership are co-founder and CEO Yuval Weisglass, who also has a cybersecurity and tech background, and an R&D team that includes coffee-focused engineer Omri Almagor, inventor of the Matrix shower screen and filter.
Given the unpredictability of travel, shipping and event planning due to the COVID-19 pandemic, Griin has not announced a timeline for its official launch. The company is currently piloting its technology in Israel with plans to reach international markets.
Howard Bryman
Howard Bryman is the associate editor of Daily Coffee News by Roast Magazine. He is based in Portland, Oregon.