Offering a collection of flavor profiles one precise coffee cup at a time is Compilation Coffee Roasters, a new all-pourover coffee shop in New York City's East Village.
Following a concept created by two deeply experienced specialty coffee professionals, the roughly 275-square-foot shop gets right down to business with standing room only and an intense focus on single coffees done right.
Pourovers come from a 5-cup Poursteady machine on the front counter, where customers get an intimate view of the hypnotic dance of the robotic nozzles. In place of espresso, batch brew or cold brew, the single cups are served either hot, flash-brewed over ice, or au lait.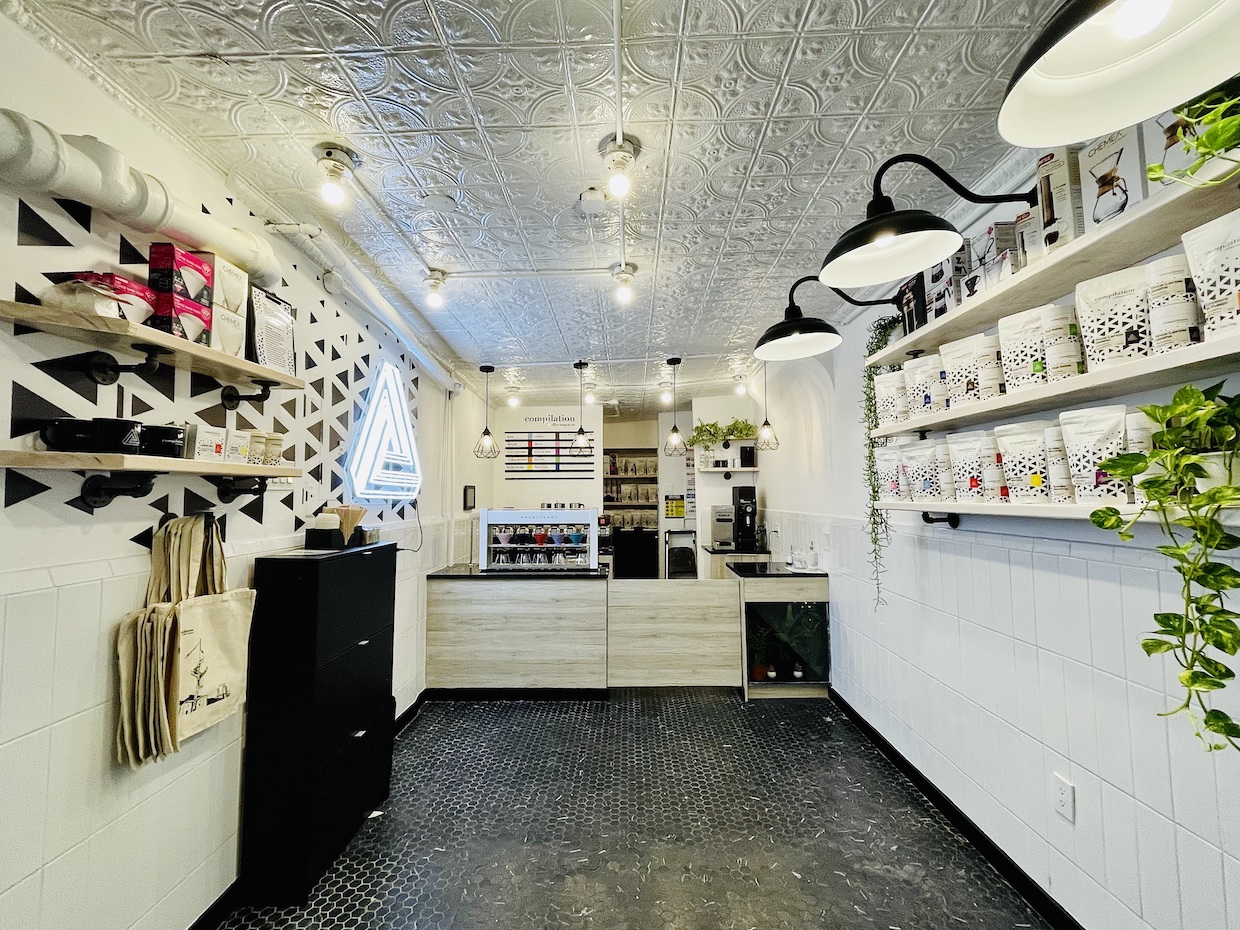 "We wanted to really focus on the coffee itself — give our customers the full spectrum of profiles," Compilation Coffee Founder Noah Jashinski told Daily Coffee News. "Every cafe, on every corner, in almost every city in the world, is offering the same exact menu. Everyone defines their cortado or latte or macchiato a little differently, but ultimately, I have walked into shops in New York, Los Angeles, Paris, Berlin, and Norway and can read and understand the options. All we wanted was to create a new experience. This was meant to feel like a wine bar for coffee."
Behind the Compilation bar stands a battalion of 10 Baratza Forte grinders, all of which are fed beans roasted by New York specialty coffee pioneer Oren Bloostein of Oren's Coffee (formerly Oren's Daily Roast). Oren's is a sibling company to Compilation under the ownership umbrella of Icon Coffee Co.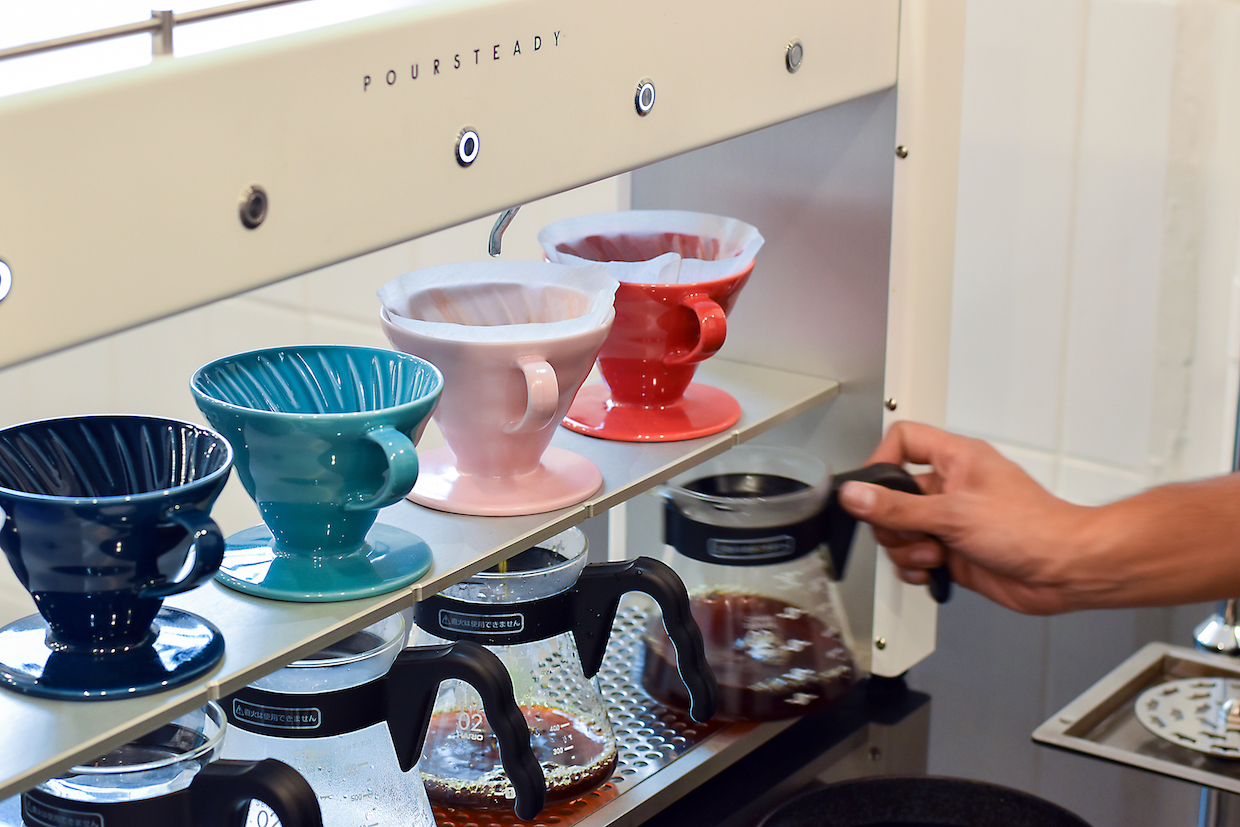 Bloostein roasts on a vintage Gothot Rapido-Nova, while brews are dialed in by Bloostein and Jashinski, who has more than a decade of specialty coffee experience with companies such as Intelligentsia Coffee, Blue Bottle Coffee and Germany's Five Elephant.
"It is a team effort," Jashinksi told Daily Coffee News. "I selected the final coffee lineup, but Oren sourced and roasted everything and provided a ton of options along the way. For dial-ins, it is no different. Oren and I sat while I programmed the Poursteady and got the range down for all the coffees."
Alternative milks, for which there is no up-charge, are created onsite using a NuMilk machine.
Inside the shop, Compilation immediately awakens the senses with starkly contrasting blacks and whites, including a triangular pattern amplified on one wall that references the coffee packaging.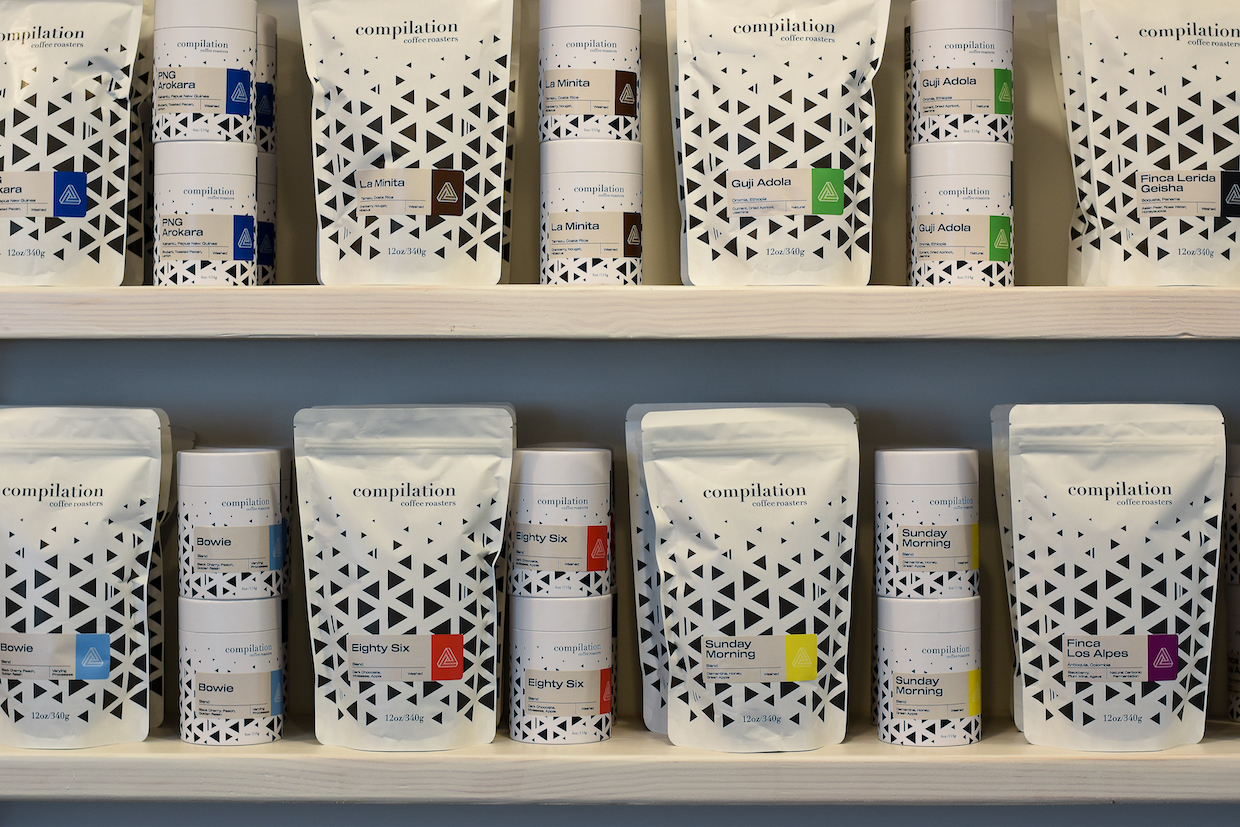 The punk rock history of the neighborhood was considered in the interior design, as Jashinksi and designer Jeong Hee Kim from Jersey City-based Studio Hade elected to leave pipes and light bulbs exposed while preserving the vintage tin ceiling tiles and well-worn black penny tile flooring.
"I wanted to somehow create an open, spacious cafe with less than 300 square feet, which wasn't easy to achieve," said Jashinski. "I recall going to punk shows at Coney Island High and the Continental throughout the mid to late 90s. I got my first tattoo blocks down from where Compilation opened. We talked about maintaining the personality, having it still feeling clean, but also not sterile."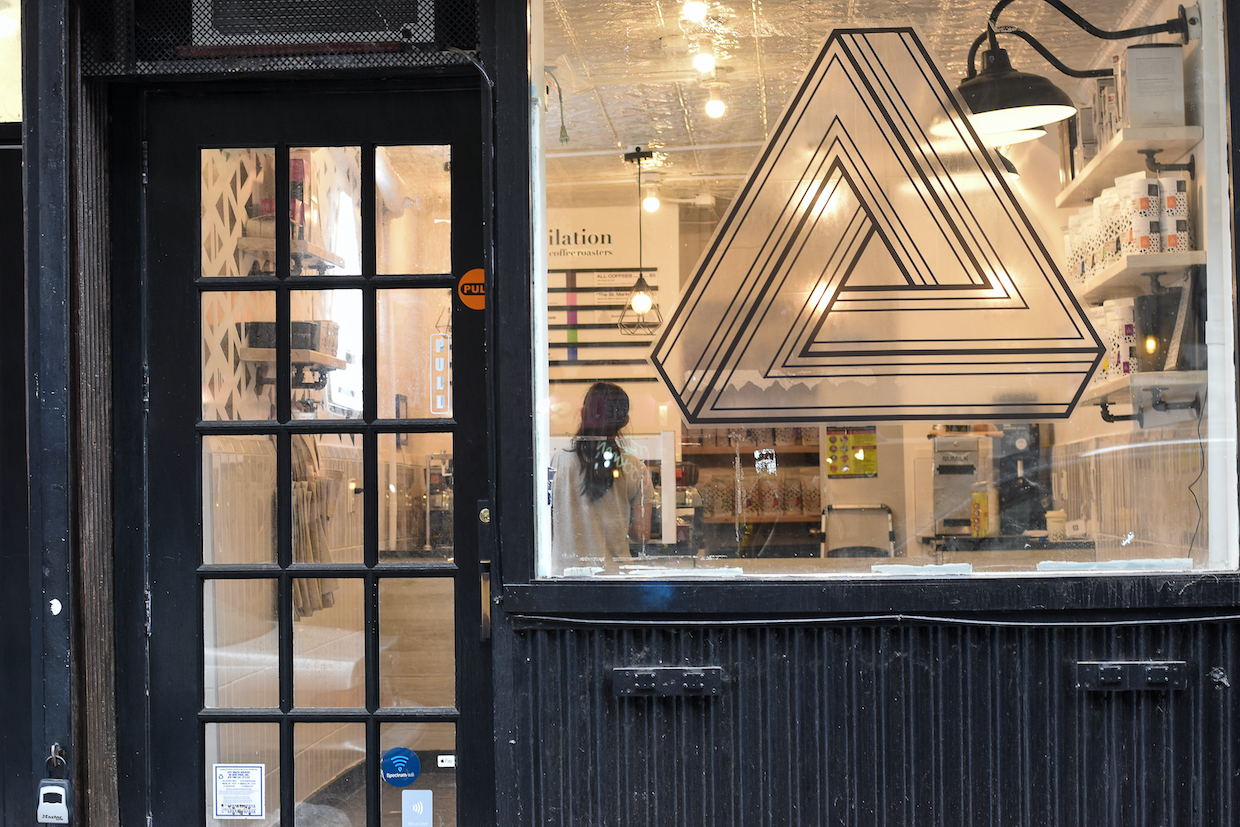 As it settles into the mix on St. Marks, Compilation's growth will continue wholesale roasting, online sales and roasted coffee subscriptions.
"There are definitely some things in the pipeline," said Jashinski. "Outside wholesale, we are actively looking at other spaces in the Tri-State area and working on some new drinks. From there, we'll see."
---
Compilation Coffee is located at 102 St Marks Pl Store West in New York City. Tell DCN's editors about your new coffee shop or roastery here.
Howard Bryman
Howard Bryman is the associate editor of Daily Coffee News by Roast Magazine. He is based in Portland, Oregon.