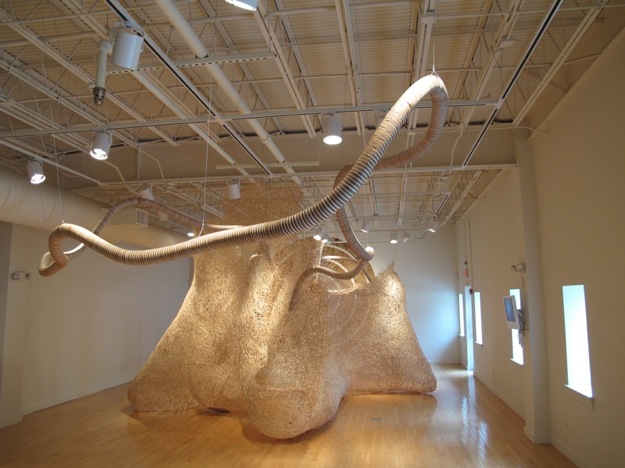 Art and coffee often intersect, but rarely as literally as they do in the work of Raleigh, N.C.-based Jonathan Brilliant, who's 25-and-counting installations in the "Have Sticks, Will Travel" series often involve the interweaving of thousands of coffee stir sticks, as well as coffee sleeves and coffee smudges.
"In 2006, I began My 'Goldsworthy of the coffee shop project,' initially assuming the role of a British artist who gathers materials in his natural environment and uses them to execute a site-specific installation," Brilliant says of his coffee-related work. "In my version the natural environment was the coffee shop, and my materials were the to-go coffee cup and all it's accoutrements. The resulting work was both ironic and labor intensive with a traditional craft based sensibility. In this ongoing series of work, I now continue to explore my sense that the coffee shop and related consumer environs are more organic and nurturing than the "real" natural environment."
In this Q&A, DCN Editor Nick Brown asks Brilliant more about his coffee-related art and his personal relationship to coffee and the spaces in which it is consumed.
What is the "Goldsworthy of the Coffeeshop" project?
In the beginning of this work, I was thinking about the way many British artists from the 70s and 80s worked with materials from their natural environment inside the gallery. I was actually influenced more by British artists Richard Long, Tony Cragg, David Mach, Antony Gormley and Richard Deacon than Andy Goldsworthy, but he is the most well known of the Brits. It also described a proposal I had in mind to be a residency project. In the project, I would liberate materials from a coffee shop treating it like my natural environment and then bring those "natural materials" back into to the gallery to build with. After completing two residencies in 2006 and 2007 with this project, it kind of morphed into the current "Have Sticks Will Travel"  tour of work.
Do you see the coffee shop as a particularly creative or inspirational space?
I honestly do feel this connection to the space of the coffee shop. It has been and continues to be a place for me where one can just drop in and engage in activities that are private in public. Years ago, it would have seemed weird to find someone working on a laptop in a coffee shop, but now we think nothing of running our lives and businesses from these places. Still today my favorite place to go work in my sketchbook is a coffee shop. So in that sense I find the spaces conducive to creative work. More so than the space, I find continued inspiration and attraction to the to-go coffee cup itself and all its component parts — the lid, the sleeve, the stick and the straw.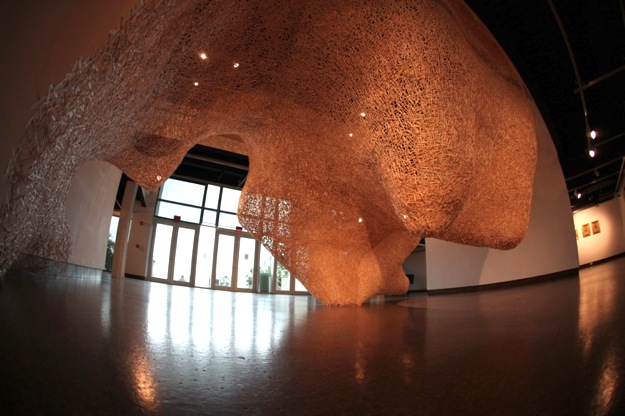 Most importantly, what do you drink?
At home I use a pour over single cup thingy, a french press, or I make turkish coffee. If I am out, I either order a double shot of espresso, house blend or a triple americano. I take everything black.
Any favorite local hangouts?
Here in Raleigh, I dig, in no particular order, Cup a Joe, Third Place, Cafe Sosta, The Starbucks on Peace Street, and of course Cafe Benelux. For me, all coffee shops are kind of the same wherever you go, whether corporate or mom-and-pop. In that sense, I really dig any coffee shop. My favorite one that I stumbled on in traveling for my work would have to be Blackbird in Milledgeville, Ga., and  second to that for the sheer absurdity and surreality of it is Madcap Coffee in Grand Rapids, Mich.
If you had to generalize, how long would one of your larger installations take to create?
To create an installation, I am on site anywhere from 7-14 days.
Can you explain your relationship to coffee and how it may inform your art?
I am more influenced by the space I am working in during a given installation than I am by coffee in particular. Although my material choices are rooted in my experience in and around the coffee shop, my first and biggest priority is engaging the space and time I have been given to make work for an audience. The priority is always on how the installation will be experienced in the space itself. I still only make this work when someone invites me or asks me to make it happen.
From where do you get your supplies?
Currently I get my sticks from Perfect Stix, my sleeves from Java Jacket, my lids from Solo, and I acquire my straws locally where ever I am working. When I do a coffee stain wall drawing I use Cafe Bustello mixed with water until it makes a nice mud. I am of course always on the hunt for new versions of materials.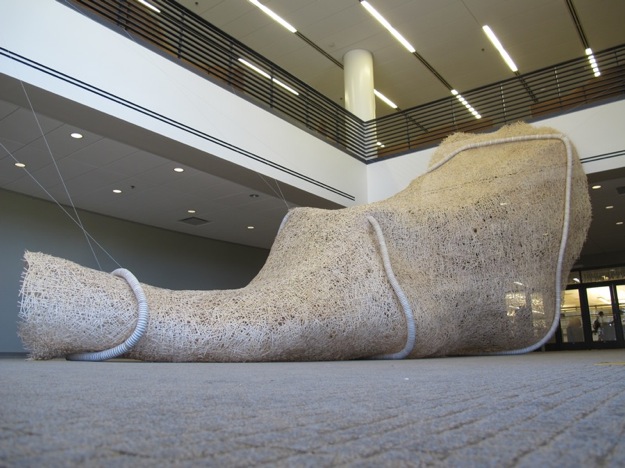 Nick Brown
Nick Brown is the editor of Daily Coffee News by Roast Magazine.