From bacon-flavored condoms to squeezable bacon cake frosting to bacon breath mints, our collective obsession with bacon seems to know no bounds. Late to the party — and not particularly welcome — comes specialty coffee.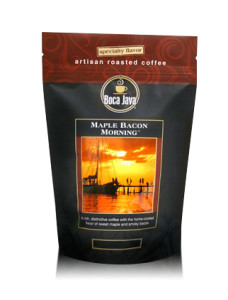 Boca Java, a brand of the Colorado-based Luna Gourmet Coffee & Tea Company — has released its Maple Bacon Morning and Maple Bacon Morning Decaf, an arabica blend. For customers who like it, the Boca Java team suggests they try its Bananas Foster Float coffee. Naturally. Here's more from Boca Java on the bacon blend:
Reminiscent of a hearty Saturday morning breakfast around the table, this sweet, savory coffee delights the senses with the smell and taste of home! Maple Bacon Morning coffee combines our 100% Arabica coffee beans with the comforting flavors of maple syrup and bacon, and it has a base that's full-bodied and complex; a delicious way to rise when the rooster crows!
Boca Java is not alone in the bacon coffee game. The bacon specialty food site Bacon Freak offers its Boss Hog Maple Bacon blend. And last August, an Iowa woman won $10,000 in a Seattle's Best contest for her bacon-flavored coffee drink, with the potential for the Starbucks-owned company to sell bacon coffee in its stores.
As of this writing, Seattle's Best had not begun selling the bacon-flavored coffee. We assume there is good reason.
Nick Brown
Nick Brown is the editor of Daily Coffee News by Roast Magazine. Feedback and story ideas are welcome at publisher (at) dailycoffeenews.com, or see the "About Us" page for contact information.