(Press Release from Strange Matter Coffee Co.)
Oct. 10, 2013 — STRANGE MATTER COFFEE CO.: MOBILE "THIRD WAVE" COFFEE FOR THE LANSING COMMUNITY
The people of mid-Michigan deserve delicious high quality coffee and Strange Matter Coffee Co. wants to delivery it directly to them. Introducing the first multi-roaster coffee truck in the country located in Lansing, Michigan.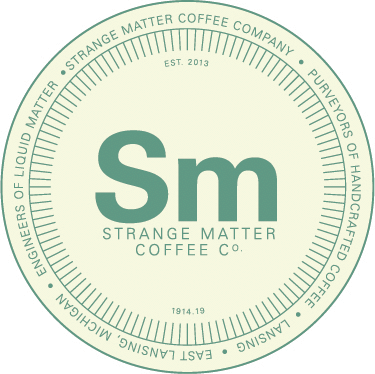 Starting September 30th Strange Matter Coffee Co. launched their Kickstarter project aimed at bringing high quality coffee to the residents, students, and tourists of Lansing and East Lansing, Michigan, in the form of a mobile truck. Strange Matter Coffee will offer a significantly more detailed method of preparation and attention to detail, featuring coffees from top roasters in the country in order to always feature in-season, delicious, and amazing coffee. Strange Matter Coffee will be inventing a model that is not a cookie-cutter of fast-casual coffee chains, concession, or food trucks. The truck will be the first of its kind, the first multi-roaster coffee truck in the country and the first mobile "Third-Wave" coffee truck in the state. Strange Matter will be inventing a model that is focused on quality and mobility.
Strange Matter will be filling a niche market that is currently vacant in the mid-Michigan area. Similar brick and mortar coffee shops already exist with great success in Grand Rapids (MadCap Coffee), Detroit (Astro and Anthology Coffee) and Ann Arbor (Comet Coffee, The Espresso Bar, and GlassBox Coffee). The sourcing, quality, and method of preparation of coffee are in an entirely different league than what is currently available in the area.  The coffee is specifically and ethically sourced from farmers and unique lots. It's used within two weeks of roast date to preserve freshness and is hand-brewed; ground and prepared per order. Manual espresso preparation as opposed to automatic preparation sets them apart even further with the ability to extract a vast array of flavor characteristics from their coffee using a top of the line espresso machine from Italian based company, La Marzocco.
For more information please check out the Kickstarter page: http://kck.st/19if8Q0 or Website: http://www.strangemattercoffee.com
When nerdtastic devotion and the love of coffee collide: Cara, owner of Strange Matter Coffee Co. has been invested in the coffee industry in various capacities for over ten years. She is a former Great Lakes Regional Barista Guild Chapter Representative and Great Lakes/Big Central Regional Barista Championship and World Latte Art Championships competitor. Cara rebuilds espresso machines with her bare hands and still manages to be a morning person. She has traveled the world to experience coffee and wants nothing more than for the people of Lansing and East Lansing to enjoy excellent beverages. The foregoing experiences add up to some serious brewing moxie.
Nick Brown
Nick Brown is the editor of Daily Coffee News by Roast Magazine. Feedback and story ideas are welcome at publisher (at) dailycoffeenews.com, or see the "About Us" page for contact information.