By Emily McIntyre of The LAB
Mariana Faerron-Gutierrez was born in the coffee-scented Central Valley of Costa Rica, in Heredia. Coffee plantations surrounded her house, and as a child during coffee harvest season, she regularly saw trucks driving by full of the bright red coffee cherries. The scent, she recalls, was hard to describe — almost like an over-ripe cherry. As Faerron-Gutierrez grew up, she knew she wanted to work in an environment surrounded by nature, eventually becoming an agricultural economist.
"It allowed me to be in that environment and also learn about administration," she says. "Small farmers know well what to do when they have to grow something but they don't necessarily understand what to do with it. I got to help and support them."
More from the Women Roasters Series
Women Roasters Series: Jennifer Swanson's Road from Human Rights to Roasting
When German-born Thomas Goepel traveled to Costa Rica to visit a friend, he and Faerron-Gutierrez met, and quickly fell in love, changing their lives' paths forever. "One of us had to move," she recalls, "and it was me. I started over from scratch. I didn't have friends, a job, anything. It was a new life, a new house, and a new family." Faerron-Gutierrez started exploring career options, all the while missing Costa Rican coffee. Eventually she and Goepel decided to open Tico Coffee Roasters, with a stated mission to "share with people here in the U.S. the beauty and complexity of coffee."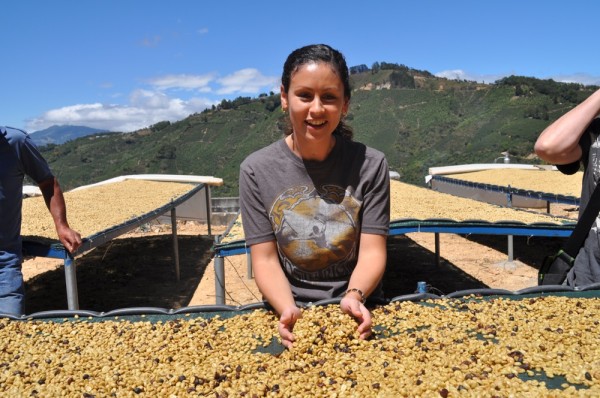 As with many heads of smaller roasteries, Faerron-Gutierrez is immersed in all aspects of the business, from roasting and importing to business development and marketing. Tico Coffee Roasters remains focused on sustainable sourcing and treatment of coffee, with more than 50 percent of its coffees coming from direct trade relationships and/or certified by the USDA or the Rainforest Alliance.
A reflection of Faerron-Gutierrez and Goepel's broad vision for social responsibility and environmental sustainability, the coffee business also maintains internal recycling and composting programs. Selling coffee to restaurants, businesses and individuals throughout the San Francisco area, the couple says they plan to expand their reach over the next few years to northern California and beyond.
Emily McIntyre
Founder and CEO of Catalyst Trade, Emily McIntyre is a serial coffee entrepreneur and journalist focused on re-inventing specialty coffee sustainability. Based in Portland, Oregon, Emily has lived in Ethiopia and consulted in nearly every aspect of the coffee supply chain from farm to the cafe. Learn more at www.catalyst-trade.com.