We typically don't touch on home coffee roasting or brewing, but this was too much to keep to ourselves.
A startup company called Nuroast is raising capital for an induction heat-based home roasting system that involves placing a sealed cartridge containing green coffee beans into a countertop roasting unit. Each coffee type comes with a number value for three suggested roast profiles (there are 100 to choose from). Users simply press a roast profile button, press a big red start button, then wait approximately 10 minutes as their coffee roasts and cools (a filter lining the canister eliminates smoke, the company says). Finally, pop the cartridge out, and you're ready to grind and brew.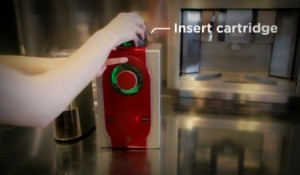 Beginning today, the company is trying to raise $200,000 on the crowd funding platform indiegogo to start production of the Nuroast. Says Nuroast, "CPU control makes expert coffee roasting as easy as making toast, thus allowing the general coffee consumer to roast their own world class coffee at home."
Related Reading
The Mason Jar Pour Over Attachment and Questionable Intelligence
Young Inventors Raise $25,000+ for Production of Cold Brew System 'The Bruer'
In theory, this is to coffee roasting as the Keurig system is to coffee brewing, promising a "world class cup" without any of the effort. This is likely to offend serious home roasters and brewers alike, but it will be interesting to see if the concept can take off. It seems best fitted for those consumers who take a genuine interest in freshness and cup quality — and perhaps they even use serious brewing methods — but who take no real interest in the craft of roasting.
We'd love to hear your thoughts on this and on home roasting in general. Comment below….
Nick Brown
Nick Brown is the editor of Daily Coffee News by Roast Magazine. Feedback and story ideas are welcome at publisher (at) dailycoffeenews.com, or see the "About Us" page for contact information.