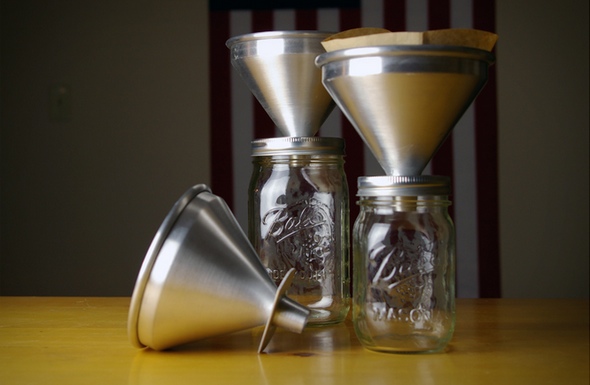 Two Pennsylvania-based entrepreneurs under the name Intelligent Design Co. have secured enough funds on Kickstarter to begin producing the Pour Mason, an aluminum pour over attachment designed to fit Mason jars. Once the coffee is poured into the vessel, the Pour Mason founders suggest using the Cuppow, a product that turns Mason jars into sippy cups.
The project has already been featured on numerous fashionable gadget blogs, including Uncrate and Cool Material, and as of this writing had topped beaten its Kickstarter goal by some 40 percent, with 16 days left to go in the campaign. (Remember the Portland Press? the mason jar French Press that got more than $50,000 through crowd funding?)
The Pour Mason team doesn't address the problem of the inherent thermal conductivity of aluminum, but it did say that a prototype of the Pour Mason performed well in a side-by-side with a Chemex. (Wouldn't a V60 or the like have provided a truer comparison?) From Intelligent Design:
It was tested right along side a Chemex in a pour-over coffee test done very methodically. Coffee measured via a scale, water measured and temperature exactly the same for each brew. The pouring of the water over the coffee was timed as well. In the end, the Pour Mason made a comparable cup of coffee. The owner of Alabaster [Karl] confirmed the Pour Mason coffee as well as two of the Barista's that work there, Eli & me and one patron that was at the coffee bar at the time.
One other question that remains in the air: Why limit your self to one attachment when any number of already existing and proven high-quality pour over systems will fit right atop your mason jar?
Nick Brown
Nick Brown is the editor of Daily Coffee News by Roast Magazine.