Coffee lends itself to gift-giving. Roasted beans and brewing equipment remain relatively affordable and do not take up much closet space, while coffee inspires in people a sense of social kinship. Savvy roasteries have been cashing in on this reality for years, continuously reinventing package designs and curated boxes to sell more coffee and equipment around the holiday season.
There is nothing wrong with that — after all, what home brewer would not want all the cool stuff in curated gift boxes from the likes of Stumptown Coffee Roasters or Intelligentsia? That said, one of the most endearing holiday traditions in specialty coffee comes from Durham, N.C.-based Counter Culture, which for 14 years has been offering a specially packaged holiday blend, with a portion of the proceeds going toward a coffee-related social or environmental program.
(more: Inside Counter Culture Coffee's New York City Training Lab)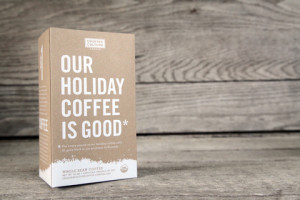 This year, $1 from each bag of 12-ounce coffee sold will go to a washing station in  the Burundi community of Buziraguhindwa, where Counter Culture has been working with the owners since 2009. The cash will go toward agricultural practices and a transition to organic certification among partners in two Burundi villages. The coffee is available here.
Asked why this kind of charitable reinvestment component exists, Counter Culture Coffee Buyer and Sustainability Manager Kim Elena Ionescu told Daily Coffee News, "In many ways, the holiday coffee exists because of the charitable component. We generally shy away from using overt social, economic or environmental messages to sell our coffee, but at the same time, we have the great fortune to work side-by-side with organizations we admire at home and abroad."
The Counter Culture holiday coffee program has become so much of a tradition that the team begins discussions of where to invest in projects as early as May or June. "It allows us to celebrate charitable giving in a once-a-year, limited-time sort of way that doesn't distract from our core mission,"  Elena Ionescu says. "As our company grows and evolves, so do the choices of causes that we support. These days, we're more likely to have a very specific intention for the funds we raise than we did when we began this program 14 years ago."
(more: Gizmodo's Home-Brewing Holiday Gift List for 'Coffee Nerds')
So do coffee consumers expect a charitable or reinvestment component when they make a holiday purchase? Says Elena Ionescu, "Coffee drinkers — and I'd include myself here — may feel more 'giving' around the holidays and might expect that holiday coffees have a charitable component to them. But then again, I don't necessarily expect that from seasonal beers or Trader Joe's limited-release peppermint Joe Joes cookies. So maybe not."
This year, Counter Culture worked with Durham-based creative agency McKinney to develop new holiday packaging, a recyclable box printed with plant-based inks. The "gift-ready" box  top includes a call-out to collect funds to donate to an additional organization of the donor's choice. The team is exploring the box design for other applications.
(more: Remembering the JFK Assassination with Expensive Coffee)
"The accessibility of paper recycling and the rigidity that the box offers would allow us to lower the material requirements for the bag, for which we're also exploring omnidegradable and recyclable options," Counter Culture Marketing Manager Nathan Brown told Daily Coffee News. "Though there would technically be more materials used, it could reduce the amount of material that ends up in a landfill."
Nick Brown
Nick Brown is the editor of Daily Coffee News by Roast Magazine. Feedback and story ideas are welcome at publisher (at) dailycoffeenews.com, or see the "About Us" page for contact information.