After receiving a cease and desist letter from Starbucks for a beer named "Frappiccino," the owner of a micro brewery in Cottleville, Missouri, replied with a sarcastic bit of comedy writing that concludes with "us small businesses need to stick together."
Starbucks is famously protective of its dozens of trademarks, going after companies big and small over the decades (case in point, the legal team most recently filed a criminal complaint against a Bangkok street vendor). So it's not surprising that Exit 6 Pub and Brewery owner Jeff  Britton received the C&D letter from Anessa Kramer of Honigan, Miller Schwartz and Cohn, after Starbucks found the beer listed in the social beer check-in app Untapped, suggesting that it could be confused with Starbucks' "Frappuccino."
(more: Starbucks vs. Charbucks: So Much More than a Boring Trademark Violation Case)
At the time of the letter, the beer — which Britton has since renamed "The F Word" — had three check ins, and for those Britton sent Starbucks a $6 check to help defray legal costs. "Please apply the enclosed $6 for the legal fees Ms. Owen Kramer received for her efforts in nabbing Exit 6 in our dastardly F word naming practices.," Britton wrote.
My favorite part of what would other be a rather routing legal exchange is Britton's reply to the following statement from Kramer:
Starbucks Coffee Co. has sold millions of drinks under the FRAPPUCCINO trademark, and the mark is strong, famous and firmly associated with Starbucks Coffee Co. in the United States and in many other countries.
To this, Britton wrote:
Exit 6 has proudly sold at least 38 drinks in Cottleville MO and has a strong presence in St Charles County, a suburb 40 miles outside the St. Louis metropolis. Here is Britton's reply in full.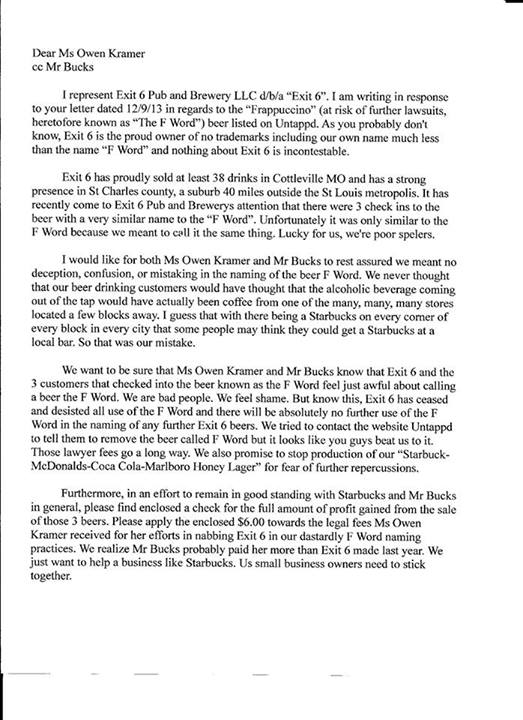 Nick Brown
Nick Brown is the editor of Daily Coffee News by Roast Magazine.