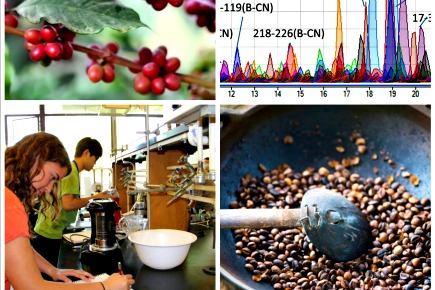 Late last year, we encouraged all college students to transfer to UC Davis. Why? The university was offering a first-of-its-kind class on coffee science, engaging students in advanced roasting and brewing.
Now an ad hoc group of UC Davis professors and researchers are broadening their coffee focus by developing the UC Davis Coffee Center, a division of the University's Foods for Health Institute, which has been on the leading edge of the academic study of other lifestyle beverages such as beer and wine. One of the stated goals of the Coffee Center is to develop a coffee curriculum and eventually offer a major in coffee science. 
(more: Coffee and Climate Science: An Inconvenient Truth)
The Center is holding its first conference Tuesday, March 11, a collaboration between science and some coffee industry stakeholders to share and gather information. Very much a work in progress, the Coffee Center is currently reaching out to collaborators throughout the coffee industry.
"Our goals are to increase value at every step of the coffee pipeline, to ensure safety and quality of the global coffee trade, and educate the next generation of coffee scientists," the Center announced.
(more: Researchers Find 'Early-but-Promising' Results Converting Coffee Grounds to Biodiesel)
While much of the Center's focus is likely to be on the affects of coffee consumption on human health, the Center is also exploring some aspects of coffee that will be of importance to commercial coffee roasters and brewers. For example, the Coffee Center says,  "An analysis of the microbiota on coffee beans could lead to a new field of coffee terroir, or, "A sensory perspective on coffee drinking would determine the optimal temperatures and conditions to ensure maximum flavor – at a personalized level."
Here are some of the topics the Center hopes to immediately explore:
Coffee genetics
Natural fermentation of coffee berries
Analytics of coffee composition, structure, and function
Sensory aspects of coffee
Coffee as potential prebiotic

Metabolic aspects of coffee consumption
Coffee engineering: optimizing processing, value, and sustainability
Education for undergraduates, graduate students, and industry
Social and cultural life of coffee
That is a lot.
Nick Brown
Nick Brown is the editor of Daily Coffee News by Roast Magazine.