April Fools jokes were aplenty in the coffee world yesterday. Some of the highlights included Caribou Coffee's Clear Coffee promo, this guy making homemade kopi luwak with his cat Lolita Roberts-Johnson, and Gwenyth Paltrow's $450-per-bag Goop Coffee line. The Table in the Corner of the Cafe even ran an anti-joke, taking the opportunity to disparage the single-serve pod segment.
(more: Convenience Store Chain Using Powder to Reprint Faces in Milk Foam)
But leave it to Google to come up with the most elaborately produced joke of all, Coffee-To-The-Home (CTTH). Promoting its Google Fiber program in Provo and Kansas City — where the company currently has about 1,000 workers on the ground in a given day installing fiber optic lines for super-fast Internet — Google went so far as to produce a 2-minute video for the CTTH program, saying:
The key insight behind CTTH is pretty simple: as long as we're already doing thousands of miles of construction to pull fiber lines throughout cities, why not invest in a coffee network, too? From now on, as we bring fiber throughout a city, we'll also install pipelines that hook up homes to local baristas via a "hot beverage backbone" (HBB). The HBB will travel in parallel with our FTTH (fiber-to-the-home) network, to deliver CTTH. So, HBB + FTTH = CTTH. Easy.

In order to activate your Coffee-To-The-Home feature (or, in Provo, the "Hot Chocolate-To-The-Home feature), simply download or open your Google Fiber App on your mobile phone or tablet, and click on "Coffee" in the menu. Then, just tap on the beverage you'd like. Your order will be sent to a barista, who will make your drink and transmit it back to you along the HBB. All you have to do is grab your favorite mug, go to your home's new "Fiber Spout," turn the nozzle and enjoy your made-to-order drink of choice.
(more: Belkin Introduces Home Coffee Automation Platform)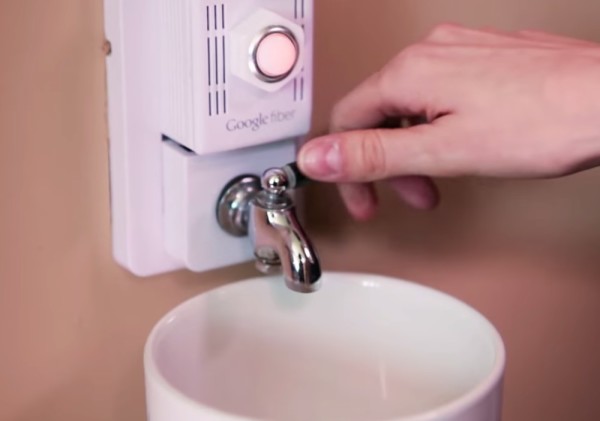 Of course this is all in jest, but Google has built an empire straddling the line between usable data and personal privacy. In some ways, the video may be an astute prediction of the future of automated coffee brewing. The fake CTTH app, for example includes a "Predictive Coffee Selector" that takes into account the users drink history in the past 30 days, time-of-day drink preferences and a TV/coffee pairing analyzer.
Funny? Sure. A little creepy in a Google kind of way? Absolutely.
Nick Brown
Nick Brown is the editor of Daily Coffee News by Roast Magazine.