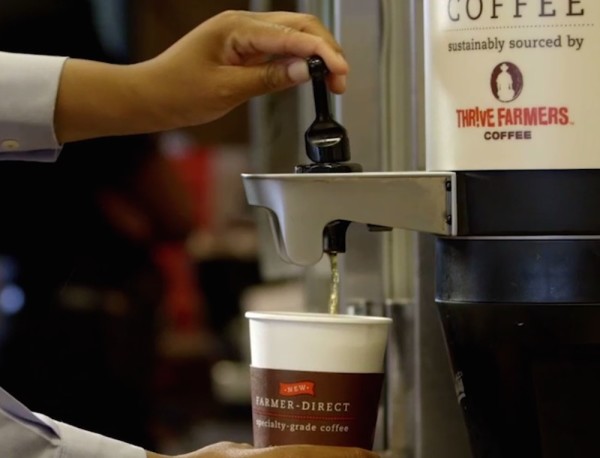 The fast food coffee wars escalated this morning when Chick-fil-A announced it is partnering with Thrive Farmers Coffee to offer what the chicken empire is calling the industry's "first-ever-specialty-grade coffee." It also may be the first time a chain of Chick-fil-A's size has ever marketed any kind of direct trade coffee relationship to consumers.
Thrive, also based in Georgia, was founded in 2011 by Michael Jones, a serial entrepreneur who left the medical supplies and insurance industry to create a coffee company that he says defies the traditional supply model by paying farmers up to 10 times more for green coffee, while stabilizing prices through annual contracts. "By being able to forecast supply and demand within the platform, 75% of the revenue from green beans and 50% of the revenue from roasted beans goes back to the farmer," Thrive told Daily Coffee News in May.
(related: Chipotle Piloting Coffee Program with Philadelphia's La Colombe)
For the Chick-fil-A deal, Thrive has created a house blend and an provided the coffee for an iced blend.
"The hand-picked, medium roast coffee offers a rich balance of flavors not typically seen in the quick-service industry, including notes of caramel and cocoa with a light citrus finish," Chick-fil-A said today, adding that cups start at $1.59. The iced coffee, Chick-fil-A says, is "handcrafted daily" and "prepared with an exclusive blend of Thrive Farmers' cold-brewed, specialty coffee beans and fresh two percent milk, sweetened with pure cane syrup and served over ice." It is selling for $2.29 or $2.59.
Chick-fil-A says this is really the first time the company has given much thought to its coffee program, and some perception social responsibility and supply sustainability may prove to heal some of the lingering wounds among consumers from the infamous anti-same-sex comments made by the company's COO Dan Cathy in 2012.
"We reflected on feedback from our customers who expressed that they wanted a better cup of coffee, and we found a partner who brought the added expertise we needed. The true magic of this relationship is that not only does the coffee taste great, we also found a partner who shares our belief that business can be bigger than the bottom line," said David Farmer, vice president of product strategy and development for Chick-fil-A.
The Chick-fil-A deal is obviously a big one for growing Thrive, which earlier this year told Daily Coffee News that it had expanded its network of largely smallholder farmers to more than 5,000 and planned in 2014 to purchase more than 3 million pounds of coffee, an increase by more than five times over 2013. The company also announced in May that coffee industry veteran Brewed Behavior founder and former Zoka Coffee owner Tracy Allen was coming on as Chief Coffee Officer.
From the beginning, Thrive has put a lot of resources into marketing its model, and those marketing forces are now combined with Chick-fil-A in a new website called Coffee With a Story, which gets into Thrive's "farmer direct" model and provides some loose definitions of "specialty grade." The video shows to-go cups of the new blends that read "farmer-direct: Specialty grade coffee."
We've seen countless fast-food chains market coffee as the generic "premium," and more recently, we've seen first-of-their-kind certification claims from the likes of McDonald's. But this marks the first time a concept of direct trade has been brought into the mainstream, even among the world's largest coffee companies. We can only hope their is some level of transparency moving forward.
Nick Brown
Nick Brown is the editor of Daily Coffee News by Roast Magazine.