The September/October 2014 issue of Roast Magazine is now shipping. If you're not yet a Roast subscriber, become one here.
Below are previews of three of this issue's feature stories, including explorations of the Middle Eastern coffee boom, a commentary on direct and fair trade practices, and a coffee visit to Myanmar.
Read. Learn. Enjoy. Subscribe.
WHAT'S OLD IS NEW AGAIN
The Reawakening of Coffee Roasting in the Middle East
Story and photos by Maja Wallengren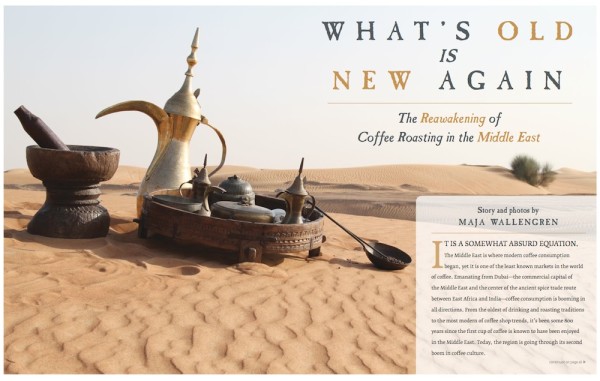 IT IS A SOMEWHAT ABSURD EQUATION. The Middle East is where modern coffee consumption began, yet it is one of the least known markets in the world of coffee. Emanating from Dubai — the commercial capital of the Middle East and the center of the ancient spice trade route between East Africa and India — coffee consumption is booming in all directions. From the oldest of drinking and roasting traditions to the most modern of coffee shop trends, it's been some 800 years since the first cup of coffee is known to have been enjoyed in the Middle East. Today, the region is going through its second boom in coffee culture.
DIRECT TRADE OR FAIR TRADE?
Let's Work Together for the Greater Good
Story and photos by Nora Burkey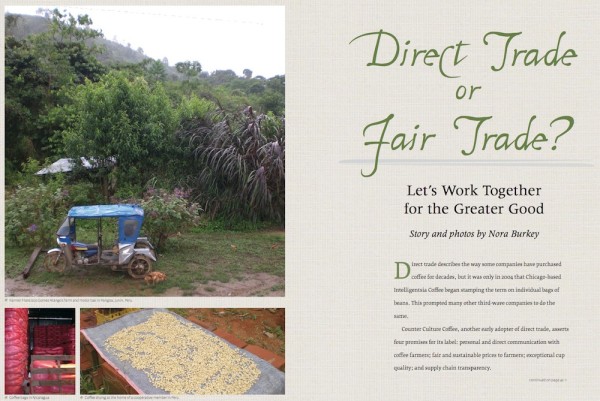 DIRECT TRADE DESCRIBES the way some companies have purchased coffee for decades, but it was only in 2004 that Chicago-based Intelligentsia Coffee began stamping the term on individual bags of beans. This prompted many other third-wave companies to do the same. Counter Culture Coffee, another early adopter of direct trade, asserts four promises for its label: personal and direct communication with coffee farmers; fair and sustainable prices to farmers; exceptional cup quality; and supply chain transparency.

Like many others who have touted direct trade as the best way forward, I once believed fair trade was not obliged to maintain these same standards. I believed fair trade merely guaranteed a minimum wage, a wage that moreover did not necessarily make it into the hands of producers. I believed direct trade ensured that money went to the farmer and I believed you could tell how truly "fair" a cup of coffee was just by the taste of it. I believed and I believed and I believed. And then I moved to Nicaragua.
COFFEE PRODUCTION IN MYANMAR
An Exploratory Visit Reveals Rich Possibilities
Story and photos by Rick Peyser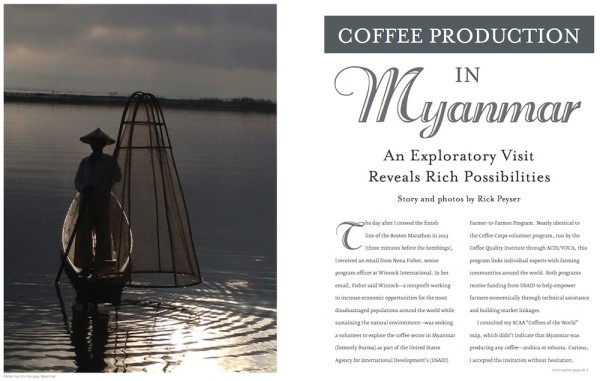 THE DAY AFTER I crossed the finish line of the Boston Marathon in 2013 (three minutes before the bombings), I received an email from Nona Fisher, senior program officer at Winrock International. In her email, Fisher said Winrock—a nonprofit working to increase economic opportunities for the most disadvantaged populations around the world while sustaining the natural environment—was seeking a volunteer to explore the coffee sector in Myanmar (formerly Burma) as part of the United States Agency for International Development's (USAID) Farmer-to-Farmer Program. Nearly identical to the Coffee Corps volunteer program, run by the Coffee Quality Institute through ACDI/VOCA, this program links individual experts with farming communities around the world. Both programs receive funding from USAID to help empower farmers economically through technical assistance and building market linkages.

I consulted my SCAA "Coffees of the World" map, which didn't indicate that Myanmar was producing any coffee—arabica or robusta. Curious, I accepted the invitation without hesitation.
Nick Brown
Nick Brown is the editor of Daily Coffee News by Roast Magazine.