After years of building Cuvee Coffee into a leading Texas specialty coffee roastery, founder Mike McKim was experiencing what he describes as "kind of a career funk."
"I was, for lack of a better word, bored with the specialty coffee industry. I felt like things were a little stagnant, and I wasn't sure what to do about that," McKim, who founded Cuvee as a part-time endeavor in 1998 before growing the business in Texas and beyond, recently told Daily Coffee News.
To fight the funk, McKim made a list of brands, entrepreneurs and creative thinkers he'd come to respect — all of whom were outside the coffee industry — asking each one to chat over a cup of coffee. "That whole process got me fired up," says McKim. "It got my long-term vision more focused."
(related: The Pattern of Coffee and People at Houndstooth Dallas)
A big part of that vision is Cuvee's first retail bar, recently opened at 2000 E. 6th Street in Austin, which not only has helped reinvigorate Cuvee's owner, it may also prove to be a model for future coffee bar design.
"I think everyone really wants a new, exciting experience, and I think we actually nailed that here," McKim says of the shop, which occupies a previously unoccupied industrial building, placing as much emphasis on craft beer and wine as it does on Cuvee's coffee.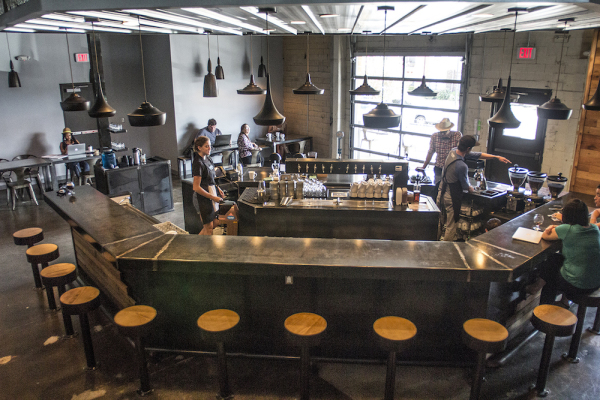 For the customer, that experience begins with the bar, a visually striking, wood-paneled centerpiece with six sides, each serving a distinct purpose. McKim says he wanted to break away from the traditional order flow, instead borrowing inspiration from quick-service food restaurants like Chipotle. Within two steps of the front door, customers reach the first station, where they select a cup size and choose from a rotating selection espressos, then they are led by baristas to the steaming station, where they can select milk styles. From there, if the order is complete, they walk further down the bar to the POS station. Similarly, customers ordering coffee begin with a cup size selection then proceed to the brew bar, followed by the POS station.
(related: Radio Coffee & Beer Hoping to Make Waves in 'New South Austin')
With a relatively low top and partially hidden equipment through the use of a Modbar system and Curtis Seraphim brewers — even the grinders were given their own lower counter space to minimize their profile — the bar gives direct sight lines to the work of the baristas, encouraging interaction. But foremost is a constant sense of movement from walking in the front door to the payment.
"It creates separation, so when you're waiting for a drink to be made, there's a constant flow," McKim says. "There's this feeling that your making progress because you're moving somewhere at each step."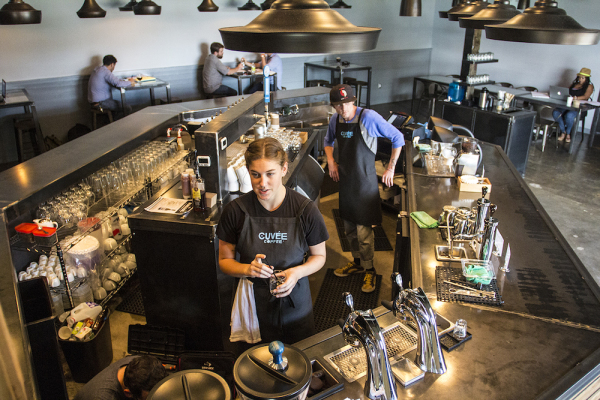 Inside, Cuvee attempted to maintain the feel of the industrial space, while a trusted group of contractors added endless touches of steelwork and woodwork. "Everytime I go in there, I see some new little detail I hadn't noticed before," McKee says.
One of the goals was to not have the space degenerate into what McKee referred to as the "stereotypical coffee bar where it's just 30 people sitting there with their laptops open." To that end, the Cuvee staff is not shying away from volume, constantly playing music, maintaining chatter at the central bar and letting the abundant flat, hard surfaces do the rest of the work.
(related: Inside Intelligentsia's New 'Contemporary Nordic' Wicker Park Bar)
Likewise, McKee hopes the space will stay lively through sales from the row of craft beer taps and wines. "One of the things I'm really proud of is creating a space where daytime coffee or night time beer can exist without it being weird," he says. "I think we really nailed that. It doesn't feel disjointed. It's the same space no matter what time of day."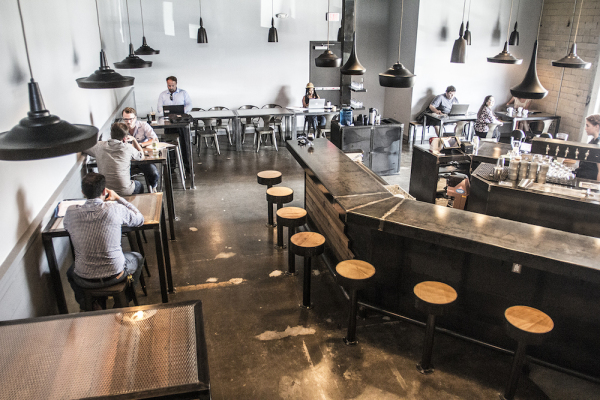 If nothing else, the shop is an ambitious and creative first foray into retail after 17 years of roasting for wholesale accounts. On a personal level, the shop has been an eye-opener for McKim, making him acutely aware of the daily and unending hardships of his wholesale partners. "It's easy for us to sit in the office and say 'Why can't so and so place their orders on time?' Then you open a shop and realize they have 20 other vendors they're dealing with. Coffee is only a small part of a whole moving mechanism."
Asked when the world can expect a second, third or fourth Cuvee retail location, McKee says, "I have some goals. I think some of them are realistic and attainable, while others may be unrealistic and dumb. So, we'll see. I think slow, steady and controlled makes a lot of sense."
But you can believe he's taking notes. "Before I started roasting, I was an espresso machine guy and I would go to all these places and take notes on what I liked and didn't like, and what I would do differently if I had my own chance."
Nick Brown
Nick Brown is the editor of Daily Coffee News by Roast Magazine.