A group of New York-based engineers and product designers have turned a pet project for a commercial pourover machine into a full-blown business venture.
The product is the Poursteady, a five-stand bar stand that uses remote and robotics technology for what the inventors call precise and highly controllable single-cup pourovers. To our eyes, it's the it seems like one of the most advanced attempts yet at replicating the manual pourover for commercial applications.
(related: How These Brewers Are Changing the Silly 'Barista-Quality' Concept)
Founders Mark Sibenac and Stuart Heys, both engineers, debuted the Poursteady at Maker Faire 2013, only afterward deciding to pursue it as a viable commercial product. They enlisted the help of product designer Stephan von Muehlen and product- and creative-designer Greg Mihalko, reintroducing the Poursteady at Maker Faire 2014, and more recently, at this past weekend's Engadget Expand conference in New York. Last Friday, they launched a $15,000 Kickstarter. The $10,000 reward is an actual working Poursteady machine.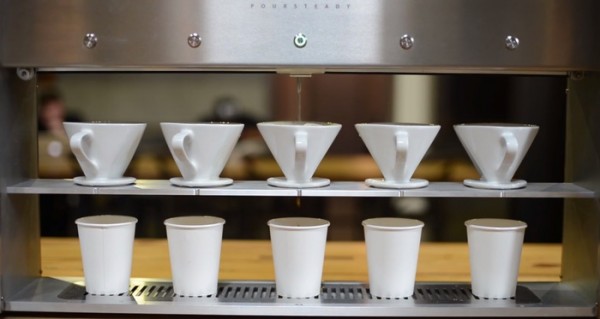 The team is maintaining a heavy emphasis on user experience — i.e. the barista experience — as much as it is on brewing functionality and coffee quality. After all, time spent customizing individual cup variables through an app is still time, right?
(related: How Counter Culture and BKON Are Brewing Up an 'Innovation Leap')
Here's more from the Poursteady team on some of the Poursteady's existing capabilities, as well as some future plans:
Controls software runs from custom real-time applications on a BeagleBone Black processing platform. The operator can change the amount of water in each pour, the timing between the pours, the patterns used for pouring, and the number of pours for each kind of coffee being brewed via an HTML5 app.

The Linux OS running on the BeagleBone allows Poursteady to easily connect to cloud servers where the interface for the settings is hosted. A single lighted button is located above each cup for operator control and feedback. Once the operator presses a button to instruct the robot to make coffee at that station, the request is inserted into a work queue. Poursteady's scheduler services the work queue and keeps track of which stage each dripper station is in.

It controls the volume of water in each pour with feedback from a flow meter to brew consistent cups of coffee. Water is maintained at a temperature optimal for brewing coffee (approximately 202 degrees Fahrenheit) in an under-counter tank via a PID controller. Coordinating the motions of the two motors through software allows for both the translation of the nozzle between five filter locations and the assignment of arbitrary pouring patterns at each of those locations–including spirals, zig-zags, hearts, and stars. The pattern generators create an x,y bitmap after a conversion from Cartesian to polar coordinates that is then loaded into the motor controllers via the CANbus. Statistical data on timing and number of cups of coffee made is collected, stored on board, and uploaded to the cloud.

In the near future, we will integrate Bluetooth Low-Energy (BLE) protocols for point-to-point wireless communications between operators, customers, and our machine. We also plan to develop iPhone- and Android- native apps for both users and operators to take advantage of these technologies, enhance user experiences, and limit the need for Wi-Fi connectivity. Our system currently supports over-the-air firmware updates, allowing for the possibility of future enhancements to functionality on the machine as well.
Nick Brown
Nick Brown is the editor of Daily Coffee News by Roast Magazine.