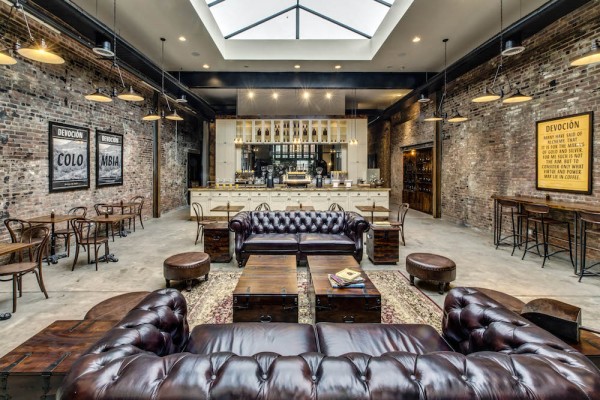 Innovation in the high-end food world, and by extension the coffee world, typically follows a kind of linear progression. That is to say, the newest "it" thing most often extends the concepts of the preceding "it" things. On occasion in this crowded arena, a concept leaps out as something singular, almost aggressive.
Such is the case with Devoción, a Bogota, Colombia-based coffee brand that introduced itself to the U.S. last week with the official opening of its Botica del Café — a 3,600-square-foot roastery, bar and Colombian coffee shrine — in Williamsburg, Brooklyn. Along with the  brick-and-mortar facility are some equally brassy claims from Devoción's owner Steven Sutton, who founded the related brand Café Devotion in his native Colombia eight years ago, including a roastery and two Bogota cafes.
(related: Drama Unfolds with the Opening of Williamsburg's First Starbucks)
Sutton describes the company as "the leader of Colombia's high-end coffee market," and he aims to differentiate the Devoción brand in coffee-crowded Brooklyn through what he describes as unprecedented green coffee freshness from parchment to the roaster, direct environmental and social programming with some 400 Colombian smallholder farm partners on a weekly basis, and the potentially dangerous pursuit of geographically isolated coffees.
(related: Inside Starbucks' Three-Story Colombian Flagship Store in Bogota)
He questions industry norms for green coffee storage, writing in an announcement (here in unedited form) of the shop's opening:
The beans of all other coffee companies – regardless of country of origin – are subjected to that taste diminishing two-to-12 month aging process that begins the moment they are removed from their protective parchment to take on their pre-roasting green state and continues as the beans are warehoused and shipped. Consequently, all other companies are roasting old, past-their most flavorful prime beans, which translates to a reduction in the quality of their coffees' taste and aroma characteristics. And because of Devoción's exclusive relationships with some 400 small farms throughout Colombia, representing each of the country's microclimates with their various growing seasons and continuous coffee yields, it is able to source just harvested beans year round to assure the freshness of the supply. Moreover, Devoción assures the continuation of the organic purity of that supply at its source by forging strong ties to the farms, none more than two-to-three hectares in size.
Sutton also speaks assuredly about the direct-ness of the company's relationships with smallholders, saying, "We pay the farmers higher than fair trade prices and we create environmental and social programs with communities and coffee growers. These programs are maintained on a weekly basis, so we work consistently in a hands-on manner with the farmers and their communities. Other direct trade companies interact with their source farms only once a year, if that."
(related: Polo Ralph Lauren Unveils the Ralph Coffee Brand at New York Flagship)
Say what you may about these claims, Devoción's 40-seat shop itself is undeniably gorgeous, including all manners of exposed materials and industrial chic touches inside what was once a meat packing plant. Queens-based, Studios Go led the design, where rustic wood, tables and chests, combined with leather couches and ottomans, fill the naturally lit space between the two defining elements: a plant wall, and the heavily finished wood-topped bar fronted and backed by distress-finished, cream-colored wood paneling.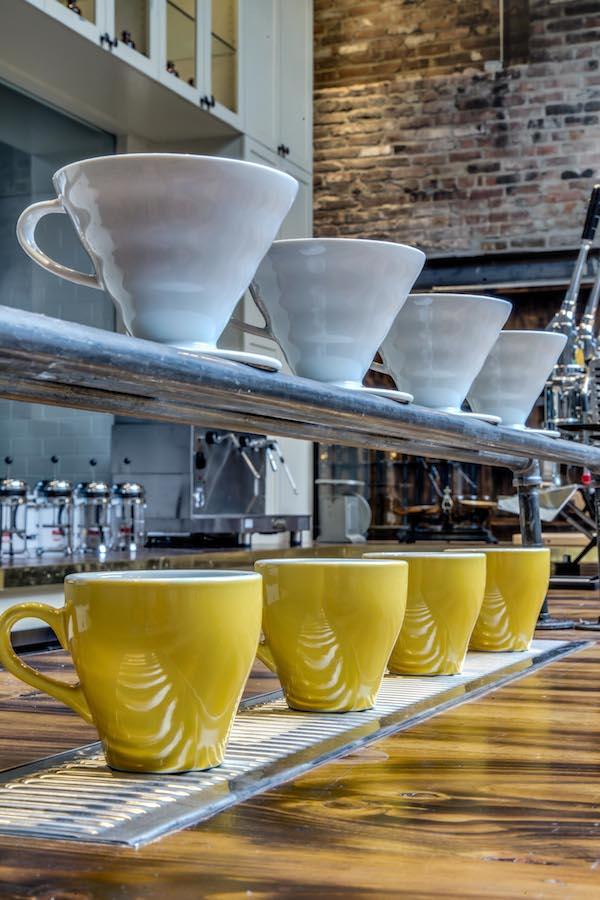 Atop the bar are two lever espresso machines, including a three-group Kees van der Westen Mirage, as well as a pour-over coffee bar for the rotating coffee menu of three to four house blends and also what Sutton describes as "seasonals," saying, "Coffees from single micro climates that are essentially limited editions; when the beans harvested after a growing season from each microclimate are gone, the specific coffees they yielded cease to exist."
Prices will range from $3 to $10 per cup, depending on the blends or "seasonals." Botica del Café is also offering natural fruit teas, and a selection of pastries and panini. The company is also roasting for in-store bagged coffee sales, while also developing wholesale accounts.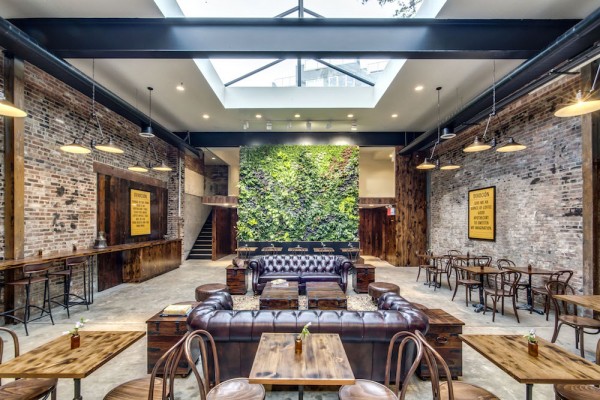 Nick Brown
Nick Brown is the editor of Daily Coffee News by Roast Magazine.