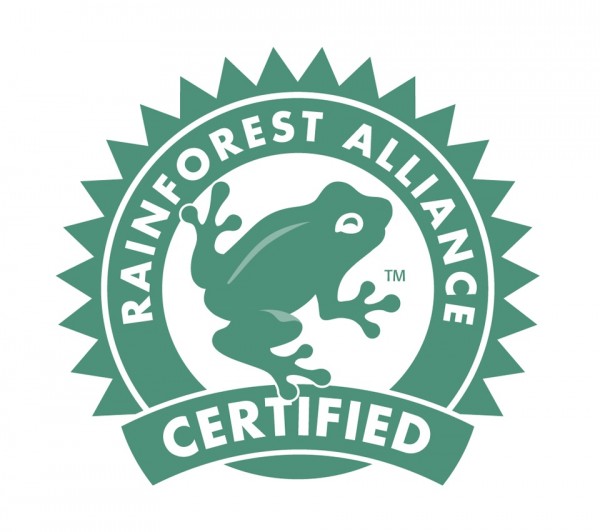 by Julie Craves of Coffee & Conservation
The Sustainable Agriculture Network (SAN) is revising the standards used for Rainforest Alliance certification, as part of a review process takes place every few years.
Over the last decade, revisions have introduced a gradual relaxation of the criteria that deal with shade cover for agroforestry crops, including coffee. The amount, composition, and structure of shade cover is the main proxy for habitat preservation and the conservation of biodiversity, especially birds, in coffee production areas.
The current draft, the third and final, of the standard is very different from previous versions; it is available for download on this page (or click here for a PDF). Once finalized, the new standard will be published in October 2015, and be used in audits beginning in January 2017.
Here's the thing: This latest version contains no mandatory criteria for shade cover for shade-tolerant crops such as coffee.
The criterion that deals loosely with shade can be met by things other than shade trees, including gardens, off-site areas, water bodies, and tree cover in pastures. It is not a critical criterion that must be met for initial certification. The overall structure of the criterion means that "shade monoculture" or even "sun coffee" can receive Rainforest Alliance certification.
A history of previous versions of the shade criteria in the SAN standard can be readhere. Briefly, the current standard (and therefore Rainforest Alliance certification) requires a canopy density (shade) on the cultivated land of at least 40% and two "layers" of vegetation; 12 of the tree species per hectare have to be native. (Older versions also required a density of at least 70 shade trees per hectare; this was dropped in 2009.)
Here is the current proposed criterion that deals with "shade" or forest cover, with explanations and clarifications given as footnotes.
Trees and natural ecosystems together cover at least 20% of the total land area1 for farms producing shade-tolerant crops or cattle, or at least 10% of the total land area for farms producing non-shade-tolerant crops.

a) Such areas consist of any combination of:

Conserved natural ecosystems;
Areas being restored to natural ecosystems;
Tree cover within agroforestry or silvopastoral production plots2;
Gardens, live fences, riparian zones or border plantings; or
Off-site compensation areas, including land held in common by farmer groups that is not part of individual member farms3.

b) The overall required percentage is based on the proportion of shade-tolerant or non-shade-tolerant crop or cattle area covered by the SAN certificate scope4;

c) If the required level of tree cover and/or natural ecosystems is not met at the time of the first certification audit based on this standard, a plan to attain the required level within three years of this date is established and progressively implemented5;

d) Restoration and re-vegetation activities use native species and give preference to restoring riparian areas and wildlife movement corridors.
The requirements for "shade" are not as strict or specific as they once were, and there is a great deal of leeway in meeting the reduced requirements. The combination of allowable types of green spaces can result in the required percentage to consist of small and fragmented plots that are not necessarily "natural." These do not provide the same quality of habitat as a shade agroforestry system that requires canopy cover of adequate density, composition, and distribution.
A supporting document (PDF) states that the specific tree cover parameters of previous versions of the standard were replaced because they had proven "impracticable for many producers." Rainforest Alliance certified its first coffee farm in 1995, and now certifies over 5% of global coffee production, in addition to dozens of other crops and products. This scaling up of certification efforts is admirable, but is coming at the cost of maintaining rigorous environmental standards. Instead of fewer producers achieving high standards, it appears the bar is perhaps being lowered to make it easier for more producers to become certified.
This is not an indictment of Rainforest Alliance certification as a whole; nor is this to say the certification program does not confer benefits. It serves as a heads-up that what is behind certifications changes over time, and that Rainforest Alliance certification, despite the implications in its very name, does not necessarily mean coffee is shade-grown.
The comment period is open until April 30. Please comment on the new draft standards by taking this survey.
_______
1As noted, previous standards had requirements specifically for the coffee growing production area, not the entire farm unit. Now, what qualifies as "shade" does not have to be over or near the coffee itself. See also note 4 below; the total percentage required may actually be less than 20%.
2Silvopasture = trees in livestock production pastures; these can be counted toward the total percentage.
3In response to a specific query, SAN clarified whether or not the same single "off-site compensation area" could be used by more than one producer. They responded "producer groups could have just one forest reserve, for example, that would count for the required percentage of several producers."
4This provision seems in conflict with the straightforward wording of the criterion itself, that (for coffee) 20% of the total land area must be covered by trees or natural ecosystems. In response to a specific query, SAN replied that this provision "is the concept that will be adapted for the respective criterion wording." This indicates that depending on how much of the farm is covered by coffee, the requirement may actually be less than 20% of the total land area.
5Requirement does not have to be met for initial 3-year certification period, only a plan is required. It is unclear if the requirement will need to be met in full beginning with the renewal audit.
Julie Craves
Julie Craves is a University of Michigan ecologist and natural history and science author. The intersection of her research on habitat use by migratory birds and her love of coffee prompted her to explore coffee sustainability issues. She writes about the impact of coffee production on birds, biodiversity, and the environment, along with related topics, at Coffee & Conservation, coffeehabitat.com