Huntsville, Ala., is not traditionally a hotbed for the culinary arts. The small and mostly suburban Rocket City is better known for its military and aviation industries, although the downtown area has seen an uptick in craft food culture in recent years.
A new local brewery and a smattering of food trucks have spiced up the scene, and as of just a few weeks ago, the Wild Bean Coffee Company truck has joined the fray, offering fresh-roasted coffee, European-style espresso drinks and made-to-order pourovers to Huntsvillians every weekday morning.
Shelby Ward, the Texas-born proprietor of Wild Bean Coffee Company — which is not to be confused with the Honolulu bikini-barista-mobile Wild Bean Espresso — is equally inspired by the stateside third-wave vanguard as he is by European and Scandinavian tradition. Finding common ground between his own still-unfolding story and those of such trailblazers as Duane Sorenson and James Freeman, Ward cut his teeth roasting on a pair of 33-pound Sivitz fluid-bed roasters for the Houston-area wholesaler Lola Savannah prior to moving to Alabama. In 2012 he acquired his own 10-pound Ashe Industries fluid-bed roaster that he runs in his home garage, and loves what the hot-air process brings to the bean.
"The aromatics that come from a fluid-bed roaster are unmistakably bigger," Ward told Daily Coffee News. "I love that any time I've ever given anybody a bag of coffee, the first move is they smell the bag. Drum-roasted coffee, sometimes it can have good aromatics, sometimes it doesn't, but 99 percent of the time, a fluid-bed-roasted coffee will just punch you in the face with the scent."
In 2013 Ward embarked upon an 18-month stretch of living and working in Linköping, Sweden, where he befriended the owner of Chocolat, a coffee shop he went to almost daily. "He was my gateway into a lot of coffee exploration in Scandinavia, and just an excellent human being," Ward said. Ward soaked up some distinctive yet pretention-free coffee culture in cafes such as Johan & Nyström in Stockholm, and Copenhagen's Coffee Collective, and returned to the states with a renewed vision for Wild Bean.
Initially Ward tried to apply what he describes as "the Scandinavian roast" to all of Wild Bean's coffees in order to reproduce the fruity and more piquant notes he enjoyed abroad. In the end, though, he finds that a robust Full City, five to ten seconds into second crack, more often gets the best from the beans in his Ashe Industries machine. "The Ethiopian that I have right now, it's a work of art," he says with true craftsman-like zeal. "I'm still tweaking it."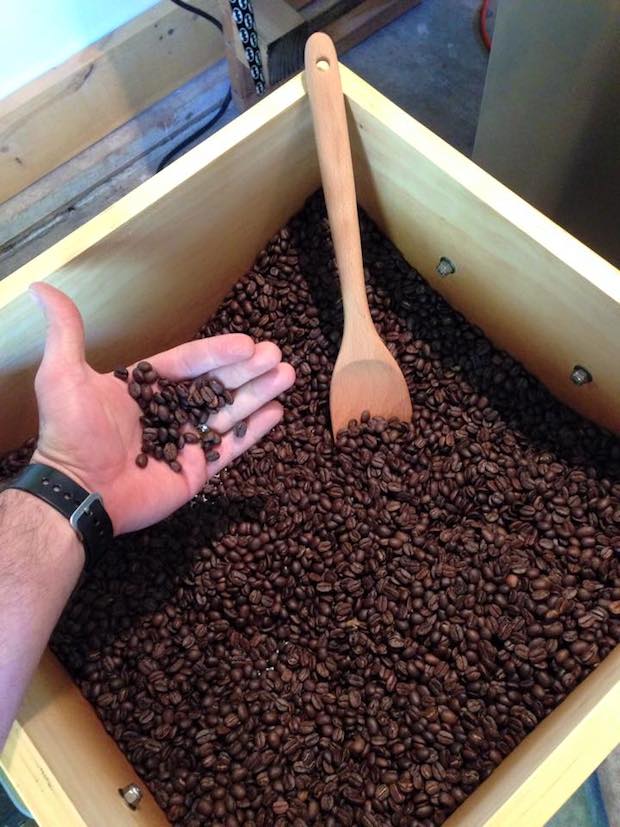 The mobile retail setup launched with a single-group Nuova Simonelli Appia and a four-headed pour-over stand Ward built himself. Ward is currently negotiating with venues around town for a 300-square-foot space to set up his roaster, which will allow him to devote more energy to breaking into the Huntsville wholesale market. "My nomadic spirit really appreciates the mobility that comes with the truck," Ward said, "but a brick-and-mortar is my end goal."
Ward intends to wait a year or two before making any permanent moves, to gauge the market. "Huntsville, Alabama is such a weird market, it's just strange, it's like a giant suburb," said Ward. "My goal is introduce people to a traditional European-style café. To achieve that I will have to get into a brick-and-mortar. Also, my favorite drink over in Europe was a cortado, and I can't serve a glass out of the trailer. That's just begging to waste money."
Be that as it may, Ward is uncompromising on other quality fronts. "I sell coffee, not milk," Ward said, steadfast in his determination to offer customers a friendly, approachable explanation of traditional drinks and to cultivate an appreciation for craft coffee.
In time, Ward hopes that the quality of Wild Bean Coffee Company can be a part or a leader of a culinary movement that attracts more attention to Huntsville, whether it's in a guide book, a traveling food-themed TV show or coffee-mapping smartphone apps. "We have a beautiful downtown," Ward said. "This is a great place to raise a family. It's nice, it's clean, it's safe. It's wicked hot. But it's really a nice town."
Howard Bryman
Howard Bryman is the associate editor of Daily Coffee News by Roast Magazine. He is based in Portland, Oregon.