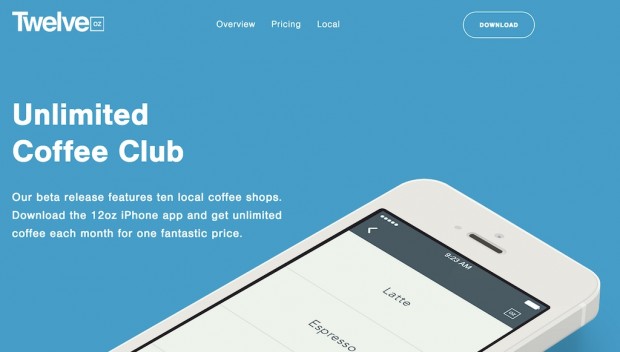 With a business model that's largely untested in the specialty coffee world, a Nashville-area coffee subscription service called 12oz has officially launched its iPhone app, offering consumers a means of prepaying a flat monthly rate for unlimited cups of coffee at any of the 10 currently participating local coffee shops.
The app, which made its public launch on Wednesday July 15 but has been in beta testing for several weeks, offers two tiers of membership. For a monthly fee of $70, customers get unlimited brewed coffee or tea. For $100, the choices include espresso-based milk drinks as well.
The catch, if you can call it that, is that the app only provides one drink per half hour, and should a subscriber fail to avail themselves of their fee's worth of coffee in a month, the remainder is kept by the 12oz company, which is essentially how the six-person start-up — split between Nashville and Austin, Texas — generates its revenue. Participating coffee shops pay no fees, and 12oz reimburses each shop for the full retail value of every drink served.
"We love coffee shops, and we love coffee culture," 12oz Cofounder Judah Akers told Daily Coffee News. "But we're also a company of what I guess you'd call 'nerds.' " Akers said that the 12oz team recognizes the slim profit margins and other difficulties shops face in order to stay afloat, and that the primary motivation of the 12oz app is to provide a tool that helps independent shops succeed, really just because the 12oz team loves coffee shops. "Of course we're still trying to make money at the end of the day," said Akers, "but it's not the heart behind the business."
The shop owners, meanwhile, who are used to vendors and salespeople that come knocking every day trying to make a buck off of them one way or another, were skeptical at first. "A lot of the coffee shops couldn't believe it," said Akers. "It was hard to sell a lot of the coffee shops on it, originally."
The app records what drinks were ordered and where, compiling sales data that is also of value to businesses. "We'll be rolling out a free analytics dashboard that you can use to better understand your customers," 12oz states on its website. "Insights into their habits and preferences will help you better serve them." While digital point-of-sale systems compile sales data to various degrees, Akers contends that for some users, particularly where credit card sales come into play, that data can be difficult to sort and make useful.
12oz is not alone on the coffee subscription app front. Another upstart by the name of Urban Cups has an app available simply called Cups, which offers a similar scheme to coffee drinkers in New York City, with over 150 participating cafes. The entry-level brew-only Cups subscription is $90 per month, with the premium level costing $120. Cups also offers 5 or 15-cup prepaid packages, and incorporates alternative milk options as well as a feature for adding a tip at the point of check-out at the coffee shop.
Yet whatever features 12oz might be lacking could well appear sooner or later, as they remain in touch with their partner cafes in these early days of the app's release. "What's nice about knowing the creators personally for this app is that we're able to give them a lot of feedback on what we think could be improved or changed," Carter Quinn, manager and barista educator at participating café High Brow Brew, told Daily Coffee News.
"Some of our customers have wished that they could have a button on the app where it automatically tipped, or they could choose to tip at the time of the transaction," reported Quinn, although she also noticed certain customers making an extra purchase of a cookie or something small just so that they'd have the opportunity to tip. Despite those occasional extra sales, Quinn said that a tipping feature "would be a kind of safety net for those times when the customer wants to tip but doesn't have cash and isn't buying anything else."
While the app has only been widely available for a few days, High Brow Brew has been beta-testing it for a few weeks. "We do have a lot of regulars that are here like clockwork pretty much every single day," Quinn told Daily Coffee News, "so it was really easy to sell them on it, because they're going to be here drinking the coffee no matter what. For them, it's a bargain. We've had a lot of interest in it, for sure."
The theory behind the app is that customers that have prepaid for their coffee through an up-front subscription fee will enter the shop and feel as though the coffee is "free," inasmuch as they don't have to pay for it at the counter. With that sensation of savings, the expectation is that customers will be more inclined to purchase food, or treat friends to a drink. 12oz projects that its members will ultimately bring 30 percent higher revenue per visit than the average non-12oz customer.
Quinn confirms that in the short term, at High Brow, this seems to be true. "A lot of times people will throw in a muffin or a sandwich or a cookie or something like that because they almost feel like they're not spending any money," said Quinn. "We've seen a definite effect from that."
Customers that ordinarily park for hours with empty cups next to their laptops are now ordering additional drinks instead. "They'll get up and get another coffee, they're not scratching their heads going 'oh, do I really want to pay and shell out the money for that again?'" said Quinn, who thinks that this also sends a sort of social cue to other incoming customers. "A new customer walks in and sees that everybody's drinking something, that's kind of a good visual."
Another anticipated benefit of the app is that, because subscribers can put coffee towards their subscription balance at a variety of cafes around the city, they'll be more likely to try new spots, bringing new business to those cafes. Located a bit outside the city in Franklin, High Brow Brew is far enough off the beaten trail that they don't necessarily expect to reap as much of the inter-café patronage benefit as some of the more centrally located participants. Garage Coffee, meanwhile, is a participating café situated ideally for that opportunity.
"We're tucked away in Marathon Village, which is a little out-of-the-way place in Nashville," Garage Coffee owner Robert Camardo told Daily Coffee News. "I think that the app will get people to us that normally might not know of us, and that will help get business to us. And then once they try our coffee, that's it, they're sold."
Camardo has a second Garage Coffee location slated to open in three weeks on the other side of town, at 626 Main Street in East Nashville. When it does, he intends to make it available to 12oz app subscribers. Said Camardo, "We haven't linked it up yet, but we're planning on it."
Howard Bryman
Howard Bryman is the associate editor of Daily Coffee News by Roast Magazine. He is based in Portland, Oregon.