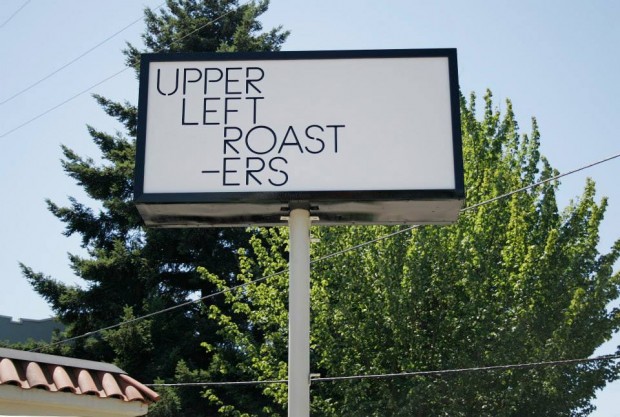 The Ladd's Addition neighborhood of close-in southeast Portland, Ore., is an odd and historic residential enclave. Within its tidy borders of SE 12th, SE 20th, Division and Hawthorne, the fully-contained wagon-wheel-like development is a surprising interruption to the otherwise predictable grid of the surrounding area's named streets and numbered avenues. Its extra-long blocks lead all travelers to a circular rose garden at the center where it's easy to get turned around on the ground, yet when viewed on a map, the precisely symmetrical district looks almost like a tribal stamp of bold, intentional design.
On August 3, at the upper left corner of this square on the map of a city in the upper left corner of the country, Upper Left Roasters will be joining the fray.
At the helm of ULR is Katherine Harris, a second-generation veteran of Portland's culinary scene whose parents founded the fine catering & event-planning company Food in Bloom, and whose father, a co-owner of Upper Left, continues to have a hand in the upscale breakfast/lunch brand Daily Café, with three locations around town. Harris' right hand man at Upper Left — which is not to be confused with Left Coffee Roasters, an unrelated Portland coffee roaster that sells through wholesale and online — is head roaster Chris Alspach, who learned to roast at the 67-year-old Brooklyn, NY institution D'Amico Coffee Roasters, before a stint with Vancouver, WA's 4-year-old boutique Torque Coffee.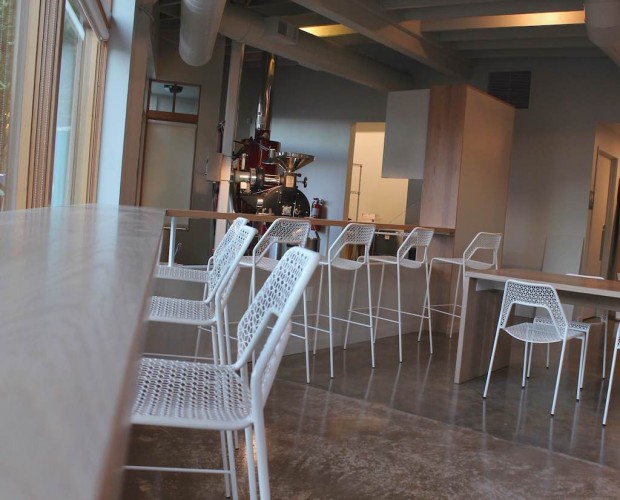 Alspach will be manning a 10kg Proaster on the open café floor within the oddly-shaped 2,100-square-foot establishment. The company aims to source as directly as possible, and currently acquires its greens through Café Imports, Sustainable Harvest and Coffee Shrub.
Alspach's roasting philosophy informs a menu of entirely single-origin coffees, generally kept in the light to medium range, depending on the coffee. Brighter, fruitier coffees will be on offer, ground by Malkhonig EK43 for Fetco drip and Kalita Wave pourovers, sometimes also offered as straight espresso. A heartier, chocolatier "crowd-pleasing" single-origin will take the place of an espresso blend for milk drinks, ground on a Nuova Simonelli Mythos One and prepared on a sturdy La Marzocco Linea Classic.
Alspach told Daily Coffee News that a VST refractometer will be applied every morning for dialing in the day's batch brew, pourover and espresso parameters, ensuring optimal yields with exacting consistency for the best they can get from their carefully crafted coffees. "We'll be using the app, but we'll be using some spreadsheets, too, to keep track of our extractions and our TDS," Alspach said. "We'll be doing a little analog and a little digital."
Staff will of course continue tasting the coffee in various forms throughout the day, and should anything taste off, the refractometer will be there as a sort of "conversation-ender," while serving chiefly to assure an equivalent level of quality for each day a given batch lasts behind the counter.
The passion for quality at the heart of the operation extends just as much to the food, which is a balance Harris believes is hard to find in other Portland roaster-cafes. Upper Left will be procuring fresh baked goods daily from the North Portland bakery Philippe's Bread, including such selections as raisin-walnut, country wheat, and brioche for various toast and sandwich offerings alongside house-made items such as local fruit preserves and a ricotta mixed with local honey. "We're a coffee roaster, but we're also going to have a kitchen," said Harris. "We're pretty excited about that."
The buildout was a little tricky, given restrictions the city imposed on the exterior of the building due to its historic status. Harris told Daily Coffee News the spot was originally a gas station up until the 1960s, after which it became a jazz club. "There were no windows or anything, and it's an odd shape," Harris said of the building, which then morphed into the Ladd's Inn, a Portland dive bar that lasted for about 10 years before closing in 2013. "We tried to keep some of the historic elements of the building and of the space," said Harris, who is excited to be opening a location with such a depth of heritage.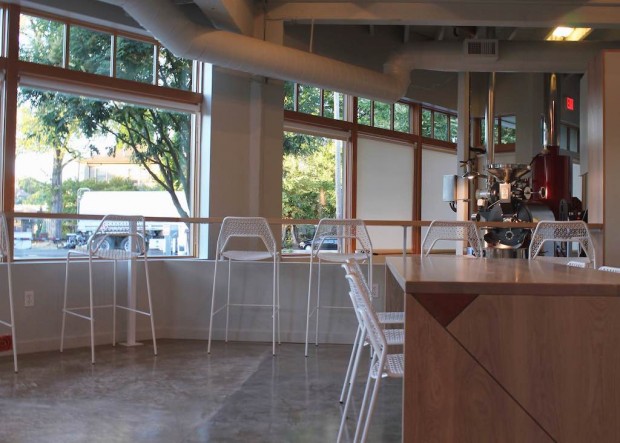 Howard Bryman
Howard Bryman is the associate editor of Daily Coffee News by Roast Magazine. He is based in Portland, Oregon.