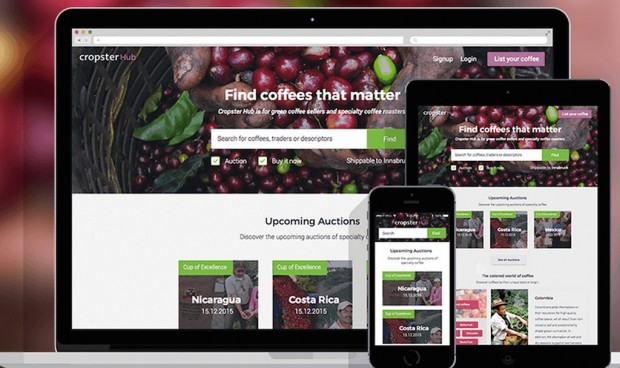 Coffee tech company Cropster is currently developing Cropster Hub, an online platform that will allow for transactions between all kinds of commercial buyers and sellers of green coffee.
The Austrian company, with a U.S. office in Sacramento, Calif., says it has already signed on its biggest seller to date, Alliance for Coffee Excellence. ACE will use the platform for auctions of coffees in its 2016 Cup of Excellence programs, in which coffees from individual countries of origin are rigorously judged by groups of national and international cuppers, and made available for sale in an open online auction platform.
While Cropster is widely known for its roast monitoring and profiling technology, the company has from its beginnings maintained clients on the producer end, offering inventory management and quality control technologies, among other tech-based services.
Director of Cropster Origin Matt Stringer, who is based in the Sacramento office, told Daily Coffee News that Cropster Hub is an attempt to bring the company's clients from throughout the supply chain together in one place. "We started out as a company that does roast profiling software, but even before that we were working at origin," Stringer said. "Now we're looking for a way to link these all together — giving the roasters who use our software access to coffees."
A central component of Cropster Hub is information. The company envisions it as not merely a platform for auctions or direct sales, but as a hub of information on producers, importers and the coffees they're bringing to the table.
"It's hard for roasters and end consumers to get information on their coffee," Cropster CEO Norbert Niederhauser said in an announcement of the ACE partnership yesterday. "We want to make coffee information richer and more accessible to buyers in the specialty coffee community."
Stringer said Cropster began working along with CoE two years ago during the Costa Rica program, and the partnership naturally expanded to subsequent CoE programs at origin. As the CoE auction platform provider, Cropster says it intends to provide a range of expanded informational and logistical services. (It is worth noting that ACE has indefinitely suspended the CoE program in five producing countries beginning in 2016.)
In addition to the auction, the company plans to provide ACE and CoE participants with a new sales channel for coffees that advance to the final week of the CoE competition but fall short of the auction. Cropster also plans to provide farmers and buyers additional data such as moisture and water activity measurements, warehouse storage information, jury scoring data, and suggested roast profiles based on CoE results. Additionally, Cropster is developing a new cupping form app that will by used by CoE jurors.
"Making the valuable physical and sensory data collected during the competition available to farmers is a huge priority for ACE, and we are committed to developing a feedback system that will allow producers to receive tremendous added benefit from participation in the program," said Intelligentsia green coffee buyer and ACE Board of Directors Chair Geoff Watts. "We are equally excited about our improved ability to deliver more detailed farm information and coffee quality data."
Stringer said Cropster expects to debut Cropster Hub in the fourth quarter of this year. The company is currently signing on buyers and sellers, collecting feedback from both.
Nick Brown
Nick Brown is the editor of Daily Coffee News by Roast Magazine.