Anyone passing through the Greater Binghamton Airport in central New York State in the near future will be treated to some surprisingly high-quality coffee, thanks to a deal recently struck between the flourishing nearby Ithaca Coffee Company and the management of the Gateway Café, which recently took over hospitality duties at the regional air travel hub.
Not only is that one location a substantial account for the Ithaca roastery that's also providing equipment and training to service staff at the café, but FirstAir Group, the company behind the Gateway Café, also has designs on opening additional Gateway Cafés in a slew of regional airports in including in Ithaca, Elmira, and the larger Scranton, Penn., airport, brewing Ithaca Coffee Company products at every turn.
The sales, of course, will constitute an enormous boost, but the visibility might be even bigger. "Just from a publicity standpoint, the number of people through and past our products, who get exposed to it as their welcome to Ithaca is fantastic," said Chris Ganger, Manager of Coffee Roasting and Production at the Ithaca Coffee Company.
The Gateway deal isn't the only big thing 2015 has brought to the company. For over 10 years the ICC had been roasting on a relatively inefficient and inflexible quarter-bag, 38-pound Sivetz fluid-bed roaster, which they had decidedly outgrown. "I was roasting on it six hours a day, four and five days a week," said Ganger, who said that while they could have added people to share the labor of roasting, they were also out of space for storing the green coffee in the backroom at their Triphammer Marketplace flagship store, which could hold scarcely more than one week's supply of greens at a time. Said Ganger, "We bought a building instead of a new roaster two years ago."
The offsite warehouse is now ground zero for their production work and barista training, as well as for an in-house bakery that also opened recently. And in place of the Sivetz, there is now a gloriously imposing Diedrich IR50. "We were maxing out the capacity as well as the quality that our roaster could give us," Ganger said of the Sivetz, noting that just as they were confronting their need to upgrade their roaster, the Sivetz company was shuttered after the death of founder, inventor and coffee expert Mike Sivetz.
Ganger recalled interacting with Mike Sivetz and associates for help with the machine. "I can recall getting him on the phone, for 'tech support'," said Ganger with a chuckle. "They were very challenging people to work with. Very opinionated, and knowledgeable."
It was always Ganger's desire to shift technologies and styles of machinery along with expanding the capacity upon upgrading, although it took some convincing of Ithaca Coffee's ownership to make the significant change. "Our first month with the roaster, we weren't fully committed to it. We'd obviously purchased it, it was ours. We nearly killed ourselves installing it." Ganger said it took a month of roasting on both machines and doing side-by-side comparisons before embracing its potential.
"The fact of it is — and this is just my opinion — our coffee had so much room for improvement moving from the straight linear curve," said Ganger, noting that the Diedrich was not only capable of mimicking the Sivetz profile, but of evolving well beyond it, with the Diedrich's variety of variable controls not provided by the Sivetz. Having proved this, it was an easy sell to the higher-ups at ICC, for at worst, the coffee would still be just as good. At best, the drum roaster could totally transform and improve the quality of their coffee. And either way, they now have more control, higher capacity, and save substantially on utility bills, as one batch on the IR50 consumes much less energy than three 30-pound batches on the Sivetz did.
Prior to joining the ICC, Ganger had been working as a chef straight out of the Culinary Institute of America. He brought to the company plenty of baking and café management experience, and for his first five years that was still his job — to run the first ICC café, and then both, after the second location opened. His aptitude for roasting came from apprenticing with ICC's previous head roaster on the company's aging Sivetz. For drum roasting, Ganger is largely self-taught, having dabbled on various sample roasters and played a bit on a local colleague's IR12.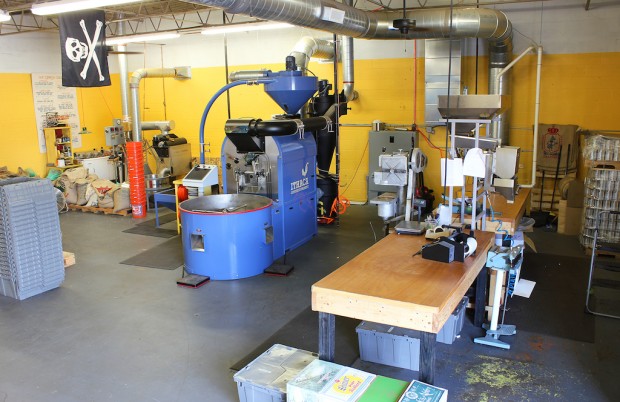 The company itself started in its first incarnation in 1984, when it was called The Gourmet's Delight. "People who have been in Ithaca long enough, myself included, grew up drinking the coffee," said Ganger, who was a customer of the store long before working there and who considers the fundamentals of the business to be contiguous from the old days. In 2004, new owners rebranded the business as the Ithaca Coffee Company and sharpened its focus, although the staff and their suppliers all remained the same throughout the transition.
Today, the Ithaca Coffee Company's two locations focus on coffee first, and craft beer second. Both stores have warm, comfortable taverns within them, serving beer, wine and food. Both also include an area dedicated to stocked retail shelves. Retail at the company's flagship location in the Triphammer Marketplace focuses on local, artisanal foodstuffs, while the newer location dedicates more shelf space to crafty home beer-brewing ingredients and supplies.
With retail in mind and a revamped, more hands-on approach to coffee roasting, there is yet another innovation reaching fruition from within the Ithaca Coffee Company: their unusual packaging. Were it not for the print and labels on the outside of the slim rectangular boxes, you might mistake it for a packaged stovetop mac 'n cheese mix. Yet its colorful labels and bold, eye-catching text make clear that there are beans on board, and not pasta.
A valved, compostable Biotre bag from Pacific Bag keeps the beans fresh inside the box, while the exterior labels provide origin info and tasting notes. They are more resilient than most bags, easy to stack and stand on display, and the vendor that provides them can do so with lower minimum orders and faster turnaround at prices within range of ICC's previous packaging costs. "They go on the shelf really tightly and cleanly, they don't get rumpled or messed up in shipping," Ganger said. "You'd have to be pretty abusive to a box of ours before it starts looking shaggy or bedraggled."
Meanwhile, thanks to the new Diedrich, the content of those boxed bags has never hit its mark with greater precision or consistency. "My focus has always been on sweetness, and a unique aromatic profile, as opposed to hard pushing towards a heavy body," said Ganger, of the Ithaca roasting modus operandi. "Even with something that's taken right up to the edge of second crack, it's not about the body but about the flavors that it brings out."
Said Ganger, "We try and hit the comfort with blends, and the adventure with single origins." It makes sense, then, that Ithaca Coffee Company would be so ideal a provider of coffee at regional airport cafés. What could any air traveler possibly want more than options such as comfort and adventure?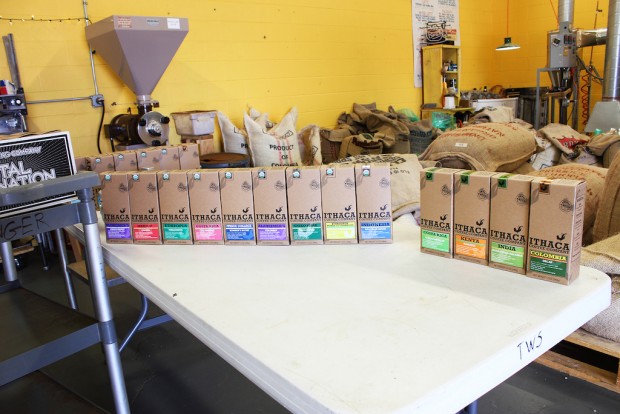 Howard Bryman
Howard Bryman is the associate editor of Daily Coffee News by Roast Magazine. He is based in Portland, Oregon.