In motorcycle parlance, "blipping" is a downshifting technique in which a rider hits the throttle to match RPMs to the road speed, employed during quick deceleration to avoid abrupt reengagement from the clutch release.
It's also the inspiration for the name of one of Kansas City's (Mo.) newest coffee roasting operations, Blip Roasters, which has recently revved up business operations with the opening of a small retail café this week that adjoins its roastery in the emerging industrial neighborhood West Bottoms.
Founded by Ian Davis, an avid motorcyclist who has been working in coffee in KC and Charleston, S.C., for the past eight years, and co-owned by Conrad Amirof, Blip has been roasting commercially for the past 10 months, slowly growing the operation through piece-by-piece leases within a sprawling warehouse facility at 1331 St. Louis Avenue.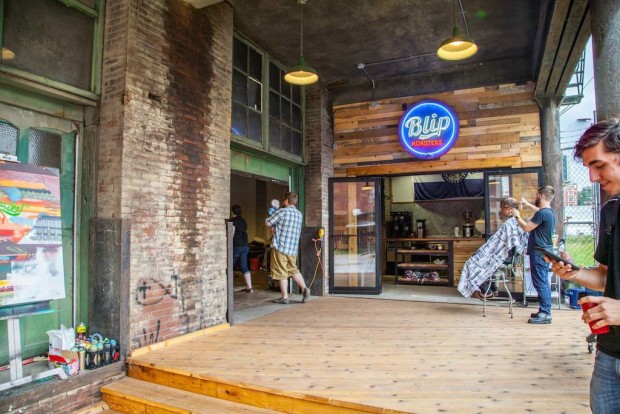 "We've been working on roasting, branding, marketing packaging, and now we just opened the cafe," Davis told Daily Coffee News. "I'm all about growing the business. I feel like there may be a lot of places that would invest $1,000,000 in one location. But I'd rather grow over the next five to 10 years. I want to focus on roasting and branding, and grow from there."
The small café is a natural extension of the production roastery, where views of the Blip's US Roaster Corp. 3-kilo roaster are available through a set of garage doors that can be opened or left closed. In true motorcycle-culture fashion, a refurbished La Marzocco FB70 has been tricked out with GB5 steam wands, PID heating control, a branded wrap, and powder-coated top rails, among other aesthetic and functional improvements. The machine supports a small espresso menu, with espresso being Blip's only blended offering.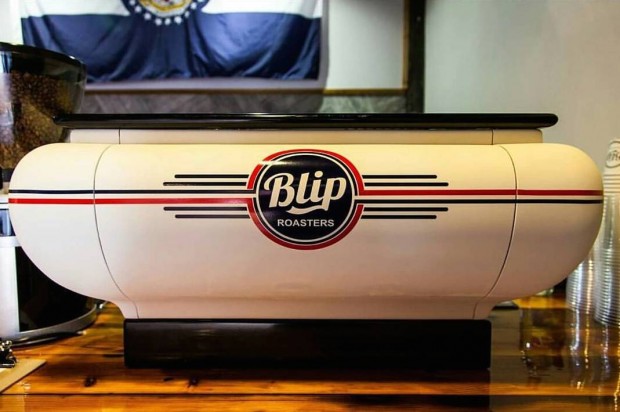 Batch brews include a house coffee — sourced from Carmo de Minas, Brazil — as well as a coffee of the day that may be any one of approximately six rotating single-origin coffees. Davis noted that many of the city's newer coffee bars have prominent places for manual brewing, but that Blip's decision to brew in filter batches reflects a belief in approachability.
"I want to roast and brew really good coffee, but I want to be approachable and reflect the neighborhood I'm in," he said, adding that Blip is carefully riding the center line by appealing to more curious specialty coffee consumers while appeasing those people living or working in the neighborhood who may simply want a quick cup of coffee that plays nice with cream and sugar. Said Davis, "In sourcing, it's kind of finding that balance between really nice coffees that will appease the specialty coffee drinker, and coffees just for regular coffee drinkers."
Regarding sourcing, Kansas City is a great place to be for any coffee roaster. Davis said he's taking full advantage of the area's green coffee landscape, one of the lushest in the country. "We're working with a few different importers," he said, naming Kapeh-Utz as one of the regulars. "I feel pretty lucky to be in Kansas City as far as sourcing goes. There are several different companies that have green storage right here at our fingertips."
Sourcing isn't the only area in which Blip is banking on strategic advantage. The company has set up shop in an area of West Bottoms that is largely barren of other retail business, with many buildings still zoned for industrial use, although that's all beginning to change. "By my count there are about 16 different buildings down here that have been rezoned for residential," said Davis, noting that it may be three to four years before such residential developments even come online. "We're in the Midwest so you're seeing a lot of growth happening still. There is a lot of room for growth still in Kansas City right now. And we're positioning ourself in a neighborhood where there's room for growth. We're excited to be on the forefront of that."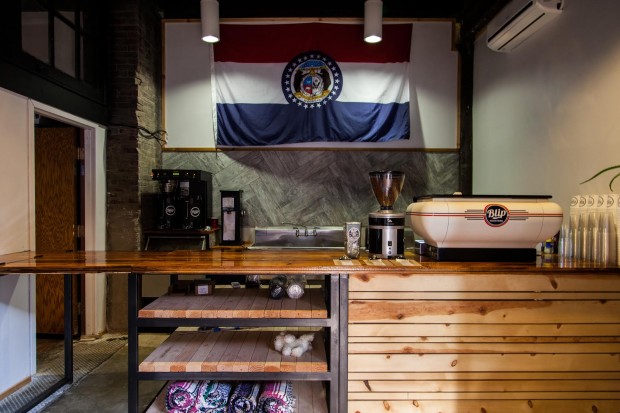 Nick Brown
Nick Brown is the editor of Daily Coffee News by Roast Magazine.