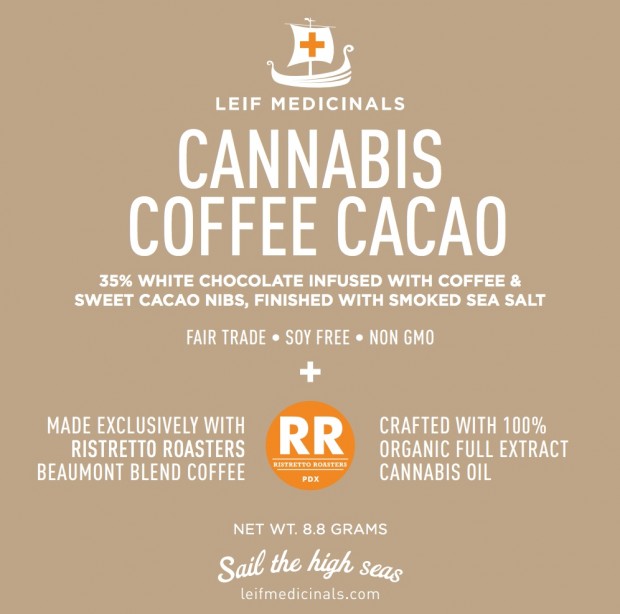 The Portland, Ore.-based coffee company Ristretto Roasters has partnered with the fellow Rose City company Leif Medicinals on an upcoming treat that's sure to keep some pre-Thanksgiving-related stress levels at bay.
Leif Medicinals, maker of edible and topical cannabis products, plans to roll out a Cannabis Coffee Cacao white chocolate bar this November, featuring Ristretto's Beaumont Blend beans, cacao nibs, organic full extract cannabis oil, and smoked sea salt. According to Ristretto Head of Wholesale and Project Management Ryan Cross, this is the first collaboration of its kind in the US between a coffee roaster and a cannabis company.
It was Leif that reached out to Ristretto, having already come up with a recipe that incorporated their coffee beans. "I received an email from them, very professionally worded," Cross told Daily Coffee News. "I was skeptical at first, because I don't know the cannabis industry other than like tie-dye and four-twenty. But I checked them out and they were super pro, their aesthetic was very professional and ultimately in alignment with our aesthetic."
Cross arranged a meeting to get to know the people involved, which turned out to be the business duo of founder Jody Ake, who handles the culinary concoctions, and Carrie Solomon, who tends to the branding and graphic design. "They gave me a sample that was not infused with THC so I could actually get a good read on it," said Cross. "It was totally delicious. The fact that it's a coffee-chocolate-cannabis combination is a selling point in itself, but the fact that it is very yummy too, and not super sweet, was a winner for me."
Leif Medicinals will be releasing the bars to their partner dispensaries within the state of Oregon next month, where they will be purchasable only by OMMP card holders until sometime in 2016, when THC-infused edibles become legally purchasable for recreational purposes by anyone over age 21 in Oregon. The date on that is not yet set, nor does Cross know when or if Ristretto will ever be able to sell the bars in their own shops.
Ultimately, Cross admitted that the project is not a money-maker for Ristretto. The company sells the beans to Leif at a steeply discounted wholesale price and co-brand the packaging of the bar, but collects nothing from the sale of the product. For Ristretto it's mostly for the fun and creativity of it, for the pleasure of partnering with another creative company, and of course for the bragging rights that come with being the first.
Meanwhile Ristretto does have another project in the works through which they certainly intend to make money. That would be their fourth retail café, projected to open in southwest Portland in the second quarter of 2016. Ristretto has signed a lease for the lobby space in the former Oregonian building, at 1320 SW Broadway. "It's an iconic building," said Cross of the structure being gutted and revamped by Allied Works, one of the top architectural firms in the US.
Allied Works has counted among its clients the Contemporary Art Museum of St. Louis, the Seattle Art Museum, the US Embassy in Mozambique, and many other high-profile institutions and projects. The new Ristretto will draw clientele from the tech company slated to occupy the upper levels of the building as well as other local businesses, residents, students and tourists in the dense urban neighborhood which includes several MAX light-rail stations and the main PSU campus nearby. Roasting for all of Ristretto's cafes, retail and wholesale accounts will continue in their dedicated offsite roasting, production and training facility in Northeast Portland.
Howard Bryman
Howard Bryman is the associate editor of Daily Coffee News by Roast Magazine. He is based in Portland, Oregon.