Mavam may have stolen the show at the recent Portland Coffee Fest event, although they weren't the only Seattle-based machine-maker with something new to share. Synesso, makers of the advanced and popular Cyncra and Hydra paddle-actuated espresso machines, is ready to ship a new line of upgraded machines with its latest technological offering called MVP.
MVP stands for Manual or Volumetric Program. At the core of this advancement are several key new features related to controlling espresso brewing parameters and then repeating an ideal extraction profile. Up to six different shot profiles can be programmed into the system for each individual group, each with extraction time split up into 4 programmable phases.
Users can designate the pressure and volume of water delivered during these four stages of a shot, ramping up to full pressure and then down in however quickly or delicately a curve best suits a given coffee. With each click of adjustment to Synesso's flow meters representing a fraction of a milliliter difference, extraction profiles can be dialed in with extreme precision. On the MVP Hydra, each grouphead also operates autonomously, with its own pump and motor.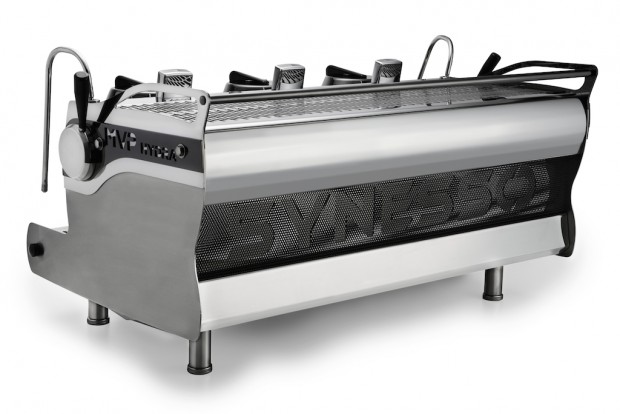 Meanwhile, in Manual mode, a barista can vary the pressure and flow in real time using the paddle while dialing in a coffee, then fine-tune the recipe using the wired controller. "The original premise was to mimic a lever machine," Synesso Marketing and Dealer Support Representative Katy Kelly told Daily Coffee News of the origins of the Hydra and of Synesso's four-stage pressure ramping system. "The MVP Hydra builds upon that with its added features controls."
Kelly described a system a based on bypasses that allow or restrict the amount of water being delivered by each pump, from line pressure up to maximum pump pressure. Maximum pump pressures are variable as well, although those must be configured manually on the pumps directly.
All MVP machines can switch back forth from manual to pre-profiled volumetric mode at any time, on any group, with a simple adjustment on the top of the group head. LCD screens display the shot timer, temperature, and a four-bar graph indicating what programmed phase of the extraction is occurring. Synesso's foundational Cyncra machine will still be available in its original format, as a point of entry to the line. From there the product hierarchy steps up to the new MVP machine — essentially a Cyncra with the MVP upgrade — then the top-of-the-line MVP Hydra.
Early MVP concept machines were on display at the 2015 SCAA Event this past April in Seattle. Production and shipment schedules actually had the finished MVP machines on the ground in Australia for an official global launch of the product in mid October, just a couple weeks before the first official production-line MVP Hydra landed in its first North American café, on the bar at Portland, Ore.'s Case Study Coffee. That one arrived at just about the same time as the Portland Coffee Fest event unfolded, where an MVP machine also quietly debuted before the North American public.
"We were sort of guest-starring at a booth. We didn't have our own booth there," said Kelly. The MVP machine was at the booth shared by Colorado's Ozo Coffee Company and a new liquid cacao beverage called Cholaca. Baristas and anyone else interested can catch a hands-on glimpse of the new machines in the very space where they're built this coming November 19, when the Synesso Factory will host a Thursday Night Throwdown latte art competition for the first time.
Howard Bryman
Howard Bryman is the associate editor of Daily Coffee News by Roast Magazine. He is based in Portland, Oregon.