The new under-counter espresso machine system called the Mavam made its official US launch at the Portland Coffee Fest this past weekend, and it didn't just make waves — it made history. In the category of non-consumable products, the Mavam won the coveted Best New Product designation by unanimous decision, with 100 percent of the vote in its favor. No other product has ever scored as highly at a Coffee Fest event.
The event was the second industry show for the Mavam, the first being the Coffee Experience event in Australia, at which it also garnered plenty of popular attention and media coverage. "I'm not into telling people about my machine, how reliable it is, how temperature-stable it is, how quality the shot is. I'm about showing it," Mavam designer and founder Michael Gregory Myers told Daily Coffee News. The company's booth on the Portland Coffee Fest trade show floor was swamped for much of the weekend, particularly for the several hours on Saturday that coffee pioneer and Espresso Vivace founder David Schomer pulled a continuous stream of shots.
"In a two hour period, he pulled about 200 shots," said Myers. "I think David Schomer is about the most outspoken guy about temperature stability. If we can please him, we can please the whole industry, in my opinion."
The Mavam is engineered with simplicity, stability, and easy servicing as its goals. It is constructed with long-lasting, virtually maintenance-free proportional solenoid valves, and steam wands based on ball-joint valves that operate without rubber gasket seals, as such seals are always the first points of failure in any heated and pressurized system. Its internal access points are strategically positioned and simplified for user maintenance, with every fitting conveniently accessible and a shut-off valve on every pipe. Most importantly, Myers holds the patent on a proprietary heated transfer system that purports to keep water at an extremely precise temperature from the compact boiler unit through to the group head, from as much as eight feet away.
"The heated transfer system is what separates my machine from the rest," said Myers. "It's a very rugged system that is tried and true, and we're very proud of it."
Myers was busy developing the Mavam system for more than six years before publicly displaying it this year. "I built this machine on a service technician's salary," said Myers. "It took about 25 tries before I got my grouphead perfect."
The Mavam's grouphead is heated electronically, with a heating element embedded into the steel of the grouphead and a sensor on its top. When early field testing determined that the heated group wore down standard group gaskets more rapidly than conventional groupheads, they began making their own gaskets out of longer-lasting silicon to improve upon the conventional rubber group gaskets.
There are actually six different PID readouts on the outside of the boiler unit, monitoring the temperature at various points along the system. "It kind of upsets me when people say I just threw parts together, because I built every part to this machine," said Myers. "It took me many years, and it was my life."
Myers has worked as a service technician for the coffee industry for 17 years with the Seattle-based Michaelo Espresso parts and service company, founded by his father. His process for designing the machine was based on his experiences in the field, although nowhere along that path had he brought a product to market himself. This is where his partner in Mavam, Terry Ziniewicz, comes in.
Ziniewicz founded Espresso Parts in 1993, and continues to pioneer new products for the espresso industry through his own company called Caffewerks, distributed by Brew Global. Ziniewicz has been a sort of manufacturing guru for the Mavam, streamlining certain elements for more efficient production and an overall more polished product, guiding it through the safety certification processes and just generally paving its way to market fruition. Ziniewicz's True Sight Portafilter, with a built-in USB-rechargeable LED light that shines down to illuminate the bottomless extraction stream, ships with the Mavam.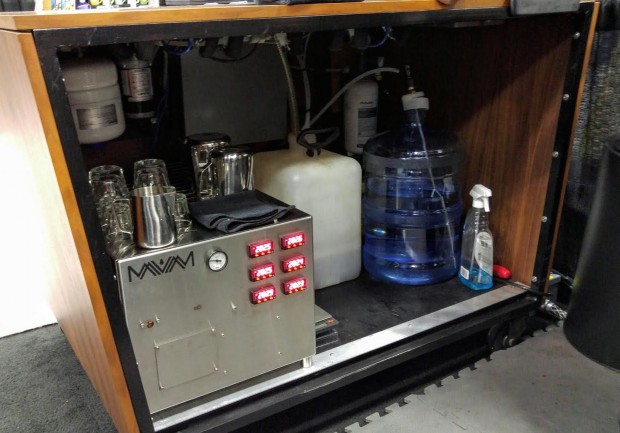 Though the company's focus for now is on promoting its under counter system, a more conventional above-counter machine is also available. Its case is removable with the loosening of a single screw, and it, too, is built with a focus on solid components with proven records for dependability and longevity, and extreme temperature stability.
Currently there are about 10 Mavam units installed and in use at cafés around the world, with another 10 scheduled for delivery before the end of 2015. Custom powder coating options are available. Other than that, the company will remain devoted to selling and supporting these two existing models and developing the business one day at a time. "We just want to make sure everything's perfect," said Myers. "The next step is just to continue on."
Howard Bryman
Howard Bryman is the associate editor of Daily Coffee News by Roast Magazine. He is based in Portland, Oregon.