Espresso machine manufacturer Dalla Corte is coming out with another single-group machine that straddles the professional and consumer line, and offers a novel lever-style means of activating a digital control over water delivery. It's called the Mina, and its patent-pending innovation is called DFR, which stands for Digital Flow Regulation.
DFR is precise down to the hundredth of a milliliter. With a slight nudge of the lever-like "yoke," a pre-infusion flow of water — adjustable by the user from zero bar and up — is sent to the coffee bed. Lowering the lever increases the water flow to a maximum pressure of nine bar, and raising it back up slowly closes the valve. It looks like a manual lever machine, yet there is no piston directly forcing water down onto coffee, nor is there a spring controlling the movement of a piston. User-manipulated DFR is in control.
The 54-millimeter grouphead, while equivalent to Dalla Corte's fully professional two and three-group machines, is smaller than the most common commercial group diameter of 58 millimeters, therefore the most common tampers and other tools will not be compatible. However, Dalla Corte is not alone in offering commercial or prosumer gear of that size. La San Marco, for example, is another big name is professional espresso gear with 54-millimeter groups among its product line.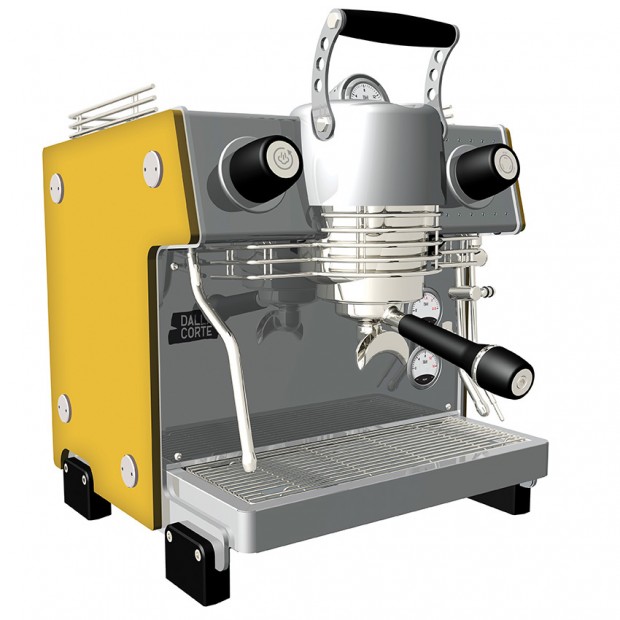 Weighing in at 40 kilos or just shy of 90 pounds, Mina is no featherweight, heavier and physically larger than Dalla Corte's earlier prosumer machines, the Mini and the Super Mini. The machine will run on 110V to cater to household barista, office break room, portable catering and other less-than-commercial settings. Separate boilers heat water for brewing and steam. Users can designate the water temperature by interacting with the machine through a smartphone or tablet app. The brew boiler holds three liters of water, and the machine is plumb-in only; no onboard reservoir.
Side panels come standard in either black, white, yellow, or in a range of wood, metal and glass options. Customizing options include single and multicolor applications, matte, gloss and other variations. Dalla Corte's website is currently under reconstruction, although the company has stated that the Mina will be available sometime in early 2016.
Howard Bryman
Howard Bryman is the associate editor of Daily Coffee News by Roast Magazine. He is based in Portland, Oregon.