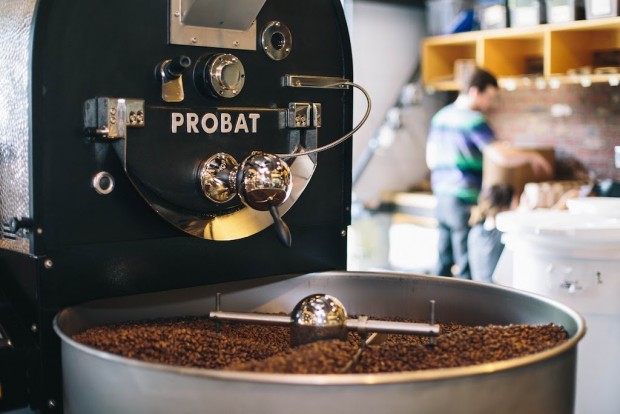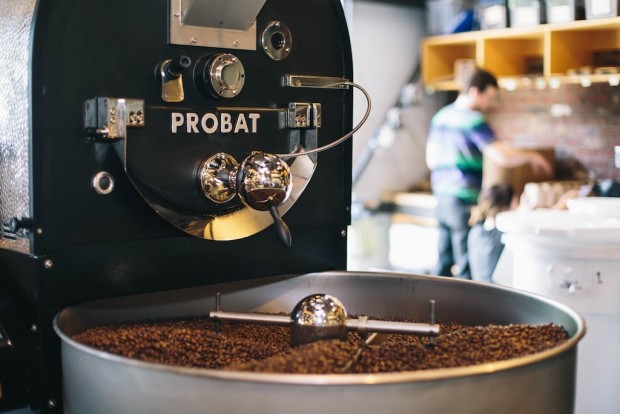 The Deep Southern company Octane Coffee is revved up for expansion, adding retail locations, roasting capacity and educational opportunities. In addition to their service counters already established in the Atlanta 'hoods of Grant Park, Buckhead, and their flagship Westside location, plus two more active cafés in the Birmingham, Ala., area, Octane has just signed a lease on a 1,100-square-foot space at Atlanta's Woodruff Arts Center, where they'll aim to start caffeinating patrons of the High Museum, the Alliance Theatre and the Atlanta Symphony Orchestra by the end of February 2016 at the latest.
Meanwhile, inside a new members-only entrepreneurial hub called Switchyards Downtown Club, Octane will be the coffee engine behind Western & Atlantic, a coffee bar that serves Switchyards members exclusively. The bar, still under construction, will be branded fully as Western & Atlantic, but with Octane-brand coffee and Octane's training, hiring and other assistance. It will be situated in a social area that becomes an events venue in the evening. The Octane coffee served at Western & Atlantic will be covered as an amenity included in the cost of membership to the Switchyards club.
In a bold leap northward, there's also now an Octane Coffee location serving students and locals in the new Evansdale Crossing building on the Evansdale campus of West Virginia University, the alma mater of Octane cofounder Tony Riffel. Doors opened there just a couple weeks ago, right by the station of the monorail that connects the spread-out campus. It's also the stop nearest the college athletics facility, where plenty of crowds pass through for events. "I went to school there. Going back, it's kind of a neat thing," Riffel told Daily Coffee News.
Octane Coffee, founded by Tony and Diane Riffel in 2003, serves beer, wine and spirits as well as coffee in all other locations. The WVU will be an exception, dropping spirits in accordance with campus booze regulations. Yet the location will also be exceptional for its educational value. "We're trying to integrate as much as possible," said Tony Riffel. The café management, the intricacies of the supply chain, the profit margins, shipping and receiving logistics — all will be made transparent for the edification of business and hospitality students.
Riffel also hopes to establish a roastery up there to provide wholesale services around campus and beyond, and to have roasted products available for purchase through retail as well. "We could tie that into trips to origin for students that are working in the program," said Riffel. "What we'd love to see is a kind of coffee school, or a coffee program within the school that ties some of these pieces together."
To keep the beans flowing through all their existing shops and wholesale accounts, Octane has to this point been conducting their roasting and production work on a 12-kilo Probat in a 700-square-foot facility adjacent to their Homewood location near Birmingham. Now, in a larger space adjoining their Grant Park location, a 25-kilo Probat roaster is slated to arrive very soon. Said Riffel, "Hopefully, first of the year we'll be roasting in Atlanta."
"We're kind of busting at the seams a little bit, so this will be a nice little break, to share some of the burden in Atlanta," Riffel said of the upcoming 200 percent boost in roasting capacity. To meet current demand with existing equipment, Octane's production schedule was up to two six- or eight-hour shifts, five days a week.
Some other projects currently percolating through conversations with property owners and developers include a new shop within an all-new 11-acre shopping center in the Chamblee neighborhood of Atlanta anchored by a new Whole Foods, slated to open in the first quarter of 2017, plus another shop in an upcoming mixed-use facility by SunTrust Park, the new home field of the Atlanta Braves. "We just want to grow smart," said Riffel. "We think that there's still some room for stores here." The Octane co-founder further stated that while there's no dramatic, nationwide expansion scheme on the horizon, he could see branded shops popping up in another city or two within five to ten years.
Howard Bryman
Howard Bryman is the associate editor of Daily Coffee News by Roast Magazine. He is based in Portland, Oregon.