You may not know it for the lack of signage, but there are some big things happening inside an unassuming building on the edge of the historic Depot Town neighborhood in Ypsilanti, Mich. Behind large green stable doors and red brick walls at 306 N. River St. are the workings of Hyperion Coffee Co., an ambitious three-person roasting outfit with sights set on Ypsi, Ann Arbor, Detroit and beyond.
Hyperion is the creation of three young business partners — Eric Mullins, Dan Kubera, and Alex Merz — two of whom have extensive experience in coffee locally. Kubera, who handles the lion's share of the roasting on a 10-kilo Ambex unit, began working as a barista seven years ago, eventually working upward to become the general manager for Ypsi-based roaster/retailer Ugly Mug, where he happened to be replacing Mullins. Mullins had come to the Mug following stints at Grand Rapids-based roaster Madcap Coffee and at Anodyne Coffee in Milwaukee, where he developed his own roasting chops.
"I've been at this for something like 11 years now," Mullins recently told Daily Coffee News. "We decided this was a good opportunity to do our own thing instead of working to make other people money. It gives us an opportunity to do the things that we want to do."
Those things include an aggressive daily cupping schedule. On the morning of our interview, Mullins and Kubera had cupped some 30 samples. "For us, it's a question of why would we work for someone else when they don't have the same vision that we do," Mullins said. "We care about everything we do. Some business owners might think 'why would I pay someone to cup out 30 coffees,' but for us it's just a part of our everyday thing."
Hyperion's active roasted coffee roster typically consists of about 10 single-origin coffees — plus one house blend that's favored by a small handful of restaurant clients — for shipment to wholesale clients, individual subscription buyers and in-roastery sales.
Coffees are currently being sourced from a variety of importers big and small — from companies like Cafe Imports, Royal Coffee and Crop to Cup who may have a wide specialty range on offer at a given time, to more locally specialized importers such as specialist Keffa Coffee (Ethiopia) and Aldea Development (Honduras microlots). "We're completely open to working with everyone," said Mullins, "but whatever we put on the cupping table and whatever we end up liking is what we're going to order."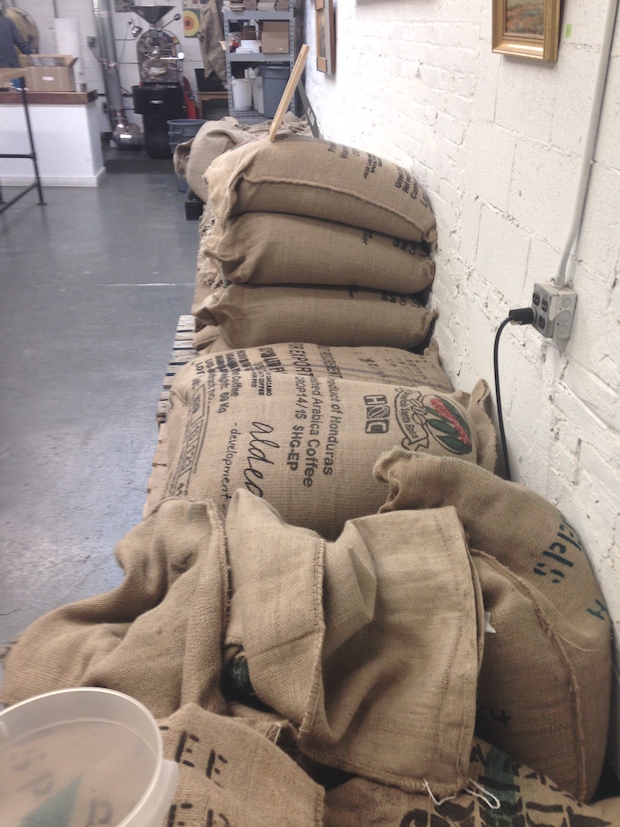 For coffees that survive the custom wood cupping table test, Kubera said the idea is to bring forth through the roasting process the individual characteristics of each coffee that tie it back to the people who produced it. "We're really careful not to over-roast anything or manipulate it into something that we personally might want it to be," Kubera said. "We just want to do justice to the coffee and have it represent the people who really made it."
After six months of roasting and building wholesale business, the Hyperion team recently got a $10,000-plus cash jolt from a Kickstarter campaign to fund an ADA-approved bathroom that will allow the shop to house a quasi retail component. In essence, the idea is to open the cupping table to the public for a tasting room that will allow coffee-curious visitors to taste from a simple espresso and coffee menu that showcases Hyperion's current inventory.
While there may be some snags due to the historic designation of Hyperion's building, built in 1850, the team also hopes to find an acceptable way to incorporate windows into the West wall that would visually connect from the tasting room a new patio for casual sipping outside.
At its core the Hyperion space is a production one, where you might find various espresso machine parts for projects Mullins and Kubera take on to help other local coffee purveyors repair busted machinery. Hyperion's own espresso machine is a completely Frankensteined Synesso Cyncra model that barely resembles anything that might have come out of the Synesso factory.
Looming largest on the horizon is an approximately 15-kilo-capacity three-phase all electric vintage roaster, which the team just happened to encounter while in search of other used gear. Kubera said he hopes the machine — including eight heating element panels that wrap around the drum from the bottom — will eventually take over as Hyperion's main production roaster. If nothing else, it's an intriguing conversation piece in a shop where quality through experimentation reigns.
Nick Brown
Nick Brown is the editor of Daily Coffee News by Roast Magazine.