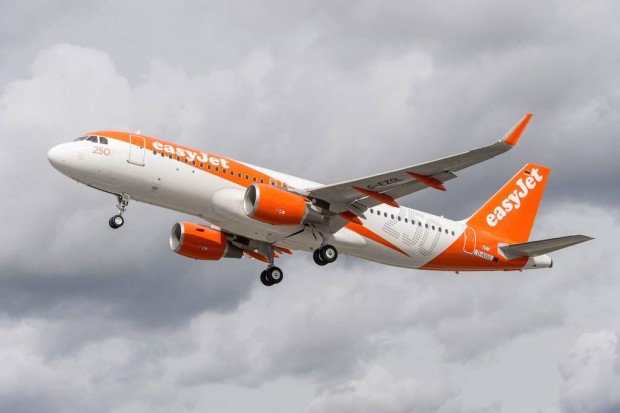 UK-based budget airline carrier EasyJet is getting into the coffee retail game, with an initial marketing campaign that stresses low costs and £1 coffee and espresso drinks through the EasyCoffee brand.
"Just when we feared we were reaching peak hipster coffee, with coldpress and cortados usurping cappuccinos and a £4 latte the norm, along comes Sir Stelios to tear up the rule book," the airline company said of its new coffee venture in an announcement late last week, referencing EasyJet founder Stelios Haji-Ioannou. "Just as EasyJet changed the face of air travel when it launched in 1995, bringing low-cost, no frills air travel to the people, now the company is set to do the same to the coffee market."
The EasyCoffee brand made a quiet debut several weeks ago with the opening of a café bursting with EasyJet's signature orange color motif at the Earls Court station in Central London. The company says it plans to open as many as 30 more EasyCoffee shops over the next two to three years, while it is currently seeking franchisees. EasyCoffee's wholesale partner for the venture is Italian coffee giant Lavazza.
The company is borrowing from its own business model in the airline passenger air industry — a similar no-frills model was first popularized by Southwest Airlines in the United States — for its coffee operation.
"So you're lured in by the promise of cheap coffee, then two minutes later you've accidentally bought a croissant (£1.10), a banana (50p) and a bottle of water (£1) too," the company said openly of its revenue-generation approach. "Sound familiar? It's the business model that has worked so well for EasyJet and has since been taken to the extreme by other low-cost airlines."
For the venture, EasyJet has partnered with Peoples Coffee, a business operated by Nathan Lowry that has licensed the "easy" brand usage. "With coffee shop prices currently averaging £3 a cup, it is clear consumers have been taken for a ride," Lowry said in the company's announcement. "Although wholesale coffee prices have been falling recently, consumers have seen no benefit. EasyCoffee plans to make top quality beverages available to everyone at affordable prices."
Similarly, Stelios likened the coffee industry to the airline industry, suggesting players in both have been involved in gouging prices of roasted, brewed coffee drinks "for no good reason."
"I think this industry is another example of allowing prices to carry on rising without good reason," he said. "Three pounds is a lot of money for a paper cup of espresso."
Nick Brown
Nick Brown is the editor of Daily Coffee News by Roast Magazine.